Erratum to: A novel deconvolution method for modeling UDP-N-acetyl-D-glucosaminebiosynthetic pathways based on 13C mass isotopologue profiles undernon-steady-state conditions
Received: 17 August 2012
Accepted: 17 August 2012
Published: 17 August 2012
The figure published as Figure 2 in the original published version of the manuscript isin fact a duplicate of Figure 5. The correct Figure 2 is shown here (Figure
1
in this correction). Note that the legend for Figure 2 andreferences to it in the main text apply to the correct Figure 2. The authors andpublisher regret the error.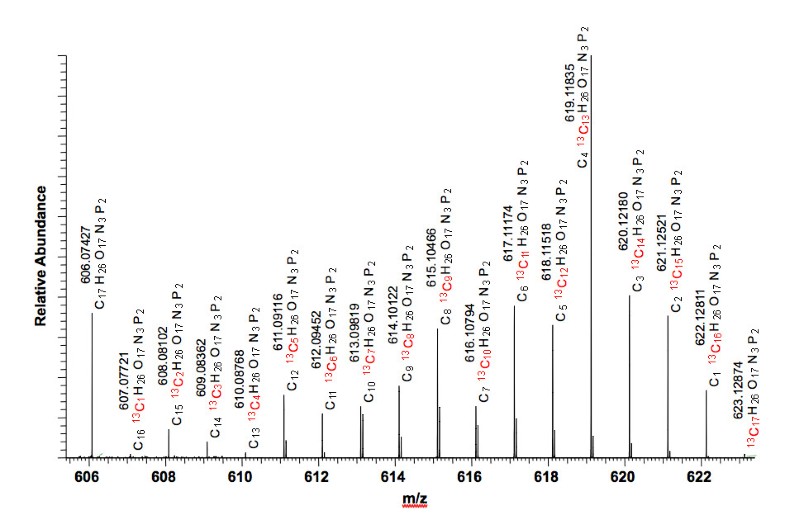 Authors' Affiliations
(1)
Department of Chemistry and Center for Regulatory & Environmental AnalyticalMetabolomics (CREAM), University of Louisville, Louisville, USA
(2)
Structural Biology Program, JG Brown Cancer Center, University of Louisville, Louisville, USA
(3)
Department of Medicine, Clinical Translational Research Building, Louisville, USA
(4)
Department of Pharmacology and Toxicology, University of Louisville, Louisville, USA
References
Moseley HNB, Lane AN, Belshoff AC, Higashi RM, Fan TWM: A novel deconvolution method for modeling UDP-N-acetyl-D-glucosaminebiosynthetic pathways based on 13C mass isotopologue profiles undernon-steady-state conditions. BMC Biology. 2011, 9: 37-10.1186/1741-7007-9-37.PubMedPubMed CentralView ArticleGoogle Scholar
Copyright
© Moseley et al; licensee BioMed Central Ltd. 2012
This article is published under license to BioMed Central Ltd. This is an Open Access article distributed under the terms of the Creative CommonsAttribution License (http://creativecommons.org/licenses/by/2.0), whichpermits unrestricted use, distribution, and reproduction in any medium, provided theoriginal work is properly cited.