Research article

Open Access
Inter-genomic displacement via lateral gene transfer of bacterial trp operons in an overall context of vertical genealogy
Received: 27 January 2004
Accepted: 23 June 2004
Published: 23 June 2004
Abstract
Background
The growing conviction that lateral gene transfer plays a significant role in prokaryote genealogy opens up a need for comprehensive evaluations of gene-enzyme systems on a case-by-case basis. Genes of tryptophan biosynthesis are frequently organized as whole-pathway operons, an attribute that is expected to facilitate multi-gene transfer in a single step. We have asked whether events of lateral gene transfer are sufficient to have obscured our ability to track the vertical genealogy that underpins tryptophan biosynthesis.
Results
In 47 complete-genome Bacteria, the genes encoding the seven catalytic domains that participate in primary tryptophan biosynthesis were distinguished from any paralogs or xenologs engaged in other specialized functions. A reliable list of orthologs with carefully ascertained functional roles has thus been assembled and should be valuable as an annotation resource. The protein domains associated with primary tryptophan biosynthesis were then concatenated, yielding single amino-acid sequence strings that represent the entire tryptophan pathway. Lateral gene transfer of several whole-pathway trp operons was demonstrated by use of phylogenetic analysis. Lateral gene transfer of partial-pathway trp operons was also shown, with newly recruited genes functioning either in primary biosynthesis (rarely) or specialized metabolism (more frequently).
Conclusions
(i) Concatenated tryptophan protein trees are congruent with 16S rRNA subtrees provided that the genomes represented are of sufficiently close phylogenetic spacing. There are currently seven tryptophan congruency groups in the Bacteria. Recognition of a succession of others can be expected in the near future, but ultimately these should coalesce to a single grouping that parallels the 16S rRNA tree (except for cases of lateral gene transfer). (ii) The vertical trace of evolution for tryptophan biosynthesis can be deduced. The daunting complexities engendered by paralogy, xenology, and idiosyncrasies of nomenclature at this point in time have necessitated an expert-assisted manual effort to achieve a correct analysis. Once recognized and sorted out, paralogy and xenology can be viewed as features that enrich evolutionary histories.
Keywords
Lateral Gene Transfer
Congruency Group
Epsilon Proteobacteria
Coryneform Bacterium
Lateral Gene Transfer Event
Results
Figure
1
presents a 16S rRNA tree of 47 finished-genome organisms from the domain
Bacteria
. In preliminary work with the individual protein trees corresponding to the seven catalytic domains of Trp biosynthesis, we noticed that at least seven subtree blocks on the Trp-protein trees tended to be congruent with corresponding subtree blocks (differentially highlighted in Figure
1
) of the 16S rRNA tree. The Gram-negative proteobacteria command special attention in this paper simply for the fortuitous reason that the greatest density of sequenced genomes is to be found in proteobacteria. The divisions of the proteobacteria are labelled in the lower-right portion of Figure
1
.
Geobacter
and
Desulfovibrio
(delta-proteobacteria) are very divergent lineages and do not contribute to a common tryptophan congruency group. The grey area (epsilon proteobacteria) represents a subtree region that will probably become a tryptophan congruency group when more dense genome representation becomes available in this region. Another subtree region (not shown on Figure
1
) in this category is that represented by the chlamydiae. This latter subtree region is temporarily limited for Trp analysis because it is currently represented by genomes having Trp pathways that are incomplete or absent. Beta-proteobacteria fall into a common tryptophan congruency group with some gamma-proteobacteria ("upper" gamma-proteobacteria), whereas the remaining "lower" gamma-proteobacteria (enteric lineage) form a separate and distinct tryptophan congruency group.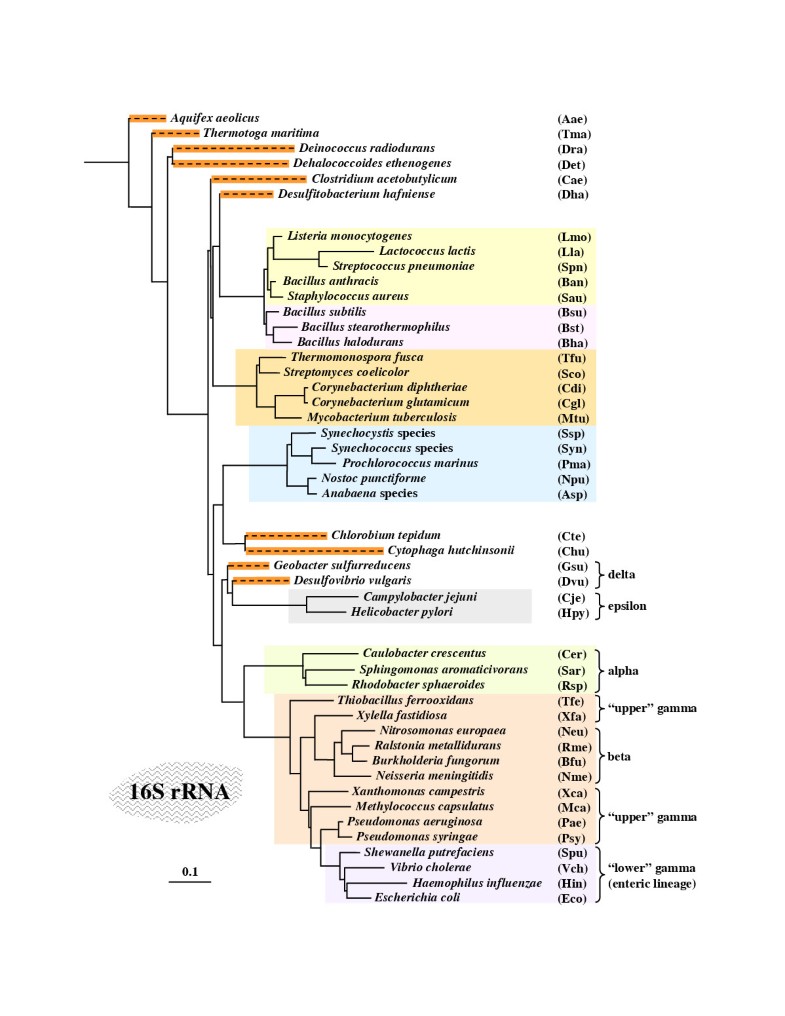 Seven tryptophan congruency groups (TCGs)
Individual Trp-protein domains vary in size and degree of conservation and thus confer varied amounts of phylogenetic information. Figure
2
shows a protein tree in which the seven protein domains responsible for the Trp pathway of biosynthesis have been concatenated in the order of the pathway steps (TrpAa/TrpAb/TrpB/TrpC/TrpD/TrpEa/TrpEb) prior to use of the tree-building program. The seven-domain Trp tree was constructed by using 47 organisms having a complete Trp pathway
and by application of an analysis aimed at exclusion of divergent paralogs and xenologs that do not function in primary Trp biosynthesis
(excluded paralogs and xenologs can be viewed in the succeeding figures). Each of the seven protein sections of a given concatenate has an impact on the overall tree that is roughly proportional to the number of amino acids encoded. Each of the seven nodes defining TCGs is supported by a bootstrap value of 100% (in contrast to the weakness of individual Trp-protein trees). Although the
overall
concatenated tree does not parallel the
overall
16S rRNA tree, seven subtree regions of the concatenated tree do parallel 16S rRNA subtree regions. These seven groupings are not necessarily equivalent in phylogenetic span. TCG-6, for example, is a small, closely related grouping compared with the much looser TCG-7 assemblage. The emerging, fuller membership of these seven TCGs is hinted at in Table
3
, where additional provisional TCG members that were not included in Figure
2
are listed in regular non-bold type. The latter were assigned (mostly with newly available genomes after completion of our primary analysis) by assessment of the best BLAST (Basic Local Alignment Search Tool) hits obtained after entering each Trp domain of the organisms listed as query sequences. Best-match methods are useful for rapid screening, but are subject to limitations [
24
]. Tentative TCG assignments were also assisted by other features. For example,
Brucella melitensis
,
Agrobacterium tumefaciens
,
Bradyrhizobium japonicum
,
Sinorhizobium meliloti
and
Rhodopseudomonas palustris
all possess in common the following split-pathway gene organization:
trpAatrpAb
(fused genes), a
trpB/trpD
operon, and a
trpC/trpEb/trpEa
operon [
6
].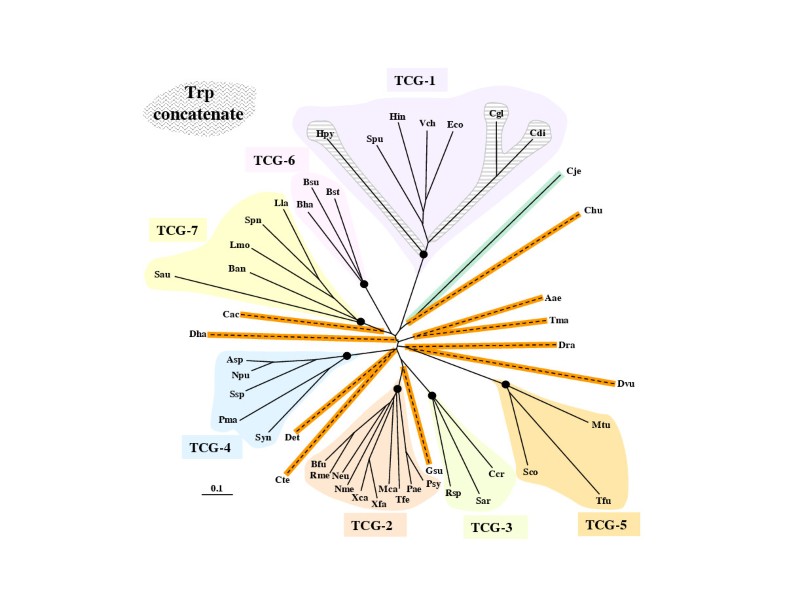 Table 3
Membership composition of Tryptophan Congruency Groupsa
| | |
| --- | --- |
| TCG-1 | [Corynebacterium diptheriae]b |
| | [Corynebacterium glutamicum] b |
| | Escherichia coli |
| | Haemophilus influenzae |
| | [Helicobacter pylori ] b |
| | Shewanella putrefaciens |
| | Vibrio cholerae |
| | Actinobacillus actinomycetemcomitans |
| | Buchnera aphidicola c |
| | Blochmannia floridanus c |
| | [Corynebacterium efficiens]b |
| | Erwinia carotovora |
| | Klebsiella pneumoniae |
| | Pasteurella multocida |
| | Photorhabdus luminescens |
| | Salmonella enterica |
| | Shigella flexneri |
| | Vibrio parahaemolyticus |
| | Vibrio vulnificus |
| | Yersinia pestis |
| TCG-2 d | Burkholderia fungorum |
| | Methylococcus capsulatus |
| | Neisseria meningitidis |
| | Nitrosomonas europaea |
| | Pseudomonas aeruginosa* |
| | Pseudomonas syringae* |
| | Ralstonia metallidurans |
| | Thiobacillus ferrooxidans |
| | Xanthomonas campestris |
| | Xylella fastidiosa |
| | Acinetobacter sp. |
| | Azotobacter vinelandii* |
| | Bordetella bronchisepticum |
| | Bordetella parapertussis |
| | Bordetella pertussis |
| | Burkholderia cepacia |
| | Burkholderia multivorans |
| | Chromobacterium violaceum |
| | Microbulbifer degradans |
| | Neisseria gonorrhoeae |
| | Pseudomonas fluorescens* |
| | Pseudomonas putida* |
| | Psychrobacter sp. |
| | Ralstonia solanacearum |
| | Xanthomonas axonopodis |
| TCG-3 | Caulobacter crescentus |
| | Rhodobacter sphaeroides |
| | Sphingomonas aromaticivorans |
| | Agrobacterium tumefaciens |
| | Bradyrhizobium japonicum |
| | Brucella melitensis |
| | Brucella suis |
| | Rhizobium loti |
| | Rhodopseudomonas palustris |
| | Sinorhizobium meliloti |
| TCG-4 | Anabaena (Nostoc) sp. PCC 7120 |
| | Nostoc punctiforme |
| | Prochlorococcus marinus CCMP 1986 (MED4) |
| | Synechococcus sp. WH8102 |
| | Synechocystis sp. PCC 6803 |
| | Anabaena variabilis ATCC 29413 |
| | Crocosphaera watsonii WH 8501 |
| | Gloeobacter violaceus PCC 2471 |
| | Prochlorococcus marinus CCMP1375 (SS120) |
| | Prochlorococcus marinus MIT9313 |
| | Synechococcus elongatus PCC 7942 |
| | Thermosynechococcus elongatus BP-1 |
| | Tricodesmium erythraeum |
| TCG-5 e | Streptomyces coelicolor |
| | Mycobacterium tuberculosis |
| | Thermomonospora fusca |
| | Bifidobacterium longum |
| | Mycobacterium avium |
| | Mycobacterium bovis |
| | Mycobacterium leprae |
| | Mycobacterium smegmatis |
| | Streptomyces avermitilis |
| TCG-6 | Bacillus halodurans |
| | Bacillus stearothermophilus |
| | Bacillus subtilis |
| | Oceanobacillus iheyensis |
| TCG-7 | Bacillus anthracis |
| | Lactococcus lactis |
| | Listeria monocytogenes |
| | Staphylococcus aureus |
| | Streptococcus pneumoniae |
| | Bacillus cereus |
| | Listeria innocua |
| | Staphylococcus epidermidis |
| | Streptococcus gordonii |
| | Streptococcus mutans |
The few exceptions that violate the otherwise good congruency between TCGs and 16S rRNA subtree regions point strongly to instances of whole-pathway trp-operon displacement. These include the incongruent presence of Trp-protein concatenates from both Helicobacter pylori and the coryneform bacteria in TCG-1. This indicates that inter-genomic transfer of whole-pathway trp operons occurred, with the donor identifiable as a member of TCG-1.
Orange-highlighted dashed lines in Figures 1 and 2 mark lineages where closely related genomes have not yet been sequenced, that is, where there is sparse genome representation. There is no congruency of the branching positions of these ten orphan organisms when the 16S rRNA tree (Figure 1) is compared with the Trp-protein concatenate tree (Figure 2). It is generally believed that the position of these lineages on the 16S rRNA tree is reliable because 16S rRNA comparisons can discriminate very well over wide phylogenetic distances. In contrast, support for the position of branching obtained for these lineages with respect to the concatenated Trp-protein tree is not significant, that is, low bootstrap values. One can reasonably expect that, as more genomes are sequenced, new TCGs will emerge that include these current orphan organisms. For example, our preliminary data indicate that the Trp proteins of Bacteroides thetaiotaomicron will reside within a new TCG group with Cytophaga hutchinsonii.
Individual Trp-protein trees
In the following section, individual protein trees are shown for comparison with the much superior tree of Trp-protein concatenates shown in Figure
2
. Each individual tree consists of 47 sequences that comprise segments of each concatenate string used for the tree shown in Figure
2
. Included among the concatenates are proteins of LGT origin (from
Helicobacter pylori
,
Corynebacterium glutamicum
, and
Corynebacterium diptheriae
) that function for primary Trp biosynthesis. In addition to the foregoing sequences, Figure
3
, Figures
5
,
6
,
7
, and Figures
9
,
10
,
11
also display paralogs and xenologs that were excluded from the concatenate strings because they were not deemed to function for primary biosynthesis. It can be seen that TrpAb (Figure
5
) and TrpC (Figure
7
), being relatively short and not highly conserved sequences, are the least informative. TCG-2 and TCG-7 are frequently not visualized as entirely cohesive groupings when the individual trees are inspected. In each individual Trp-protein tree, primary-pathway Trp domains are designated by the organism acronym (e.g. Det), whereas unknown xenologs or paralogs are designated with a following number (e.g. Det_2). If functions are known or if names exist in the literature, for example, Sco_CDA or Pae_PhnA, respectively, these designations are used. Remnant proteins are denoted with an 'r', for example, Cgl_r (Figure
9
).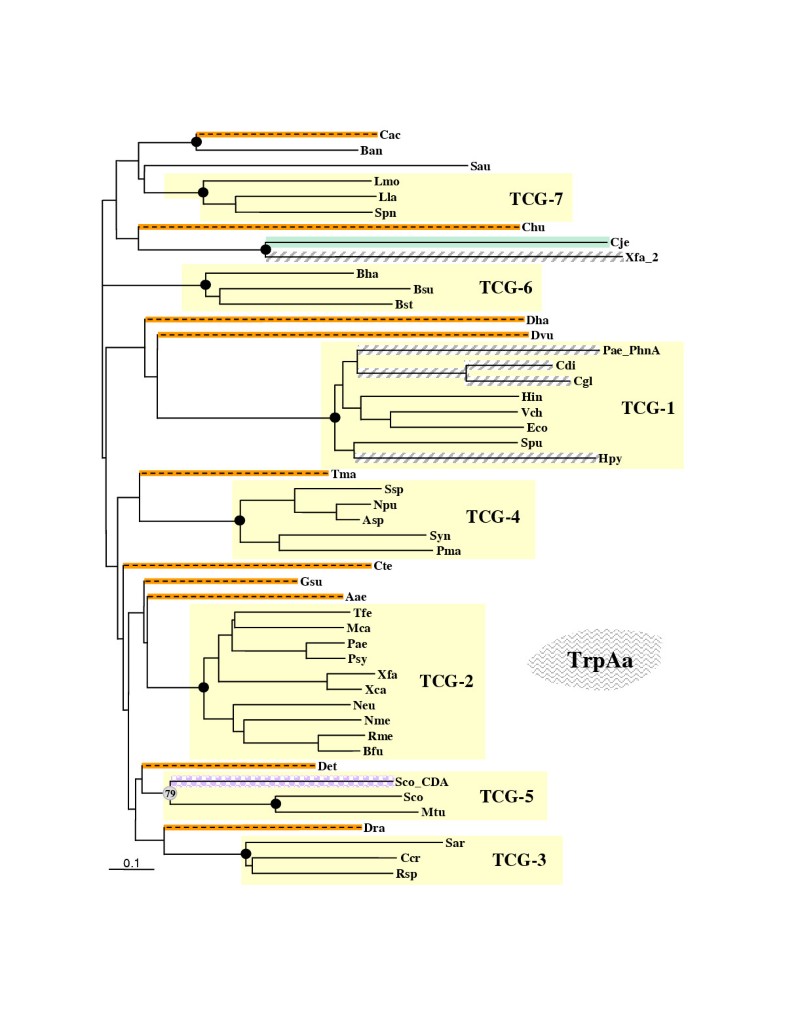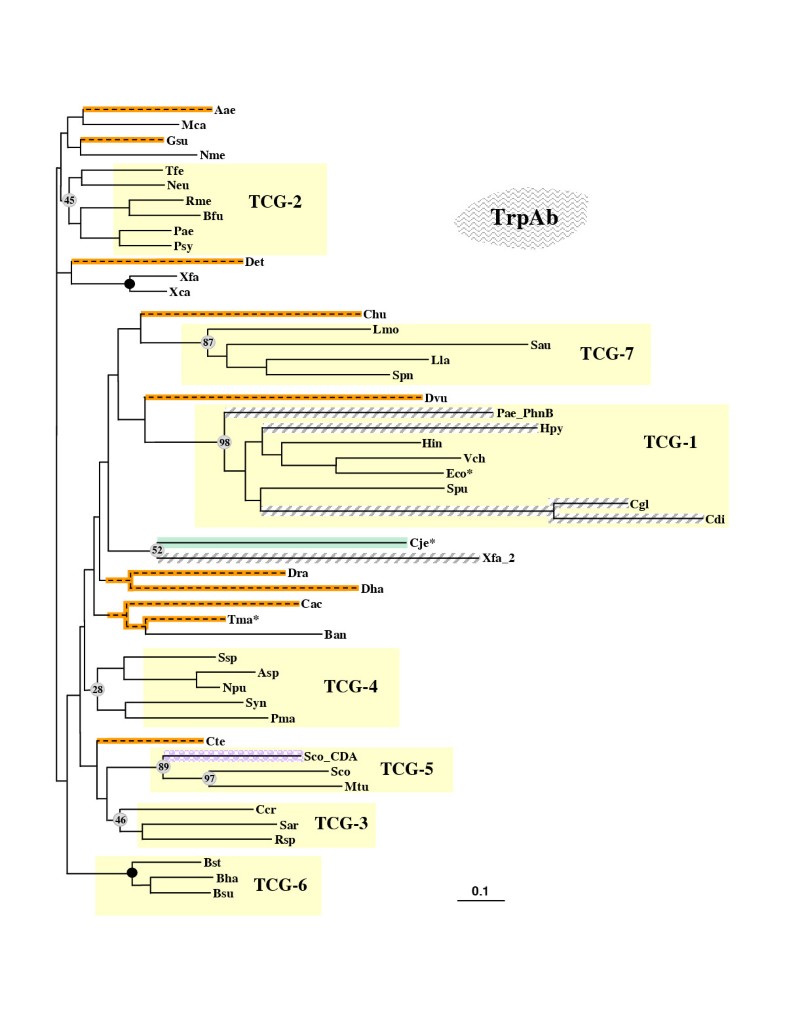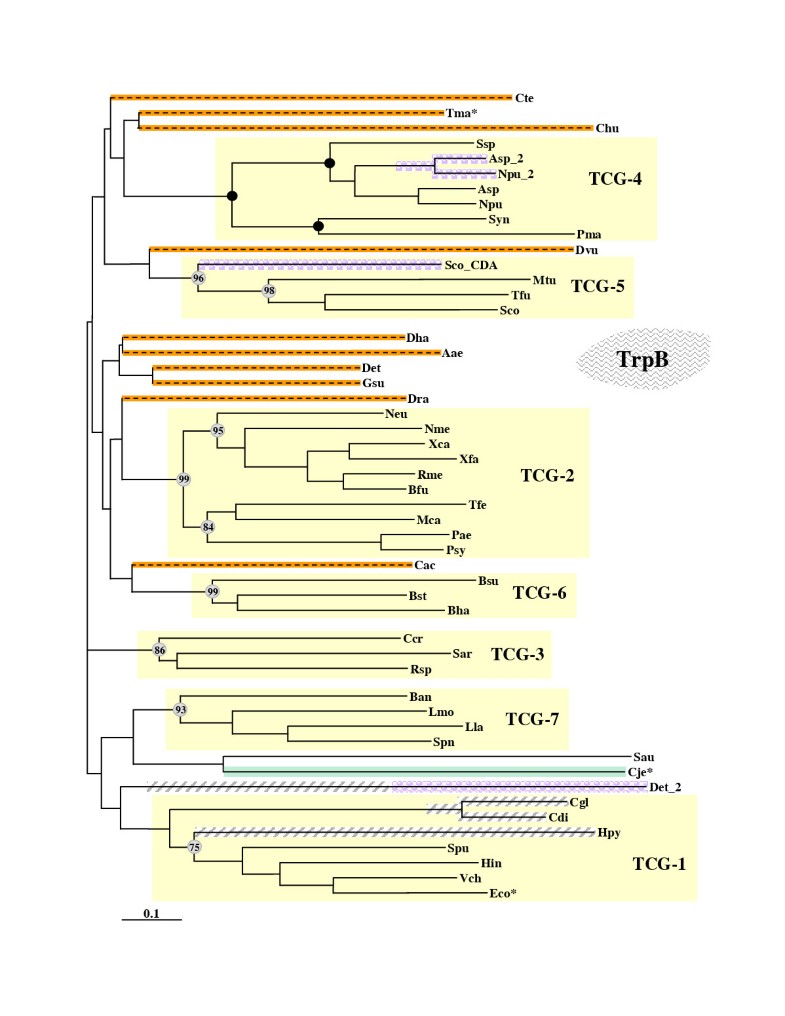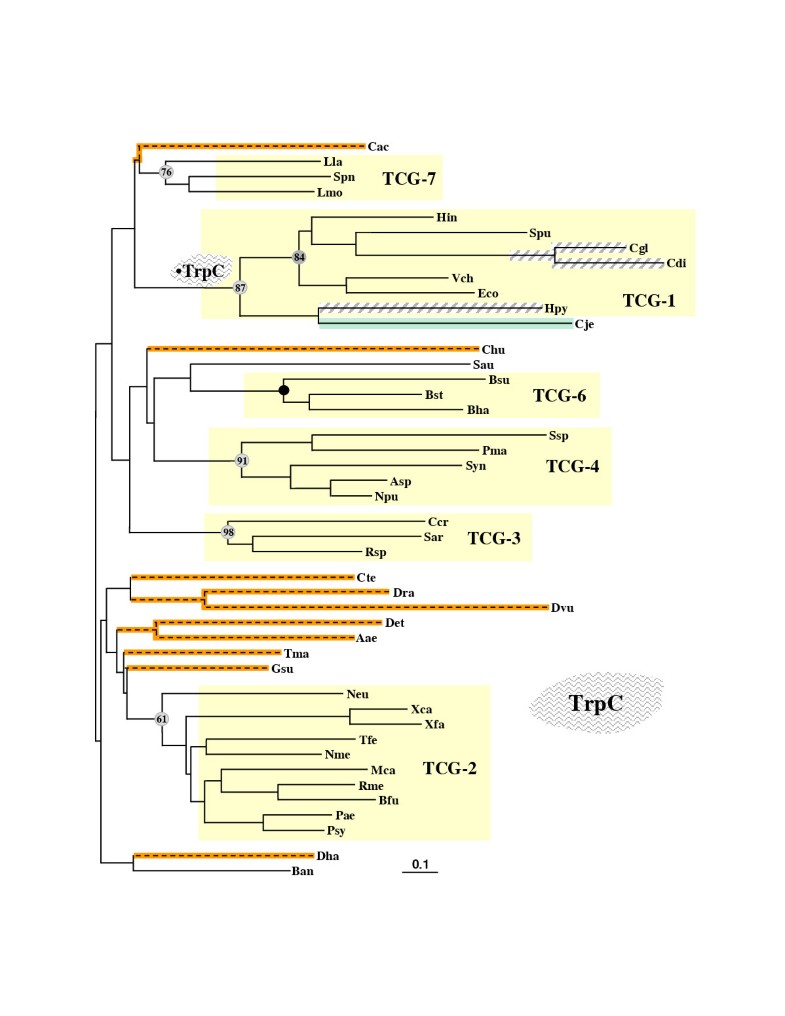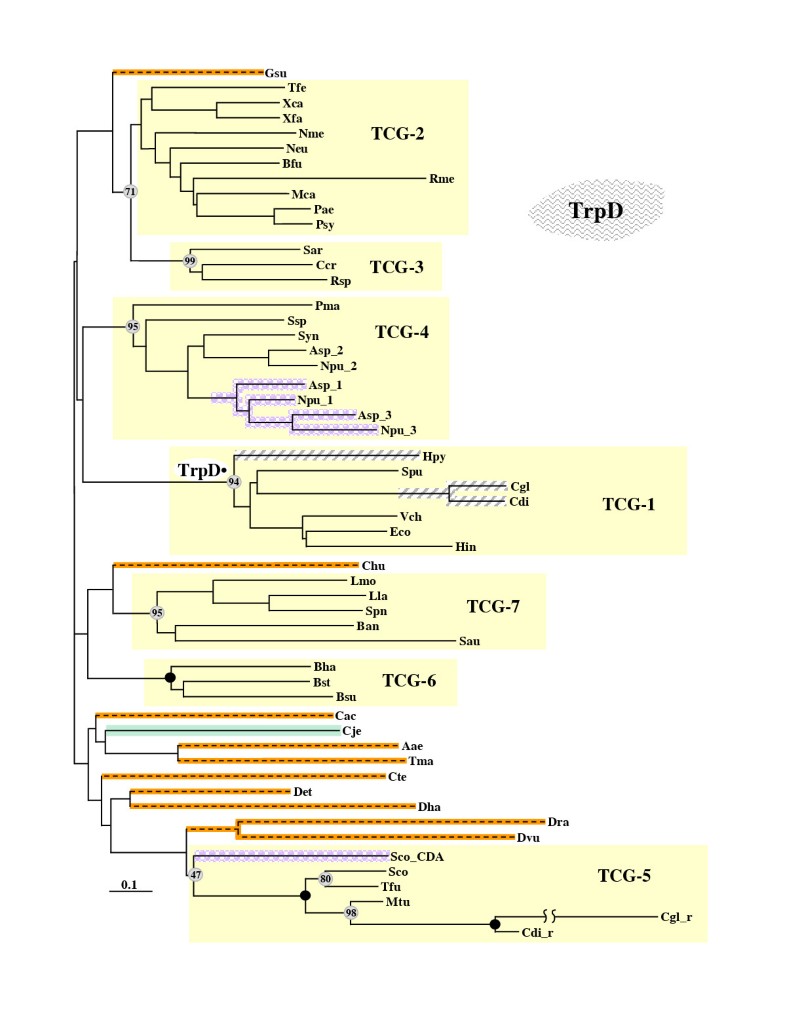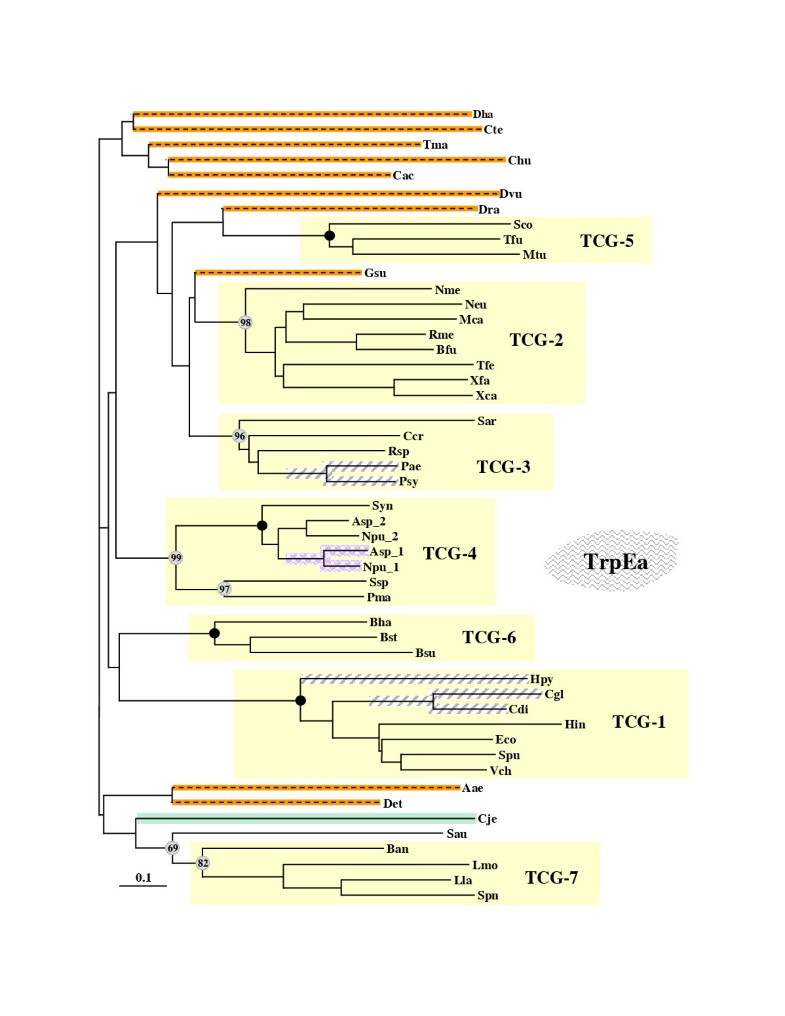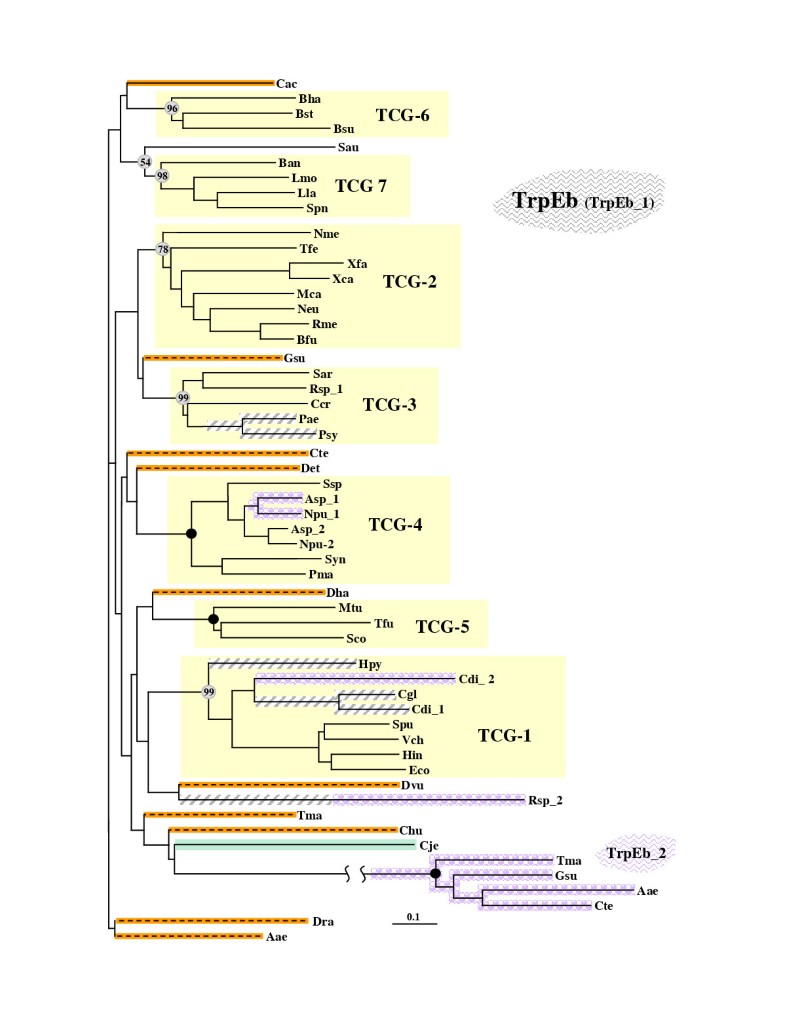 Xie et al. [6] can be consulted for a detailed overview of the Trp pathway reactions (summarized here in Table 1) and for a perspective on the nomenclature issues. Table 4 is a comprehensive listing [see Additional File 1] that contains gi (gene identification) numbers (in bold) that correspond to each of the seven domains asserted to function in primary Trp biosynthesis. Paralog and xenolog gi numbers are presented in regular type. Each gi number is hyperlinked to the corresponding record at NCBI (National Center for Biotechnology Information).
Aromatic Congruency Groups implicate two deteriorated TCGs
Chlamydophila/Chlamydia
The chlamydiae have an intact common pathway of aromatic biosynthesis, but none have a complete trp pathway. In one case, Chlamydophila pneumoniae, no trp genes are present. At the other extreme, C. psittaci possesses all trp genes except for trpAa and trpAb. Other species possess an intermediate number of trp genes. Various rationales have been advanced [10, 11] in support of novel functions for these incomplete pathways that have some interesting implications for pathogenesis. Those few trp proteins remaining in the chlamydiae are always very tightly clustered with one another on individual protein trees. We expect that when sufficient related genomes are sequenced, Trp congruency will be established for the chlamydiae. We mainly base this on the fact that trees corresponding to the seven enzymes of the common aromatic pathway yield a very cohesive Aromatic Congruency Group (Xie and Jensen, in progress).
Epsilon proteobacteria
The epsilon proteobacteria, Helicobacter pylori and C. jejuni, were among the early complete and published genomes. Recently, the genomes of H. hepaticus and Wolinella succinogenes have also become available. These four organisms all possess common-aromatic pathway enzymes whose sequences cluster tightly together (Xie and Jensen, in progress). Since the H. pylori trp genes had been replaced via LGT after divergence from their closest neighbor (H. hepaticus), we expected that the Trp proteins of the three remaining epsilon proteobacteria would define a TCG grouping. However, Trp proteins from H. hepaticus, W. succinogenes and C. jejuni are all divergent from one another. They are also divergent from sequences of other organisms. There is, so far, no indication of an LGT history. C. jejuni has a trpAa/trpAb•trpB/trpC/trpEb/trpEa operon (trpD is isolated in an unlinked position). H. hepaticus has spaced the trp genes in three locations, where trpAa/trpAb•trpB, trpD•trpC and trpEb/trpEa reside. It is anomalous and quite possibly symptomatic of ongoing reductive evolution that trpEa and trpEb are divergently oriented. H. hepaticus not only has the trpAb•trpB fusion, but also has a trpD•trpC fusion. The trpD•trpC fusion of H. hepaticus appears to be of independent origin with respect to all of the others in TCG-1, based upon phylogenetic analysis and inter-domain linker analysis. In W. succinogenes the trp genes are all dispersed and none of them are fused. In the future, a core of epsilon proteobacteria may become available as a source of sequences to build a Tryptophan Congruency Group. The organisms currently available have experienced dynamic (and perhaps disruptive) evolutionary events that currently prevent definitive conclusions about the common ancestor.
For comparison, we took a preliminary look at the histidine pathway in these four epsilon proteobacteria. H. pylori has completely lost the histidine pathway, and C. jejuni appears to have displaced its pathway with the histidine operon from the enteric lineage. Genes of histidine biosynthesis are completely dispersed in H. hepaticus and W. succinogenes, and all yield mutually best BLAST hits. Thus, H. hepaticus and W. succinogenes may be core genomes that represent a congruency group with respect to histidine biosynthesis.
Some underlying complexities of Trp-protein concatenates
Convergence of TrpAa•TrpAb fusions
Fusions of general aromatic biosynthetic pathway genes, including those of the Trp pathway, have occurred frequently. It is not uncommon for the same genes in different organisms to have undergone fusion independently. In cases where the catalytic domains function separately, there may be great latitude for successful fusion orientations, for example, aroQ•pheA fusions [30]. In contrast, TrpAb delivers ammonia to the active site of TrpAa in a way that may impose particular demands upon the spatial orientation of the protein-protein interaction operating for the anthranilate synthase complex. Although we suggest that TrpAa•TrpAb fusions have occurred independently at least five times in widely spaced lineages, they all group tightly together in both TrpAa trees (Figure 4) and TrpAb trees (not shown). We believe that this is due to strong selective pressure for convergence. Thus, the individual TrpAa and TrpAb trees place the T. fusca TrpAa and TrpAb proteins in an anomalous group that includes proteins from Legionella, Azospirillum, Brucella (and close relatives) and the Nostoc/Anabaena group of cyanobacteria. This phenomenon of convergence disrupts the congruence of the individual TrpAa tree when these organisms are included, but this is not enough to undermine the proper placement of the T. fusca Trp-protein concatenate within TCG-5.
The bifunctional priAgene of TCG-5 actinomycetes
The enzyme encoded by priA is competent for the isomerase step in both the histidine and Trp pathways of actinomycete bacteria [13]. Thus, PriA sequences would be concatenate components defining not only TCG-5, but also a Histidine Congruency Group (HCG-5) (Figure 8). Presumably the acquisition of the trp operon in coryneform species leaves priA unnecessary for a role in Trp biosynthesis. The dual substrate capabilities of PriA might reflect an ancient state of broad-specificity competence, with hisA and trpC being derived from specialized offspring of gene duplication [13]. On the other hand, because PriA is clearly a homolog of HisA, but an uncertain homolog of TrpC, it is possible that an ancestral trpC was lost and subsequently replaced by a divergent duplicate of hisA. The overall effect of PriA being uniquely present in Trp-protein concatenates of actinomycete bacteria (i.e. being forced to align with TrpC in all other concatenates) is to compress slightly the actinomycete TCG grouping.
The dual-pathway pabAbof TCG-6 bacilli
Very much like the above situation, TCG-6 Bacillus species have lost trpAb from an otherwise complete trp operon. pabAb, located in the pab operon, is competent to function for both Trp and folate biosynthesis (see Xie et al. [6]). Thus, within the narrow Bacillus clade that includes B. subtilis, B. halodurans and B. stearothermophilus, PabAb sequences help to define not only TCG-6, but also a pending Folate Congruency Group.
Conclusions
The overall impact of LGT in Bacteria and Archaea is currently a highly contentious issue. Critical reviews written from completely different viewpoints are recommended for a sense of the status of the ongoing debate, as well as for a substantial listing of key references [39, 40]. Gogarten et al. [21] have summarized a contemporary rationale to describe the evolutionary process as a phylogenetic "synthesis" that could integrate a traditional tree-like behavior (vertical descent of genes) and web-like, reticulate behavior (LGT). The latter paper follows up on a balanced and highly insightful review produced by Doolittle in 1999 [22]. In an essay by Martin [41] about the extent to which bacterial chromosomes might be mosaic, it was emphasized that "careful gene-by-gene phylogenetic comparisons in addition to genome-by-genome comparisons.....are needed." We consider the Trp system to be a particularly apt choice for gaining detailed insight into the relative contributions of lateral and vertical events in the evolutionary history of a major segment of primary metabolism. On the one hand, genes of Trp biosynthesis are expected to represent a level and type of fundamental metabolism that is least prone to LGT if it is correct that a "core" of genes exists that is relatively recalcitrant to LGT [23, 42]. On the other hand, the wide distribution of intact whole-pathway trp operons should facilitate the probability of LGT (at least the initial acquisition event). For the Trp pathway, we conclude that events of LGT and paralogy do not obliterate the vertical trace of evolutionary history. This view is reinforced by the contention that whole-genome trees (mean pairwise similarities between shared genomic proteins) have largely converged on the rRNA-sequence tree [43]. The latter work was preceded by the gene-content "trees" introduced by Snel et al. [44]. Also, see Eisen [45].
Gogarten et al. [21] have discussed the radical possibility that rRNA genes are highly mosaic and are so useful for prokaryotic taxonomy "precisely because they are mosaics and reflect the mosaic character of the genome as a whole". According to this view, a vertical trace of genealogical history will not be found, because it only exists in short jumps. (If so, the two whole-pathway LGT events described here reflect LGT events that stand out against the overall mosaic trends.)
The above caveat aside, 16S rRNA trees do appear to provide a reasonable guide to the vertical trace of evolutionary descent [46]. If so, the mapping of the Trp-pathway system upon the 16S rRNA tree exemplifies a case where the evolutionary history can indeed be tracked as a vertical genealogy that features some intriguing reticulate relationships. Proteins of the Trp pathway generally exhibit a genealogy that is parallel with the 16S rRNA tree. In the case of Helicobacter and Corynebacterium species, the genomes are a mosaic with respect to Trp genes. This means that the history of the trp genes in the latter organisms, instead of being that shared with their closest relatives, is the same as that of enteric bacteria (the donor lineage) up to the time of LGT. Following this time a new vertical genealogical progression has begun. Each organism (lineage) can be envisioned to possess an individualistic repertoire of chimeric features that have been assimilated into a recognizable skeleton of vertical events. It would seem that the evolutionary history of the primary pathway of Trp biosynthesis parallels the organismal phylogeny in most organisms. This presently includes all of the organisms in Figure 2 that belong to TCG groupings, except for H. pylori and the coryneform bacteria. Mosaicism can occasionally exist at a level of individual trp genes, as illustrated by P. aeruginosa and its closest relatives. Here the history of trpAa/trpAb/trpB/trpC/trpD (primary biosynthesis) parallels the organismal phylogeny, but trpEb/trpEa exhibit a reticulate genealogy.
It will be important to obtain other analyses of similar detail for other pathways to assess to what extent the evolutionary process that underpins Trp biosynthesis reflects the general process in other pathways. We have already seen in preliminary work that construction of similar congruency groups pertinent to common aromatic-pathway biosynthesis, folate biosynthesis, and histidine biosynthesis has good potential to expand the analysis. It seems probable that there are no prokaryote species whose evolutionary history exclusively involved a vertical line of descent for all of its genes. Lawrence [47] has written a cogent essay in support of the view that the Linnean paradigm of hierarchical descent fails to describe the evolution of prokaryotes because LGT occurs "at all levels of taxonomic inclusiveness". However, Woese et al. [48] argue that the dynamic of LGT has become progressively diminished through time as simple, primitive early cells became complex and refined. This is in accord with our thesis [6] that early and simple trp-gene assemblages may have been unstable until their progression to complexities of regulation and to establishment of individualistic metabolic ties that conferred increasing operon stability.
Declarations
Acknowledgements
This is Florida Agricultural Experiment Station Journal Series No. R-09802. R Jensen thanks the National Library of Medicine (Grant G13 LM008297) for partial support. Some of the preliminary sequence data were obtained from the Institute for Genomic Research [58], National Center for Biotechnology Information [57], and Integrated Genomics, Inc. [61]. We thank Charles Yanofsky and Ross Overbeek for their critiques of an early version of this manuscript.
Authors' Affiliations
(1)
Los Alamos National Laboratory, Los Alamos, USA
(2)
Department of Microbiology & Cell Science, University of Florida, Gainesville, USA
Copyright
© Xie et al; licensee BioMed Central Ltd. 2004
This article is published under license to BioMed Central Ltd. This is an Open Access article: verbatim copying and redistribution of this article are permitted in all media for any purpose, provided this notice is preserved along with the article's original URL.