Research article

Open Access
PI3 kinase is important for Ras, MEK and Erk activation of Epo-stimulated human erythroid progenitors
Received: 29 January 2004
Accepted: 18 May 2004
Published: 18 May 2004
Abstract
Background
Erythropoietin is a multifunctional cytokine which regulates the number of erythrocytes circulating in mammalian blood. This is crucial in order to maintain an appropriate oxygen supply throughout the body. Stimulation of primary human erythroid progenitors (PEPs) with erythropoietin (Epo) leads to the activation of the mitogenic kinases (MEKs and Erks). How this is accomplished mechanistically remained unclear.
Results
Biochemical studies with human cord blood-derived PEPs now show that Ras and the class Ib enzyme of the phosphatidylinositol-3 kinase (PI3K) family, PI3K gamma, are activated in response to minimal Epo concentrations. Surprisingly, three structurally different PI3K inhibitors block Ras, MEK and Erk activation in PEPs by Epo. Furthermore, Erk activation in PEPs is insensitive to the inhibition of Raf kinases but suppressed upon PKC inhibition. In contrast, Erk activation induced by stem cell factor, which activates c-Kit in the same cells, is sensitive to Raf inhibition and insensitive to PI3K and PKC inhibitors.
Conclusions
These unexpected findings contrast with previous results in human primary cells using Epo at supraphysiological concentrations and open new doors to eventually understanding how low Epo concentrations mediate the moderate proliferation of erythroid progenitors under homeostatic blood oxygen levels. They indicate that the basal activation of MEKs and Erks in PEPs by minimal concentrations of Epo does not occur through the classical cascade Shc/Grb2/Sos/Ras/Raf/MEK/Erk. Instead, MEKs and Erks are signal mediators of PI3K, probably the recently described PI3K gamma, through a Raf-independent signaling pathway which requires PKC activity. It is likely that higher concentrations of Epo that are induced by hypoxia, for example, following blood loss, lead to additional mitogenic signals which greatly accelerate erythroid progenitor proliferation.
Keywords
Stem Cell Factor
Kinase Assay
PI3K Activity
Erythroid Progenitor
EpoR Signaling
Background
Erythropoietin (Epo) is a multifunctional cytokine [1–4]. It has been known for a long time as a crucial regulator during all stages of definitive erythropoiesis. More recently, Epo was shown to have an important role in the survival of neurons after stress and injury [5–7]. Epo drives not only the proliferation of already committed early erythroid progenitor cells (burst-forming unit-erythroid; BFU-E), but also, and prominently, the proliferation and differentiation of later stage cells (colony-forming unit-erythroid; CFU-E) towards mature erythrocytes [1, 8].
Much of the circulating Epo is produced in the kidneys where blood oxygen levels are monitored, but other sites of Epo production – for example, liver and brain – are also known [9]. Several well-characterized signaling molecules such as the hypoxia-induced transcription factor HIF-1α and the 'stress kinase' p38α are key players in regulating Epo expression [9–11]. Epo concentrations of 25–50 mU/ml are found in umbilical cord blood at birth. In adults, Epo is typically present at 10–30 mU/ml, but levels can rise up to 3–10 U/ml as a consequence of severe blood loss.
Epo binds a transmembrane receptor protein (EpoR) that lacks intrinsic enzymatic activity and associates instead with tyrosine kinases like Jak2 [2, 3, 8, 12–14]. Targeted disruptions of the genes for Epo or the EpoR in mice leads to a complete loss of the definitive embryonal erythropoiesis [15, 16]. Other important clues regarding molecules relevant for Epo-induced signaling have come from disruptions of genes for Jak2, SHP2, PLC-γ, STAT5a/b, and GATA-1 and -2 [17–21]. While these knockout studies have provided considerable insight into key players in Epo-induced signaling, mice are not an ideal system for extensive biochemical analyses because the number of erythroid progenitors that can be readily obtained from them is not sufficient.
Therefore, most biochemical studies aiming to unravel the detailed molecular mechanisms of EpoR signaling have so far been carried out with cell lines expressing an endogenous or stably transfected EpoR (UT-7, SKT6, HEL, F-36P, HCD57, JE-2, AS-E2, K562, Friend cells, Ba/F3-EpoR, 32D-EpoR, FDCP-EpoR, etc.). Moreover, many of these experiments have been done with 'pathophysiological' concentrations of Epo above 1 U/ml.
In the many cell lines analyzed, a plethora of diverse signaling molecules appears to be crucial for Epo signaling. It is obvious that most discrepancies in the essential signaling proteins reported reflect the genomic instability of the various cancer cell lines, as well as distinct pre-set wiring diagrams of EpoR-transfected hematopoietic progenitor cells. Thus, these findings are important in defining candidate pathways potentially involved in vivo, but they do not necessarily represent actual signals induced upon Epo stimulation of primary human erythroid progenitors (PEPs). Consequently, although EpoR signaling has been intensely studied, many of its aspects are still unknown or remain puzzling. For example, it is certain that a large complex of signaling proteins is assembled on the EpoR upon Epo stimulation of various Epo-responsive cell lines as well as in vivo, and it is also known that many components of this complex directly associate with phosphorylated tyrosines of the EpoR. On the other hand, these tyrosines can be spatially separated from the Jak2 binding site on the EpoR or even abolished without apparent severe disruption of EpoR function [22–26].
Phosphatidylinositol-3 kinases (PI3Ks) [27–29] have been implicated in EpoR signaling by precipitation experiments which focussed on the formation of complexes between the p85/p110 PI3Ks (α and β isoforms) and the EpoR [13, 30–32] and by the use of inhibitors like LY294002 and wortmannin [33–37], which are mechanistically and structurally distinct [38, 39] but lack prominent selectivity for specific class I PI3K family members. The results from these experiments have not yet provided clear evidence of an essential function for p85/p110 PI3Ks in the activation of MEKs and Erks upon stimulation of cells with Epo. Only recently, caffeine has been described as an inhibitor of PI3K activity with a clear preference for certain PI3K family members in vitro [40]. In combination with isoform-specific PI3K activity assays, this now allows one to look at specific PI3K proteins more closely.
For many years it was difficult to perform in-depth biochemical studies with PEPs since methods for their efficient in vitro expansion were quite limited. Fortunately, it has now become possible to recapitulate the progression of hematopoietic progenitor cells into the erythroid lineage under serum-free conditions using defined cytokine cocktails [41]. This permits massive amplification and erythroid differentiation of CD34-positive cells isolated from human cord blood, bone marrow or peripheral blood, thereby facilitating biochemical analyses like GTPase and kinase assays. The PEPs generated by this procedure were shown to be 98% CD36 (thrombospondin receptor)-positive as well as CD71 (transferrin receptor)-high and greatly, but not exclusively, dependent on the presence of Epo for proliferation [41]. First biochemical experiments from this study showed that upon stimulation of starved PEPs with Epo, the EpoR, Jak2 and STAT5 were phosphorylated [41].
The aim of the current study was to analyze in more detail how MEKs and Erks are activated in PEPs upon stimulation with minimal concentrations of Epo. As anticipated, it was found that Ras is activated in these cells. However, Raf family kinases (c-Raf1, A-Raf, B-Raf), the classical effector proteins of Ras are not crucial for the subsequent activation of MEKs and Erks by Epo, while stimulation of c-Kit by stem cell factor (SCF) activates Erks in a Raf-dependent manner. Importantly, Ras, MEK and Erk activation by Epo clearly depends on PI3K activity. Inhibitor studies and lipid kinase assays implicate PI3K gamma (PI3Kγ) (p101/p110γ) as the prime candidate for the Ras, MEK and Erk-activating signal transducer.
Discussion
It is well known that Epo-induced signals synergize with those of other cytokines, growth factors and hormones in vivo. To dissect out the contribution made by Epo to the signaling in PEPs, Epo-induced signaling should be analyzed under serum-free culture conditions to yield results unbiased by the poorly understood actions of other factors contained at variable concentrations in serum. This source of variation was eliminated in the current study by the consistent use of a defined cytokine cocktail throughout all cell culturing. Another potential source of variability is the heterogeneous genetic background of the cord blood donors. However, this did not appear to greatly influence the signaling events that were observed in the current study.
The results of the experiments presented here implicate PI3Ks and, in particular, PI3Kγ as crucial mediators of signaling to MEKs and Erks at low Epo concentrations. This newly emerging EpoR signaling pathway is summarized and compared to c-Kit signaling in Figure
7
. Since PKC activation influences MEK and Erk phosphorylation (Figure
6
) it is possible that PKC kinases act as mediators between PI3Kγ and MAPKs. It is also conceivable that PKCs are activated in a pathway parallel to PI3Kγ and that these two pathways converge to activate MEKs.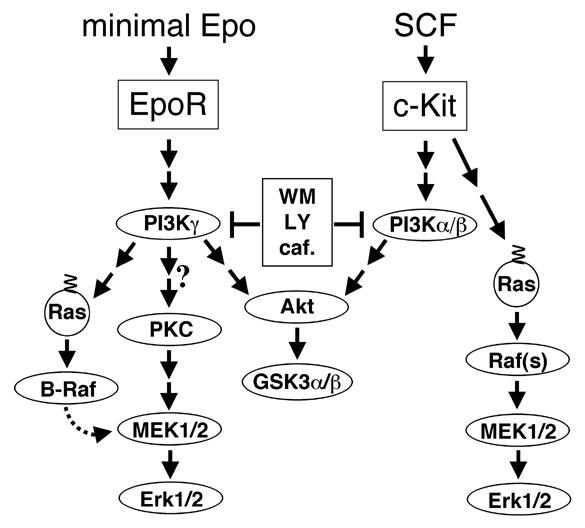 Previous studies had shown that PI3Kγ functions in the signal transmission of the Gβγ subunits of heterotrimeric G protein-linked receptors to MAPKs [47–49]. Its regulatory subunit p101 associates tightly with Gβγs leading to a strong activation of PI3Kγ by Gβγs [50]. Roles for PI3Kγ in inflammation and allergies have been documented in other studies [51]. Furthermore, a direct in vitro interaction of Ras with PI3Kγ [52, 53] has been reported. We have so far been unable to detect stable complex formations of the p110 or p101 subunits of PI3Kγ with Ras, Jak2 or the EpoR by co-immunoprecipitation experiments. Exactly how Epo stimulation of cells leads to an activation of PI3Kγ remains to be clarified. Studies by Mayeux and colleagues with Epo-responsive cell lines recently showed a link between EpoR signaling and heterotrimeric G proteins [54, 55] but whether a similar link exists in PEPs is not yet certain.
In another set of experiments, relatively little elevation of tyrosine phosphorylation was detected upon stimulation of PEPs with 0.3 U/ml Epo. Nevertheless, it was possible to identify a 150 kDa phosphotyrosyl-protein as the inositolphosphatase p150 SHIP, which exists in a complex with Grb2 and Shc as determined by co-immunoprecipitations (our unpublished data). Whether or not this phosphorylation is functionally significant remains to be studied. However, the finding that SHIP is affected by Epo treatment raises an interesting possibility; it was recently shown for a variety of protein phosphatases that they become transiently inactivated by reversible oxidation upon recruitment to active receptor complexes. Moderate activation of PI3Kγ in combination with an inactivation of SHIP could lead to a massive increase in signal-transducing phosphoinositides.
Finally, PI3Kγ not only displays PI kinase activity but can also function as a protein kinase [48]. At present it is not clear whether the protein kinase activity of PI3Kγ plays a role in Epo signaling, for example in the activation of a PKC or Ras.
In summary, our results lead us to propose a new model for Epo signaling in which PI3Kγ provides a basal mechanism to transmit Epo signals to Ras, MEKs and Erks, possibly independent of the multiple tyrosines in the cytoplasmic tail of the EpoR. Whether PI3Kγ is activated through direct or indirect interactions with the EpoR remains to be determined.
The basal Epo signal might be modulated and amplified by other signaling pathways activated by higher concentrations of Epo which depend on phosphorylated EpoR tyrosines. If this model is correct, one would expect that the absence of the EpoR tyrosines would lead to an impaired response when the erythroid cell compartment is challenged by severe blood loss or hemolysis. While this manuscript was being prepared, a novel study by Wojchowski and co-workers reported exactly this finding in mice with a truncated and mutated EpoR devoid of the tyrosine residues which are known to serve as docking sites for various SH2 domain-containing signaling proteins [56].
Conclusions
Erythropoietin is a key regulator of erythropoiesis and drives progenitor cell proliferation as well as differentiation. The signaling mechanism through which Epo activates the mitogenic kinases in primary erythroid progenitors (PEPs) was until now largely unclear, in part because only very few in-depth biochemical studies with primary progenitors have been done so far. Our studies identify a novel signaling pathway from erythropoietin to the mitogenic MEK and Erk kinases that requires only minimal amounts of Epo and is thus believed to reflect the continuous signaling that occurs under conditions of blood homeostasis. Specifically, minimal levels of Epo which lead to a basal activation of the MEK and Erk kinases moderately activate the class Ib PI3 kinase isoform PI3Kγ. This is, to our knowledge, the first time that the activity of endogenously expressed PI3Kγ has been quantified. Three different PI3K inhibitors, which are structurally and mechanistically distinct, unexpectedly showed that PI3K activation is essential for MEK and Erk activation. Moreover, we report for the first time Epo-induced Ras activation in PEPs. Surprisingly, Ras activation is also dependent on PI3K activity. This differs greatly from the signaling mechanism for Ras in many other contexts, where class Ia PI3Ks are downstream of Ras. The new pathway described here could be independent of phosphotyrosyl-SH2 domain interactions that are seen in many receptor signaling pathways. This would explain why mice with a mutant Epo receptor that lacks all SH2 domain docking sites are still viable and have a normal hematocrit when unchallenged.
Methods
Purification and amplification of primary human erythroid progenitors
Primary human erythroid progenitors were purified as described in Freyssinier et al. [41]. Briefly, umbilical cord bloods (approximately 80 ml) were diluted 1:1 with phosphate buffered saline (PBS) containing 4% fetal bovine serum (FBS). After Histopaque-1077 (Sigma, Poole, UK) density gradient centrifugation, the low density cells were recovered and CD34+ cells purified by immunomagnetic cell separation (MACS, CD34+ isolation kit, 467-01; Miltenyi Biotec, Bergisch Gladbach, Germany). Selected CD34+ cells were cultured in 5% CO2 at 37°C for seven days in serum-free RM-B00 cell expansion medium (00201; RTM/MABIO-International, Tourcoing, France; does not contain dexamethasone,) with 10 ng/ml interleukin (IL)-3, 10 ng/ml IL-6 and 25 ng/ml SCF (all from PeproTech EC Ltd, London, UK). After seven days in culture, CD36+ cells were immunomagnetically isolated using a mouse anti-CD36+ mAb (0765; Immunotech, Marseille, France) and rat anti-mouse IgG1 microbeads (471-01; Miltenyi Biotec). CD36+ cells were then further cultured with IL-3, IL-6, SCF and 2 U/ml Epo (Janssen-CILAG, Saunderton, UK) for four days.
Cell stimulation, lysis and protein quantification
On day 7+4 CD36+ cells were starved for 6 h in RM-B00 medium and stimulated with 0.3 U/ml Epo, 25 ng/ml SCF or 100 μM TPA (Calbiochem, Nottingham, UK) for 10 min, unless indicated otherwise. Mock incubations were done with the appropriate solvents for cytokines or chemicals (H2O, RM-B00 medium and/or DMSO).
For lipid and protein kinase inhibition experiments, cells were pretreated with UO126 (Cell Signaling Technology/NEB, Hitchin, UK), wortmannin, caffeine (both Sigma), LY294002, ZM336372, calphostin C or Ro-31-8220 (all from Calbiochem) as indicated. Total cell protein extracts were prepared by solubilizing in Igepal CA-630 (syn. Nonidet P-40, NP-40; I 3021, Sigma) lysis buffer containing 1% (v/v) NP-40, 50 mM HEPES pH 7.5, 10% (v/v) glycerol, 150 mM NaCl, 2 mM EDTA, 50 mM sodium fluoride (NaF), 10 mM sodium pyruvate, 1 mM sodium vanadate (Na3VO4), 1 mM phenylmethylsulfonylfluoride (PMSF), 10 μg/ml aprotinin, 5 μg/ml antipain, 0.5 μg/ml leupeptin, 0.7 μg/ml pepstatin A, 1 × Complete™ inhibitors (1697498; Roche, Mannheim, Germany) and 3 mM dithiotreitol (DTT). After 30 min of nutation in the cold, lysates were cleared by centrifugation for 20 min at 2°C with 20,000 × g and supernatants further analyzed. Protein concentrations were determined with the Bradford dye binding assay for all extracts made.
Immunoblotting and immunoprecipitation
100 μg of total cell protein extract were separated by SDS polyacrylamide gel electrophoresis (SDS-PAGE). After membrane transfer (Hybond-P, Amersham Pharmacia Biotech, Little Chalfont, UK) proteins of interest were detected with antibodies against phospho-STAT5a/b (05-495; Upstate Ltd, Milton Keynes, UK), phosphotyrosine (4G10 hybridoma), Ras (R02120; BD Transduction Laboratories, Heidelberg, Germany), phospho-Erk1/2 (9101), phospho-MEK1/2 (9121), phospho-Akt (pS473; 9271), phospho-GSK3α/β (9331), Akt (9272) (all from Cell Signaling Technology/NEB) or Erk1/2 (sc-93; Santa Cruz, Heidelberg, Germany) and ECL (Amersham Pharmacia Biotech). To detect the tyrosine phosphorylated EpoR, phosphotyrosyl-proteins from 500 μg of total cell protein were immunoprecipitated with mAb 4G10 in IP-buffer (20 mM Tris HCl pH 7.5, 10 mM EDTA, 10 mM EGTA, 100 mM NaCl, 5% glycerol, 0.1% (v/v) Tween20, 10 μg/ml aprotinin, 1 mM PMSF, 5 μg/ml antipain, 0.5 μg/ml leupeptin, 0.7 μg/ml pepstatin A, 1 × Complete™ inhibitors, 3 mM DTT, 1 mM NaF, 1 mM Na3VO4) overnight in the cold. After SDS-PAGE and membrane transfer, EpoR was detected with polyclonal anti-EpoR (kind gift from Patrick Mayeux, Hospital Cochin, Paris, France) and ECL.
PI3 kinase assay
500 μg of total cell protein extract were immunoprecipitated in NP-40 lysis buffer with 4 μg anti-phosphotyrosine mAb (4G10) or with 4 μg PI3K p110γ polyclonal antibody (sc-7177 (H-199); Santa Cruz), respectively. Immunoprecipitates were washed three times with NP-40 lysis buffer, twice with 50 mM TrisHCl pH 7.5 plus 500 mM lithium chloride (LiCl), once with 20 mM TrisHCl pH 7.5 with 100 mM NaCl and 1 mM EDTA and once with 20 mM HEPES pH 7.5. 10 μg of lyophilised phosphatidylinositol (PI; P2517, Sigma) were then mixed with 10 μl of lipid kinase buffer (LKB; 20 mM TrisHCl pH 7.5, 100 mM NaCl, 1 mM EGTA) and sonicated for 6 × 5 sec at 30% power output with an MS72 sonotrode (Sonopuls GM70; Bandelin, Berlin, Germany), chilling PI on ice between sonications. Sonicated PI was then mixed with 30 μl LKB and added to the immunoprecipitates. After 5 min on ice, 10 μl LKB with 10 μCi 32P-γ-ATP (3000 Ci/mMol; Amersham, Little Chalfont, UK) and 2 mM magnesium chloride (MgCl2) were added and samples incubated at 37°C for 15 min. The reaction was stopped with 200 μl of 1 N hydrochloric acid (HCl). After extraction of the samples with 200 μl of methanol/chloroform (1:1), 50 μl of the organic phase were used for thin layer chromatography (TLC) on LK6D plates (4865-821; Whatman International Ltd, Maidstone, UK). Running buffer was methanol/chloroform/H2O/NH4OH (20:23:4:1). TLC plates were analyzed on a Storm860 phosphoimager (Amersham Pharmacia Biotech) with ImageQuant 5.2 (Molecular Dynamics, Sunnyvale, USA). To confirm equal PI3K precipitation independent of cell stimulation, parallel samples of immunoprecipitates from protein extracts analyzed in lipid kinase assay were separated by SDS-PAGE and blots probed with anti-p110γ mAb (804-230-L001; Alexis, Nottingham, UK) followed by ECL.
Raf-MEK coupled kinase assay
The coupled kinase assay was done essentially as described [57] with slight modifications. 500 μg of total cell protein extract were immunoprecipitated with 4 μg anti-c-Raf1 (R19120; BD Transduction Laboratories) or with 4 μg anti-B-Raf (07-453; Upstate) in buffer A (20 mM TrisHCl pH 8.0, 2 mM EDTA, 1% (v/v) TritonX-100, 10% glycerol). Immunoprecipitates were washed three times with buffer A and twice with buffer B (50 mM TrisHCl pH 7.5, 75 mM NaCl, 5 mM EGTA, 5 mM MgCl2). 0.2 μg activatable GST-MEK1 (gift from W. Kolch; or 14-420, Upstate) together with 5 μl buffer C (50 mM MgCl2, 2 mM ATP) and 10 μl buffer B were added to the washed immunoprecipitates, samples were mixed and incubated at 30°C for 20 min. The reaction was then disrupted by transferring samples into ice and adding 100 μl buffer D (buffer B plus 1 mM DTT and 1 mM Na3VO4). 25 μl of this reaction mix was subsequently incubated with 20 μg kinase-inactive GST-Erk1K63M (gift from Heidi Greulich, Boston), 2 μl buffer E (buffer B with 37.5 mM MgCl2 and 1.25 mM ATP) and 5 μCi 32P-γ-ATP at 30°C for 15 min. The reaction was stopped by adding SDS-PAGE sample buffer. After SDS-PAGE, Raf activity was determined by detecting GST-Erk1K63M phosphorylation with ImageQuant 5.2. Subsequently proteins were blotted and membranes probed with anti-c-Raf1 or anti-B-Raf.
Ras assay
Detection of GTP-loaded Ras has been previously described [58, 59]. Cells were lysed in Mg2+-containing lysis buffer (MLB; 25 mM HEPES pH 7.5, 150 mM NaCl, 10 mM MgCl2, 1 mM EDTA, 10% glycerol, 1% NP-40, 0.25% (w/v) sodium deoxycholate, 1 mM Na3VO4, 10 μg/ml aprotinin, 0.5 μg/ml leupeptin) at 4°C for 15 min. 500 μg of MLB total cell protein were incubated with 25 μg GST-c-Raf1 RBD (amino acids 1–149) pre-coupled to GSH-beads (Amersham Pharmacia Biotech) at 4°C for 1 h. Precipitates were washed three times with MLB, separated by SDS-PAGE and immunoblotted with anti-Ras.
Statistical analysis of protein kinase assays
p-values were calculated using the Student's t-test (Microsoft Excel). Classification of values is p < 0.05, p < 0.01 or p < 0.001.
Declarations
Acknowledgements
We are grateful to Walter Kolch (Glasgow), Patrick Mayeux (Paris), Heidi Greulich (Boston), Ignacio Rubio, Tzvetanka Bondeva, Reinhard Wetzker (Jena) and Manfred Jücker (Hamburg) for reagents, valuable discussions and comments on the manuscript, to Adrian L. Harris (Oxford) and Georg Krohne (Würzburg) for support, and to Doug Higgs (Oxford), Ursula Klingmüller (Heidelberg) and Marc Lewitzky (Oxford) for critical reading of the manuscript.
Authors' Affiliations
(1)
Cancer Research UK Cell Signalling Group, Weatherall Institute of Molecular Medicine, Oxford, UK
(2)
Centre d'Immunologie de Marseille-Luminy, Parc Scientifique de Technology de Luminy, Case 906, Marseille, France
(3)
Institut Cochin, Département d'Hématologie, Inserm U567, Maternité de Port-Royal, Bd de Port-Royal, Paris, France
Copyright
© Schmidt et al; licensee BioMed Central Ltd. 2004
This article is published under license to BioMed Central Ltd. This is an Open Access article: verbatim copying and redistribution of this article are permitted in all media for any purpose, provided this notice is preserved along with the article's original URL.