Research article

Open Access
The TyrA family of aromatic-pathway dehydrogenases in phylogenetic context
Received: 19 February 2005
Accepted: 12 May 2005
Published: 12 May 2005
Abstract
Background
The TyrA protein family includes members that catalyze two dehydrogenase reactions in distinct pathways leading to L-tyrosine and a third reaction that is not part of tyrosine biosynthesis. Family members share a catalytic core region of about 30 kDa, where inhibitors operate competitively by acting as substrate mimics. This protein family typifies many that are challenging for bioinformatic analysis because of relatively modest sequence conservation and small size.
Results
Phylogenetic relationships of TyrA domains were evaluated in the context of combinatorial patterns of specificity for the two substrates, as well as the presence or absence of a variety of fusions. An interactive tool is provided for prediction of substrate specificity. Interactive alignments for a suite of catalytic-core TyrA domains of differing specificity are also provided to facilitate phylogenetic analysis. tyrA membership in apparent operons (or supraoperons) was examined, and patterns of conserved synteny in relationship to organismal positions on the 16S rRNA tree were ascertained for members of the domain Bacteria. A number of aromatic-pathway genes (hisH b , aroF, aroQ) have fused with tyrA, and it must be more than coincidental that the free-standing counterparts of all of the latter fused genes exhibit a distinct trace of syntenic association.
Conclusion
We propose that the ancestral TyrA dehydrogenase had broad specificity for both the cyclohexadienyl and pyridine nucleotide substrates. Indeed, TyrA proteins of this type persist today, but it is also common to find instances of narrowed substrate specificities, as well as of acquisition via gene fusion of additional catalytic domains or regulatory domains. In some clades a qualitative change associated with either narrowed substrate specificity or gene fusion has produced an evolutionary "jump" in the vertical genealogy of TyrA homologs. The evolutionary history of gene organizations that include tyrA can be deduced in genome assemblages of sufficiently close relatives, the most fruitful opportunities currently being in the Proteobacteria. The evolution of TyrA proteins within the broader context of how their regulation evolved and to what extent TyrA co-evolved with other genes as common members of aromatic-pathway regulons is now feasible as an emerging topic of ongoing inquiry.
Keywords
Lateral Gene Transfer
Pyridine Nucleotide
Congruency Group
Genome Representation
Profile HMMs
Background
Dehydrogenases dedicated to L-tyrosine (TYR) biosynthesis comprise a family of TyrA homologs that have different specificities for the cyclohexadienyl substrate: ones specific for L-arogenate (AGN), ones specific for prephenate (PPA), and those that are able to use both [
1
,
2
]. Figure
1
illustrates the biochemical relationship of these specificities to divergent transformations beginning with chorismate (CHA) utilization and converging on TYR formation. Compounding this complexity, a given TyrA enzyme having any of the aforementioned cyclohexadienyl specificities may be specific for NAD
+
or NADP
+
, or may use both. This is consistent with a growing appreciation [
3
,
4
] that different substrate specificities are often accommodated across a given protein family that nevertheless maintains a common scaffold of fundamental reaction chemistry. Even within the single category of broad TyrA specificity, there is a continuum ranging from examples where alternative substrates are accepted equally well to other cases where one substrate may be preferred by an order of magnitude or more. Table
1
provides a key to the nomenclature used to identify the various possible substrate-utilization combinations (both cyclohexadienyl and pyridine nucleotide) exhibited by TyrA proteins.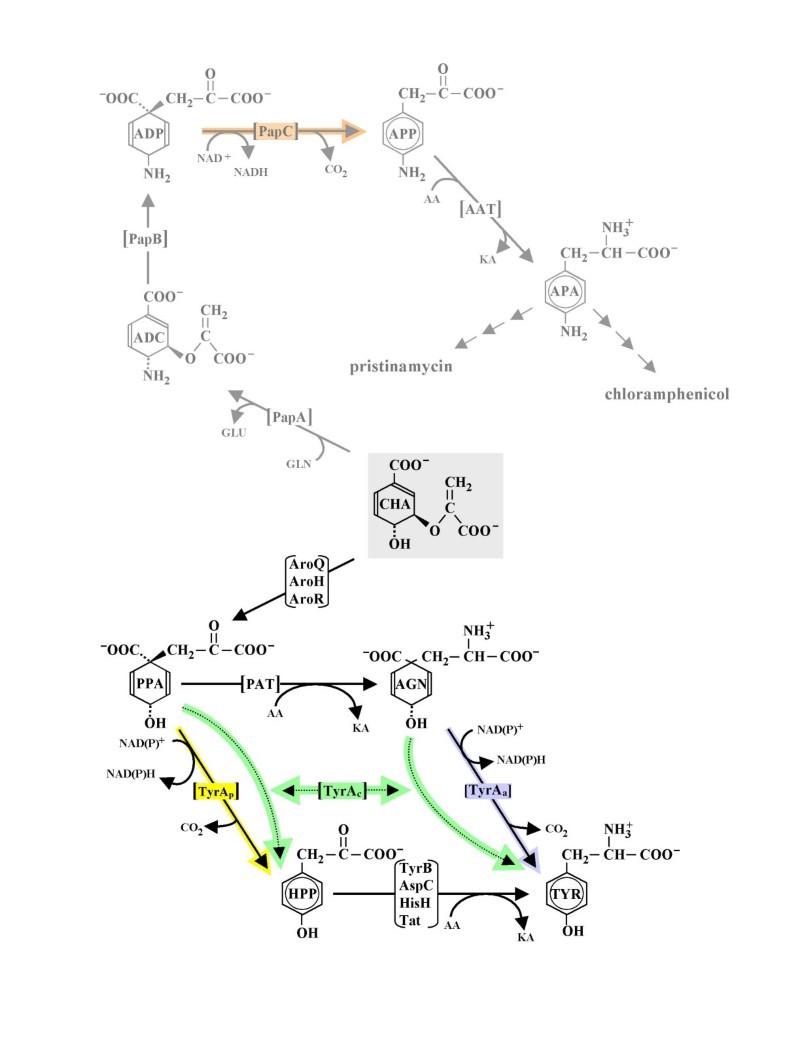 Table 1
Abbreviations used to designate substrate specificities of tyrA/TyrA homologs
Abbreviationa

Gene

Gene Product

Description of specificityb

tyrA x

TyrAx

Specificity for cyclohexadienyl substrate is unknown

tyrA c

TyrAc

Broad-specificity cyclohexadienyl dehydrogenase (CDH)

tyrA p

TyrAp

Narrow-specificity prephenate dehydrogenase (PDH)

TyrAc_Δ

TyrAc_Δ

Broad-specificity cyclohexadienyl dehydrogenase having catalytic-core indels in correlation with an extra-core extension

tyrA a

TyrAa

Narrow-specificity arogenate dehydrogenase (ADH)

NAD tyrA a

NADTyrAa

TyrA homolog is AGN-specific and NAD+-specific

NADP tyrA a

NADPTyrAa

TyrA homolog is AGN-specific and NADP+-specific

NAD(P) tyrA a

NAD(P)TyrAa

TyrA homolog is AGN-specific but utilizes either NAD+ or NADP+

x tyrA x

xTyrAx

Specificity for both the cyclohexadienyl and pyridine nucleotide substrates is unknown
Table 2
Key to organism acronyms
Organism

Abbreviation

in Paper

Abbreviation

on websiteb

Acidithiobacillus ferrooxidans ATCC 23270

Aferr

Acinetobacter sp. ADP1

ACIN

Actinobacillus actinomycetemcomitans HK1651

Aact

Actinomyces naeslundii MG1

Anae

Actinoplanes teichomyceticus

Atei

Agrobacterium tumefaciens strain C58

Atum

Amycolatopsis balhimycina

Abal

Amycolatopsis orientalis

Aori

Anabaena sp. PCC 7120

ANAB

Arabidopsis thaliana

Atha

Archaeoglobus fulgidus DSM 4304

Aful

Aful_1

Azotobacter vinelandii

Avin

Avin_1

Bacillis anthracis str. A2012

Bant

Bacillus cereus ATCC 14579

Bcer

Bacillus halodurans C-125

Bhal

Bhal_2

Bacillus stearothermophilus

Bste

Bacillis subtilis

Bsub

Bacillus thuringiensis israelensis

Bthu

Bifidobacterium longum NCC2705

Blon

Blon_1

Blochmannia floridanus

Bflo

Bordetella bronchisepticus

Bbro

Burkholderia cepacia J2315

Bcep

Burkholderia fungorum LB400

Bfun

Burkholderia mallei ATCC 23344

Bmal

Burkholderia pseudomallei K96243

Bpse

Bpse_6

Campylobacter jejuni

Cjej

Chromobacterium violaceum ATCC 12472

Cvio

Corynebacterium diphtheriae NCTC 13129

Cdip

Corynebacterium efficiens YS-314

Ceff

Corynebacterium glutamicum ATCC 13032

Cglu

Cglu_1

Desulfovibrio desulfuricans G20

Ddes

Desulfovibrio vulgaris subsp. vulgaris strain Hildenborough

Dvul

Desulfuromonas acetoxidans

Dace

Dace_5

Enterococcus faecalis V583

Efae_2

Enterococcus faecium

Efae_1

Efae_1

Erwinia carotovoa subsp.atroseptica SCRI1043

Ecar

Escherichia coli K12

Ecol

Geobacter metallireducens GS-15

Gmet

Geobacter sulfurreducens PCA

Gsul

Gloeobacter violaceus PCC 7421

Gvio

Haemophilus influenzae Rd KW20

Hinf

Helicobacter hepaticus ATCC 51449

Hhep

Helicobacter pylori 26695

Hpyl

Klebsiella pneumoniae subsp. pneumoniae MGH 78578

Kpne

Leifsonia xyli subsp. Xyli strain CTCB07

Lxyl

Listeria innocua Clip 11262

Linn

Listeria monocytogenes EGD-e

Lmon

Lotus corniculatus var. japonicus

Lcor

Lcor_3

Lycopersicon esculentum

Lesc

Methanococcus jannaschii

Mjan

Methanopyrus kandleri AV19

Mkan

Mkan_1

Methanosarcina barkeri strain Fusaro

Mbar

Methanothermobacter thermoautotrophicus strain Delta H

Mthe

Mthe_7

Microbulbifer degradans 2–40

Mdeg

Mycobacterium avium subsp. paratuberculosis strain k10

Mavi

Mycobacterium bovis TrEMBL

Mbov

Mbov_2

Mycobacterium leprae TN

Mlep

Mycobacterium tuberculosis CDC1551

Mtub

Myxococcus xanthus DK 1622

Mxan

Neisseria gonorrhoeae FA 1090

Ngon

Nitrosomonas europaea ATCC 19718

Neur

Nocardia farcinica IFM 10152

Nfar

Nonomuraea sp.

NONO

Nostoc punctiforme PCC73102

Npun

Npun_1

Novosphingomonas aromaticivorans DSM 12444

Naro

Oceanobacillus iheyensis THE831

Oihe

Oryza sativa ssp. japonica

Osat

Pantoea agglomerans

Pagg

Pasteurella multocida subsp. multocida strain Pm70

Pmul

Photorhabdus luminescens subsp. laumondii TT01

Plum

Prochlorococcus marinus subsp. pastoris strain CCMP1378

Pmar_1

Pmar_3

Prochlorococcus marinus MIT9313

Pmar_2

Pmar_10

Propionibacterium acnes KPA171202

Pacn

Pseudomonas aeruginosa PAO1

Paer

Paer_1

Pseudomonas fluorescens PfO-1

Pflu

Pseudomonas putida KT2440

Pput

Pseudomonas stutzeri

Pstu

Ralstonia eutropha JMP134

Reut

Ralstonia solanacearum GMI1000

Rsol

Rhodobacter capsulatus

Rcap

Rhodobacter sphaeroides 2.4.1

Rsph

Rhodopseudomonas palustris CGA009

Rpal

Rhodospirillum rubrum

Rrub

Rrub_1

Rubrobacter xylanophilus DSM 9941

Rxyl

Saccharomyces cerevisiae

Scer

Salmonella typhimurium LT2

Styp

Styp_1

Schizosaccharomyces pombe

Spom

Shewanella oneidensis MR-1

Sone

Shewanella putrifacians

Spu

Staphylococcus aureus subsp. Aureus MW2

Saur

Saur_2

Streptococcus gordonii str. Challis

Sgor

Streptococcus pneumoniae R6

Spne

Streptomyces avermitilis MA-4680

Save

Streptomyces caeruleus

Scae

Scae_2

Streptomyces coelicolor A3(2)

Scoe

Scoe_1

Streptomyces lavendulae

Slav

Streptomyces pristinaespiralis

Spri

Streptomyces roseochromogenes subsp. Oscitans

Sros

Sros_1

Streptomyces toyocaensis strain 7

Stoy

Sulfolobus solfataricus P2

Ssol

Sulfolobus tokodaii strain 7

Stok

Synechococcus sp. WH8102

SYNE_1

SYNE_1

Synechococcus sp. PCC7002

SYNE_2

Synechocystis sp. PCC6803

SYNE_3

SYNE_3

Thermobifida fusca

Tfus

Thermosynechococcus elongates BP-1

Telo

Trichodesmium erythraeum IMS101

Tery

Tropheryma whipplei TW08/27

Twhi

Vibrio cholerae O1 biovar eltor strain N16961

Vcho

Vibrio parahaemolyticus RIMD 2210633

Vpar

Wolinella succinogenes DSM 1740

Wsu

Xanthomonas campestris pv. campestris strain ATCC 33913

Xcam

Xylella fastidiosa 9a5c

Xfas

Yersinia enterocolitica (type 0:8)

Yent

Zymomonas mobilis subsp. mobilis ZM4

Zmob
The TyrA family is typical of many protein families in that its members have a relatively small core domain that is not highly conserved. As such, substantial challenges for bioinformatic analysis are posed. Here we have not only carried out a labor-intensive manual analysis, but we have also developed tools intended to facilitate and refine follow-on studies of this protein family in the genome era. The approaches implemented in this study with the TYR segment of aromatic biosynthesis hopefully can serve as a template for forthcoming integrant analyses of other pathway segments of aromatic biosynthesis, and indeed for metabolic subsystems in general.
This manuscript contains three broad sections. First, the biochemical and enzymological complexity of the TyrA protein family is presented in terms of the diversity that exists in nature with respect to substrate specificity and the association of the core domain with other catalytic or regulatory domains. Secondly, the genomic colinear organization of tyrA genes with other genes is evaluated, i.e., tyrA is considered in its syntenic context. Thirdly, tyrA is evaluated in its context of regulation. These three sections are tied together in a framework of evolutionary perspective.
Conclusion
Protein divergence within a vertical genealogy is not necessarily smooth and progressive. Qualitative biochemical innovations can result in a barrage of new selective pressures that result in evolutionary jumps. The consequent incongruence might easily be mistaken for LGT. The basis for evolutionary jumps will usually only be recognized by detailed and comprehensive analyses of any given subsystem. Examples in this study are as follows. (i) The tyrA c_Δ gene of the lower-gamma Proteobacteria has diverged markedly from tyrA c of the upper-gamma Proteobacteria. Here the milestone event was fusion of aroQ to a putative tyrA c in the ancestor of lower-gamma Proteobacteria to produce aroQ•tyrA c_Δ. Indels within the •tyrA c_Δ domain presumably reflect a multiplicity of selections for functional interactions known to exist between the two fused domains as discussed earlier. (ii) Members of the subclass taxon Actinobacteridae possess TyrAa proteins that separate into two distinct groupings. The presumed ancestral NAD(p)TyrAa that is still present in the Actinobacteridae_1 clade very likely spawned the divergent NAD+-specific variety of TyrAa to yield the contemporary Actinobacteridae_2 clade.
The previous evolutionary analysis of trp-pathway genes [7, 8] can be viewed as a model for comparable studies with other gene systems. Expansion to the greater aromatic pathway is a logical extension. The dynamics of evolutionary change for tyrA can be matched to the dynamics exhibited by the trp system. For example, the lower-gamma Proteobacteria separate as a distinct phylogenetic unit from beta Proteobacteria and upper-gamma Proteobacteria on criteria defined by milestone evolutionary events that altered many character states of both tryptophan and tyrosine biosynthesis in the lower-gamma Proteobacteria. In the future one can anticipate that comprehensive and systematic phylogenetic analysis of each protein member of the TYR, PHE and TRP branches, the common aromatic-pathway trunk, and minor vitamin-like branches (such as the 4-aminobenzoate/folate branch) will accommodate a progressively integrated picture of the entire aromatic network, including catabolic pathways and many other specialized pathways.
Methods
TyrA sequences
Most TyrA sequences were obtained from the National Center for Biotechnology Information (NCBI) [16]. TyrA sequences from incomplete genomes were retrieved from the PEDANT database [67]. Several sequences in our curated TyrA collection have been corrected for incorrect translation start sites. Various curated TyrA sequence files can be downloaded from our website. These files include complete sequences, trimmed catalytic-core domains, and amino-acid sequence segments that are relevant to specificity for pyridine nucleotide or to specificity for the cyclohexadienyl substrate. The sequence files are summarized in Table 3.
Congruency groupings
TyrA proteins that cluster together on the TyrA protein tree in congruence with the 16S rRNA tree are called congruency groups. Exact correspondence of branching orders is not necessarily observed. So far, congruency groupings have been assembled for tryptophan-protein concatenates [8] and for TyrA proteins. Completion of equivalent work with the remaining aromatic-pathway segments will identify the repertoire of bacterial organisms in possession of a "pure" vertical genealogy with respect to aromatic biosynthesis. Congruency groups for TyrA can be accessed at our AroPath website [9], where a listing of the membership of congruency groups is maintained and updated. Any members of congruency-group clusters, whose position there is incongruent with 16S rRNA expectations, probably (but not necessarily) originated by LGT. The donor lineage may not be obvious, but as more genomes come on line, many cases where donor identities are currently unknown may become revealed. A listing of "orphan" TyrA proteins that belong to no current congruency group is given. Such orphans reflect the lack of sufficient genome representation in particular phylogenetic regions and undoubtedly will become the nucleus for additional congruency groups in due course.
Alignments
Multiple alignments were obtained by use of the ClustalW or ClustalX programs (Version 1.83) [68]. Manual adjustments were needed in the region of the GxGxxG motif for binding of pyridine nucleotide cofactor in the N-terminal region of TyrA proteins. Guidance for alignment was assisted by maximizing conformation with the Wierenga fingerprint, making allowance for a variable loop of 2–5 residues [26]. This was done with the assistance of the BioEdit multiple alignment tool of Hall (5.0.9 Edition) [69]. The refined multiple alignment was used as input for generation of a phylogenetic tree using the phylogeny inference package (Version 3.2), PHYLIP [70]. The neighbor-joining program was used to obtain a distance-based tree. The distance matrix was obtained by use of Protdist with a Dayhoff Pam matrix. The Seqboot and Consense programs were then applied to assess the statistical support of the tree using bootstrap resampling (1,000 replications). We also used the ANCESCON package [71], which produced similar results as shown in Fig. 2 (albeit with even wider separation of many groups). The presence of regulatory domains (ACT and REG) was accepted when indicated by the Domain Architecture Retrieval Tool (DART) on the BLAST menu at NCBI [16].
Profile HMMs
Profile hidden Markov models for each of the four TyrA subfamilies, TyrAa, TyrAc, TyrAp and tyrA c_Δ , were built using Sean Eddy's HMMER package [72]. The HMMs were generated from our file of curated cyclohexadienyl-substrate core segments (see Table 3). The seed sequences for each subfamily were first aligned using ClustalW [68]. The resulting multiple sequence alignments were then manually edited to produce more accurate alignment of the seed sequences. Finally, the edited multiple sequence alignments were used to generate the profile HMMs for each TyrA subfamily.
Appraisal of gene fusions as one-time or multiple events
Whether any given contemporary gene fusions tracked back to a fusion event in a common ancestor or whether they occurred independently was evaluated by phylogenetic analysis of the individual protein domains and by inspection of the inter-domain linker region. Linker regions were determined by multiple alignments of fusion sequences with corresponding free-standing domains present in the closest relatives to organisms that lack the gene fusions.
Declarations
Acknowledgements
R. Jensen thanks the National Library of Medicine (Grant G13 LM008297) for partial support. This research is partially supported by the U. S. Army Research Institute of Infectious Diseases (USAMRIID). This analysis would not have been possible were it not for the yeoman efforts in comparative enzymology carried out over a period of more than 25 years by many students and postdoctoral fellows, most notably Graham S. Byng, Robert Whitaker, Alan X. Berry and Suhail Ahmad. This has produced an invaluable resource of comprehensive data, some of it unpublished. This paper is dedicated to our colleague and collaborator, John E. Gander, on the occasion of his 80th birthday.
Authors' Affiliations
(1)
Los Alamos National Laboratory, Los Alamos, USA
(2)
Emerson Hall, University of Florida, Gainesville, USA
Copyright
© Song et al; licensee BioMed Central Ltd. 2005
This article is published under license to BioMed Central Ltd. This is an Open Access article distributed under the terms of the Creative Commons Attribution License (http://creativecommons.org/licenses/by/2.0), which permits unrestricted use, distribution, and reproduction in any medium, provided the original work is properly cited.