Research article

Open Access
Rapid sympatric ecological differentiation of crater lake cichlid fishes within historic times
Received: 15 December 2009
Accepted: 12 May 2010
Published: 12 May 2010
The Erratum to this article has been published in BMC Biology 2012 10:70
Abstract
Background
After a volcano erupts, a lake may form in the cooled crater and become an isolated aquatic ecosystem. This makes fishes in crater lakes informative for understanding sympatric evolution and ecological diversification in barren environments. From a geological and limnological perspective, such research offers insight about the process of crater lake ecosystem establishment and speciation. In the present study we use genetic and coalescence approaches to infer the colonization history of Midas cichlid fishes (Amphilophus cf. citrinellus) that inhabit a very young crater lake in Nicaragua-the ca. 1800 year-old Lake Apoyeque. This lake holds two sympatric, endemic morphs of Midas cichlid: one with large, hypertrophied lips (~20% of the total population) and another with thin lips. Here we test the associated ecological, morphological and genetic diversification of these two morphs and their potential to represent incipient speciation.
Results
Gene coalescence analyses [11 microsatellite loci and mitochondrial DNA (mtDNA) sequences] suggest that crater lake Apoyeque was colonized in a single event from the large neighbouring great lake Managua only about 100 years ago. This founding in historic times is also reflected in the extremely low nuclear and mitochondrial genetic diversity in Apoyeque. We found that sympatric adult thin- and thick-lipped fishes occupy distinct ecological trophic niches. Diet, body shape, head width, pharyngeal jaw size and shape and stable isotope values all differ significantly between the two lip-morphs. The eco-morphological features pharyngeal jaw shape, body shape, stomach contents and stable isotopes (δ15N) all show a bimodal distribution of traits, which is compatible with the expectations of an initial stage of ecological speciation under disruptive selection. Genetic differentiation between the thin- and thick-lipped population is weak at mtDNA sequence (FST = 0.018) and absent at nuclear microsatellite loci (FST < 0.001).
Conclusions
This study provides empirical evidence of eco-morphological differentiation occurring very quickly after the colonization of a new and vacant habitat. Exceptionally low levels of neutral genetic diversity and inference from coalescence indicates that the Midas cichlid population in Apoyeque is much younger (ca. 100 years or generations old) than the crater itself (ca. 1 800 years old). This suggests either that the crater remained empty for many hundreds of years after its formation or that remnant volcanic activity prevented the establishment of a stable fish population during the early life of the crater lake. Based on our findings of eco-morphological variation in the Apoyeque Midas cichlids, and known patterns of adaptation in Midas cichlids in general, we suggest that this population may be in a very early stage of speciation (incipient species), promoted by disruptive selection and ecological diversification.
Keywords
Great Lake
Body Shape
Crater Lake
Head Width
Ecological Speciation
Background
Since Darwin and Wallace, the study of island inhabitants has greatly influenced evolutionary and ecological research [1]. In many respects, crater lakes are the aquatic equivalent to islands. Like islands, the small size, distinct boundaries, simplified biota, young age, geographical isolation and frequently well-known geological history of crater lakes makes them well-suited to study the diversification of sister taxa [1–3]. The physical isolation of crater lakes means that after the first seeding by a colonizing lineage evolution may proceed rapidly in situ. Indeed, crater lakes have provided the most compelling examples of sympatric ecological speciation of fishes, particularly cichlid fishes [4–7]. Intralacustrine speciation in depauperate habitats (for example, postglacial lakes and crater lakes) typically proceeds due to disruptive ecological selection [8], though the rapidity, strength and completeness of this process depends on a number of population and environmental factors [5, 9–11]. Well-known examples of this phenomenon include the benthic and planktivorous populations of sticklebacks [12, 13], introduced salmon populations [14] and whitefish [15, 16] in isolated lakes.
Cichlid fishes are pre-eminent non-model organisms for the study of ecological speciation because of their trophic polymorphism and rapid evolution [17, 18]. Mesoamerican fishes of the Midas cichlid species complex (the Amphilophus citrinellus species group) are particularly variable in trophic characteristics such as body shape and pharyngeal jaw morphology, as well as maintaining a striking colour polymorphism [19–21] (for a review of the crater lakes and species complex see [22]). One of the most renowned examples of ecological differentiation in the species complex is the elongate, open-water species Amphilophus zaliosus, which evolved from a high-bodied benthic ancestor by sympatric speciation within Nicaragua's oldest crater lake, Lake Apoyo [4, 20]. A similarly elongate but evolutionarily independent endemic species is also found in crater lake Xiloá [22–25]. An additional trophic polymorphism of Midas cichlids is fleshy, hypertrophied lips, which is believed to be involved in harvesting invertebrates from between cracks and recesses [20]. This character is absent from most crater lake Midas cichlid populations [20, 22, 26] and is best known from Amphilophus labiatus, a species that occurs in the two largest and shallowest lakes in the region, the great lakes Managua and Nicaragua [20]. Apoyeque is the only crater lake that harbours a sizeable population of Midas cichlids with hypertrophied lips; the origin and diversity of this population is the focus of our current study.
Western Nicaragua is underlain by an extremely active volcanism that has resulted in at least eight crater lakes that exist today (reviewed in [
22
]). One of the youngest of these is Apoyeque (Figure
1
). The volcano last erupted only about 1800 years ago [
27
] and then filled with ground- and rainwater to become a crater lake. The lake is small (2.5 km
2
) yet deep (110 m) [
28
,
29
] and, because of its steep cone shape, has a fairly small littoral zone (0.9 km
2
) [
30
]. 'Apoyeque' means 'salty water' in the regional Náhuatl language and the lake is so-named because of its high mineral content [
31
]. Located on the Chiltepe Peninsula, Apoyeque lies next to crater lake Xiloá and great lake Managua and yet its high crater walls (400 m) and lack of water connection make it completely aquatically isolated.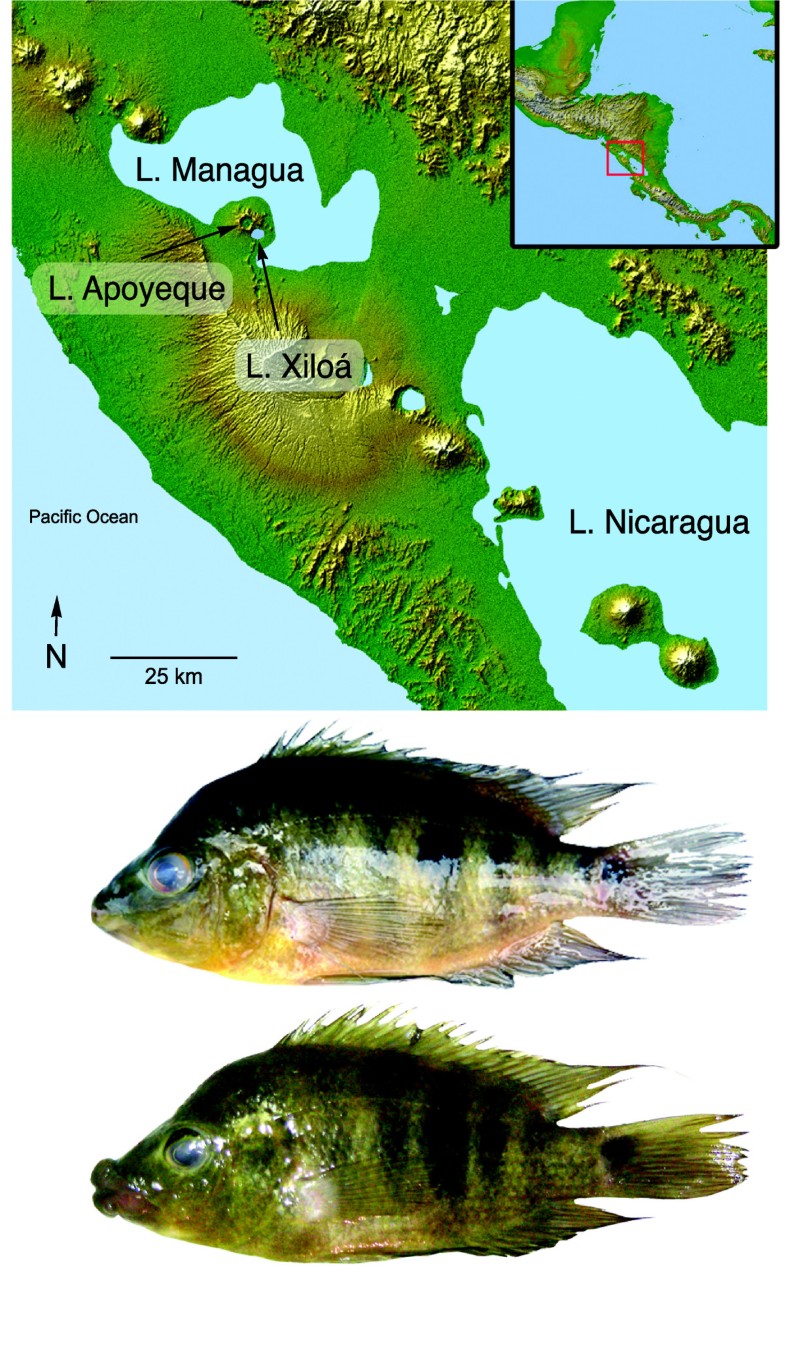 Despite the crater lake Apoyeque's young age and isolation, it is home to an abundant population of Midas cichlids (Amphilophus cf. citrinellus). There are two phenotypes living in the lake: one with normal citrinellus thin lips ('thin-lipped') and one with pronounced fleshy, or hypertrophied, lips ('thick-lipped'; Figure 1). The lake is otherwise depauperate in species, only housing some small live-bearing fishes (Family Poeciliidae) and, less abundantly, the predatory cichlid Parachromis managuense [30].
In the present study, we test whether the two phenotypes (morphs) of Midas cichlid in Apoyeque originated by sympatric differentiation promoted by ecological divergence. Given the intralacustrine diversification of Midas cichlids in other crater lakes, we hypothesize that this trait of thin- or thick- lips may be a novel or alternative axis of ecological differentiation exploited by crater lake cichlids. First, we infer the colonization history of crater lake Apoyeque using population genetic and coalescent approaches, in the context of neighbouring lakes Managua and Xiloá. We specifically assess evidence for a single or multiple colonization events and see whether the age of the population corresponds to the geological age of the lake. Second, we compare ecological (diet, trophic level and pharyngeal jaw shape) and morphological (body shape, head and body size) variation between thin- and thick-lipped fishes to see whether this character is associated with distinct niches, sex or maturity, or morphological difference. Third, we assess the role of disruptive natural selection in driving incipient speciation by comparing the distribution of phenotypes and genetic differentiation in Apoyeque's Midas cichlid population, with the expectation that ecological diversification should result in a bimodal distribution of ecologically relevant traits.
Results
Colonization and population genetics of Apoyeque and neighbouring lakes
Genetic diversity and differentiation
Using multiple approaches to assess genetic diversity with 11 nuclear microsatellite loci and mitochondrial DNA sequences, the Midas cichlid population in lake Apoyeque is the least genetically diverse relative to the Midas cichlid populations from nearby lakes (Table
1
, Additional File
1
, Additional File
2
). Only four mitochondrial DNA (mtDNA) haplotypes were found among the 290 individuals sequenced from crater lake Apoyeque (Figure
2
). The most abundant haplotype in Apoyeque is also found in Xiloá and in the great lakes Managua and Nicaragua (and was also the most common haplotype in previous Midas cichlid studies [
4
,
24
]). Three haplotypes unique to Apoyeque are much rarer (
n
= 14 individuals, all thin-lipped;
n
= 5 individuals, all thin-lipped; and
n
= 1 thick-lipped individual: see Genetic differentiation for further intralacustrine mtDNA analysis). Each of these Apoyeque-specific haplotypes is one-step apart from another Apoyeque haplotype and, to date, all are unique in the entire Midas cichlids species complex of Nicaragua (searched against 799 homologous Midas sequences, Genbank database accessed 27 April 2009), suggesting that they evolved
in situ
within the crater lake.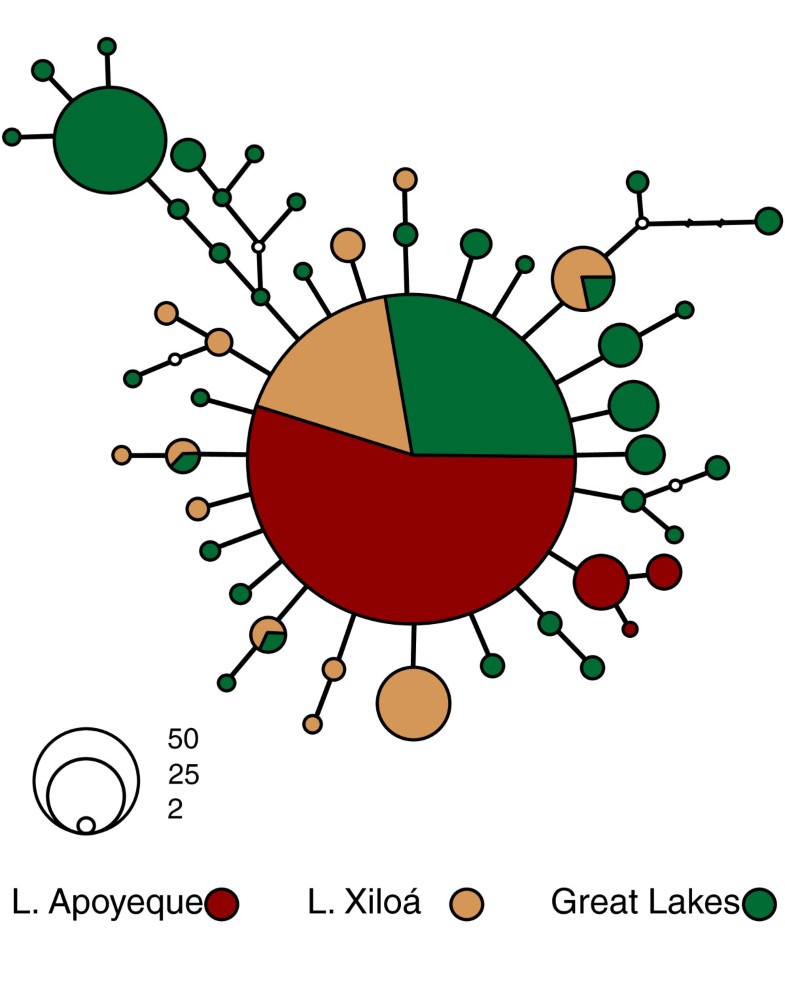 Table 1
Genetic diversity for Midas cichlid populations in three lakes: haplotype richness for mtDNA; observed heterozygosity, allelic richness, and private alleles for microsatellite markers (means ± standard deviations).
| | Crater Lake Apoyeque | Crater Lake Xiloá | Great Lake Managua |
| --- | --- | --- | --- |
| Haplotype richness | 0.131 | 0.574 | 0.851 |
| Heterozygosity | 0.632 ± 0.176 | 0.727 ± 0.214 | 0.785 ± 0.151 |
| Allelic richness | 5.97 ± 2.97 | 8.55 ± 3.71 | 11.24 ± 4.70 |
| Private allelic richness | 0.540 ± 0.532 | 1.14 ± 0.785 | 3.37 ± 1.83 |
The pronounced lack of microsatellite genetic variation within the Apoyeque Midas cichlid population, and its genetic distinctiveness from neighbouring lakes, can be visualized in the separation along axis 1 and the tight clustering of Apoyeque individuals in the Factorial Correspondence Analysis (Additional File 2). Midas cichlid fish populations in lakes Apoyeque, Xiloá and Managua are all significantly genetically differentiated from each other at mtDNA (FST = 0.072 - 0.262) and microsatellite loci (FST = 0.053 - 0.146; Additional File 3).
Coalescence inference of origin and time of colonization
Apoyeque could only have reasonably been colonized from either of its neighbouring lakes, Managua or Xiloá: all other lakes are geographically much more distant (Figure 1). Inferred from gene flow analyses in Migrate[32, 33] (here a proxy for likely colonization), Lake Managua is the primary ancestral population of Apoyeque: migration from Managua to Apoyeque was estimated to be two to four times higher than the rate of migration from Xiloá to Apoyeque. Based on isolation-with-migration coalescence analyses (IMa), the divergence time between the populations of Apoyeque and its founding population from lake Managua (approximately equivalent to the time since colonization) was estimated to be about 100 years ago (89 years, 63 years and 132 years in three independent iterations; see Additional File 4 for likelihood values of all parameters). The effective population size of Apoyeque was estimated to be approximately 1000 times smaller than that of the ancestral population in great lake Managua (Additional File 4).
Apoyeque's extant Midas cichlid population probably originated from a single founding event. Historical migration (coalescence of genes from Managua to Apoyeque) was estimated to be negligible (~10 migrations/thousand generations) and there was a single probability peak for population divergence in the IMa analysis (Additional File 4).
Eco-morphological variation within Apoyeque
Disruptive selection and phenotypic differentiation
Quantitative eco-morphological traits are expected to have a bimodal distribution under disruptive selection. In order to test this, we first assessed whether the distribution of adult phenotypes for each eco-morphological trait fits a normal distribution (Additional File
8
). Lip size (standardized to body length), body shape, lower pharyngeal jaw shape, stable isotope values of δ
13
C and gut contents significantly deviated from a single normal distribution (
P
< 0.001; Table
2
). Stable isotope values of δ
15
N showed poor fit to a normal distribution (
P
< 0.06) and were included in further testing. For the traits of lip size, body shape, lower pharyngeal jaw shape and diet (gut contents), a bimodal distribution (equivalent to two normal distributions; see Methods) was strongly supported over a unimodal distribution by the corrected Akaike Information Criterion (AICc) values (Table
2
, Additional File
8
). Stable isotope values were less clearly bimodal: values of δ
15
N moderately supported better fit to a bimodal distribution while values of δ
13
C equally supported either a uni- or bimodal distribution.
Table 2
Statistical support for whether the distribution of phenotypes for eco-morphological traits is composed of one or two normal distributions.
| Character | Data | Goodness-of-fit | AICc for unimodal | AICc for bimodal | ΔAICc | Supported distribution |
| --- | --- | --- | --- | --- | --- | --- |
| Lip size | Standardized area | P < 0.0001 | -139.83 | -448.46 | 308.64 | Bimodal (strong support) |
| Body shape | PC1 | P < 0.0001 | -486.00 | -1037.57 | 551.57 | Bimodal (strong support) |
| Pharyngeal jaw | PC1 | P < 0.0002 | -411.53 | -868.68 | 457.15 | Bimodal (strong support) |
| Diet | MDS 1 | P < 0.0001 | 83.53 | 64.05 | 19.48 | Bimodal (strong support) |
| Stable isotope (13C) | 13C defatted | P < 0.0008 | 139.41 | 134.52 | 4.89 | Unimodal = bimodal |
| Stable isotope (15N) | 15N | P < 0.0556 | 71.65 | 64.50 | 7.16 | Bimodal (moderate support) |
Genetic differentiation within Apoyeque
There was no genetic differentiation at microsatellite loci between the population of thin- and thick-lipped fishes in Apoyeque (FST < 0.001, P = 0.360). There was genetic differentiation in mtDNA haplotypes between the population of thin- and thick lipped fishes (FST = 0.018, P = 0.064), though it is not strongly statistically significant.
Conclusions
The results of our study suggest: (i) a case of ecological and morphological differentiation of sympatric Midas cichlids to exploit divergent niches, with associated weak population divergence at mtDNA; and (ii) that this eco-morphological divergence occurred very quickly after colonization of a crater lake habitat. Midas cichlids in Apoyeque are geographically and genetically isolated from neighbouring populations, and morphologically distinctive [22] and, thus, evolutionarily independent from other populations. Whether thin- and thick-lipped Midas cichlids in crater lake Apoyeque are a single polymorphic species or two incipient species cannot yet be determined with certainty but, based on cichlid biology in general and patterns of genetic and eco-morphological variation in Apoyeque in particular, we suggest that thin- and thick-lipped fishes may be sympatric incipient species.
Abbreviations
AICc:

Akaike Information Criterion
IMA:

isolation-with-migration coalescence analysis
MDS:

multidimensional scaling
mtDNA:

mitochondrial DNA
PC:

principal components
PCR:

polymerase chain reaction.
Declarations
Acknowledgements
Research was conducted with collection permits and approval of MARENA, Nicaragua. We thank: H Recknagel, C Rudolf-Chang and M von Ludner for assistance in the laboratory; N Probst and M Muschick for advice about fish stomachs; M Barluenga and W Salzburger for samples from Lake Managua; P Beerli for assistance with Migrate; PA Svensson for help with diet data analyses; C Bogs for algae identification by PCR; A Freundt and S Kutterolf for helpful geological information; M Brewer for an update to the mix2 software; Konstanz Ecology and Evolution journal club; and five anonymous reviewers for comments that improved the manuscript. CH thanks the Max Planck Gesellschaft (MPG) and D Tautz for support and H Buhtz for isotope analyses. This research was funded by: the Alexander von Humboldt Foundation (KRE, TKL); NSERC (KRE); Academy of Finland (TKL); Finnish Cultural Foundation (TKL); MPG (CH); University of Konstanz (AM); and the Deutsche Forschungsgemeinschaft (AM).
Authors' Affiliations
(1)
Lehrstuhl für Zoologie und Evolutionsbiologie, Department of Biology, University of Konstanz, Konstanz, Germany
(2)
School of Biological Sciences, Monash University, Victoria, Australia
(3)
Department of Evolutionary Genetics, Max Planck Institute for Limnology, Plön, Germany
(4)
School of Biological Sciences, Queen's University Belfast, Medical Biology Centre, Belfast, UK
Copyright
© Elmer et al; licensee BioMed Central Ltd. 2010
This article is published under license to BioMed Central Ltd. This is an Open Access article distributed under the terms of the Creative Commons Attribution License (http://creativecommons.org/licenses/by/2.0), which permits unrestricted use, distribution, and reproduction in any medium, provided the original work is properly cited.