Research article

Open Access
Expansion of ribosomally produced natural products: a nitrile hydratase- and Nif11-related precursor family
Received: 21 March 2010
Accepted: 25 May 2010
Published: 25 May 2010
Abstract
Background
A new family of natural products has been described in which cysteine, serine and threonine from ribosomally-produced peptides are converted to thiazoles, oxazoles and methyloxazoles, respectively. These metabolites and their biosynthetic gene clusters are now referred to as thiazole/oxazole-modified microcins (TOMM). As exemplified by microcin B17 and streptolysin S, TOMM precursors contain an N-terminal leader sequence and C-terminal core peptide. The leader sequence contains binding sites for the posttranslational modifying enzymes which subsequently act upon the core peptide. TOMM peptides are small and highly variable, frequently missed by gene-finders and occasionally situated far from the thiazole/oxazole forming genes. Thus, locating a substrate for a particular TOMM pathway can be a challenging endeavor.
Results
Examination of candidate TOMM precursors has revealed a subclass with an uncharacteristically long leader sequence closely related to the enzyme nitrile hydratase. Members of this nitrile hydratase leader peptide (NHLP) family lack the metal-binding residues required for catalysis. Instead, NHLP sequences display the classic Gly-Gly cleavage motif and have C-terminal regions rich in heterocyclizable residues. The NHLP family exhibits a correlated species distribution and local clustering with an ABC transport system. This study also provides evidence that a separate family, annotated as Nif11 nitrogen-fixing proteins, can serve as natural product precursors (N11P), but not always of the TOMM variety. Indeed, a number of cyanobacterial genomes show extensive N11P paralogous expansion, such as Nostoc, Prochlorococcus and Cyanothece, which replace the TOMM cluster with lanthionine biosynthetic machinery.
Conclusions
This study has united numerous TOMM gene clusters with their cognate substrates. These results suggest that two large protein families, the nitrile hydratases and Nif11, have been retailored for secondary metabolism. Precursors for TOMMs and lanthionine-containing peptides derived from larger proteins to which other functions are attributed, may be widespread. The functions of these natural products have yet to be elucidated, but it is probable that some will display valuable industrial or medical activities.
Keywords
Hide Markov Model
Leader Peptide
Phylogenetic Profile
Nitrile Hydratase
Core Peptide
Background
Bacteriocins are polypeptide-based natural products of ribosomal origin, usually functioning as antibiotics toxic to rival strains or species of bacteria [1]. Peptide products resembling the bacteriocins in their size, precursor sequence, posttranslational modifications and co-clustering with maturation enzymes occasionally prove to have a signalling function or other non-antibiotic activity [2]. Collectively, these products represent a large reservoir of molecules with vast potential. Bacteriocin production and resistance mechanisms are, without question, major contributors to microbial ecology dynamics. Despite decades of research, including extensive work on low molecular weight bacteriocins (microcins), these processes are little understood. The small size and unusual amino acid composition of microcin precursor peptides hinder even the recognition of the open reading frame (ORF) as the coding region of a real gene [3, 4]. Furthermore, the low level of sequence similarity often found even among microcins of the same general class impedes identification of new microcins by sequence similarity. These arguments represent possible explanations for the reason why the study of ribosomally-produced peptide natural products has lagged behind that of the well-known non-ribosomal peptide synthetase and polyketide synthase systems [5, 6].
A subset of microcins has been recently described in which the amino acid side chains of cysteine, serine and threonine from a ribosomally produced precursor undergo heterocyclization to generate a product with thiazole or (methyl)oxazole moieties. These include trichamide [
7
], the patellamides [
8
], goadsporin [
9
] and microcin B17 [
10
], among others. Building on these earlier studies, a research team led by Jack Dixon [
4
] described three types of proteins that represent a conserved biosynthetic machine for the formation of these heterocycle-containing metabolites across numerous microbial phyla. A zinc-tetrathiolate containing cyclodehydratase, flavin mononucleotide-dependent dehydrogenase and a docking scaffold protein are collectively responsible for the installation of thiazole and (methyl/oxazole modifications to a peptide precursor (Figure
1A
). In each case studied so far, the cyclodehydratase, dehydrogenase and docking scaffold proteins form a trimeric complex (BCD) and serve to convert inactive, unstructured peptides into bioactive natural products [
4
,
11
,
12
]. The thiazole/oxazole heterocycles are biosynthesized over two distinct chemical transformations. The first is catalyzed by the cyclodehydratase (C), which converts Cys and Ser/Thr residues into the corresponding thiazoline and (methyl)oxazoline with loss of water from the amide backbone. In a second reaction, the dehydrogenase (B) removes two electrons and two protons to afford the aromatic thiazole and (methyl)oxazole [
10
,
13
]. The docking scaffold protein (D) appears to play a role in trimer assembly and the regulation of enzymatic activity. For each oxidized heterocycle formed, 20 Da is lost from the parent peptide, which provides a convenient measure of product formation by mass spectrometry (Figure
1
) [
4
,
8
,
14
]. This class of natural product has been termed the thiazole/oxazole-modified microcins (TOMMs).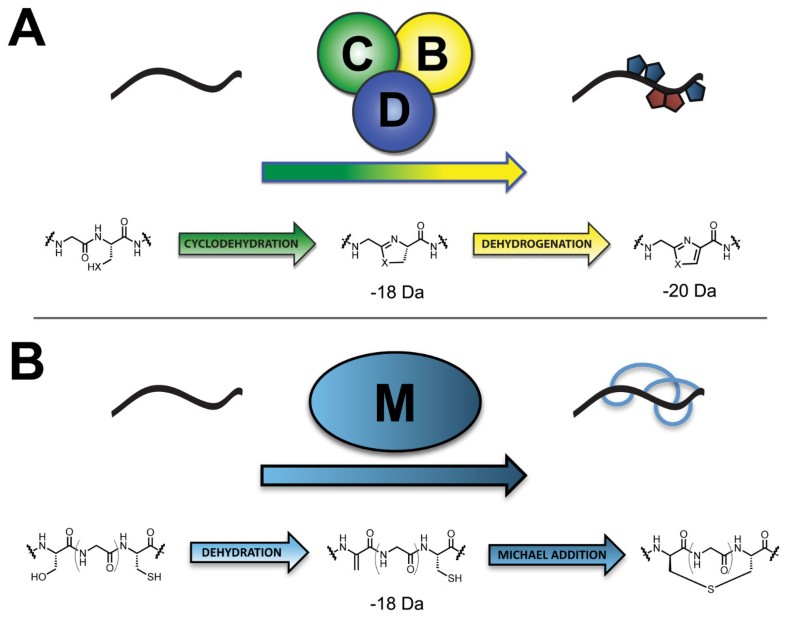 In a simplified view, the purpose of the TOMM biosynthetic machinery is to recognize substrate and install structural constraints that restrict peptide bond rotation, thus endowing the modified peptide with a rigidified tertiary structure. By restricting conformational flexibility at the correct locations, the altered steric and electronic properties of the molecule, in conjunction with the physiochemical properties of the adjacent amino acids, lead to a specific biological activity. This type of rationale could also be extended to another family of post-translationally modified peptides, the lantibiotics, with the only major differences being the chemical composition (lanthionine containing) and biosynthetic installation of the structural constraints (Figure 1B) [15, 16].
Again, similar to the lanthionine-containing peptides (lantipeptides), TOMM precursor peptides are bipartite: they contain an N-terminal leader sequence and a C-terminal 'core' peptide. The leader sequence has been shown in several cases to be critical to substrate recognition by the modifying enzymes, while the core peptide serves as a foundation upon which the active molecule is built [11, 17–19]. Outside of the leader region, TOMM precursors tend to be rich in heterocyclizable residues (Cys, Ser, Thr) and also in Gly, whose minimal side chain reduces the energetic barrier required for cyclodehydration. Clues that support the interpretation of an ORF as a TOMM precursor include sequence similarity to previously identified TOMM precursors, a leader peptide cleavage motif, and a hypervariable C-terminal core region rich in Gly, Cys, Ser and Thr [4, 11]. Also aiding the identification of a TOMM cluster is the tendency of the modification enzymes to cluster with other genes necessary for the complete chemical maturation, export and immunity to the natural product [4, 20, 21]. Identification of genes encoding enzymes involved in lanthionine formation [15, 22, 23], dehydroalanine production [9], peptide macrocyclization [7, 8, 24, 25] and thiazole/oxazole synthesis provide anchoring information for annotating post-translationally modified peptide biosynthetic clusters, such as the TOMMs and lantipeptides. Identification of other proteins (for example dehydrogenases, acetyltransferases, methyltransferases, proteases and transporters) in the local genomic region do not necessarily mark a biosynthetic cluster on their own but instead, help to define the extent and complexity of a proposed cluster [4].
Recent TOMM precursor identification by several groups [3, 8, 24, 26–29], including ours [4, 30], provide a growing number of short leader peptide sequences, a few of which show a moderate level of similarity with one another. However, many of the apparent TOMM biosynthetic systems have remained orphan systems, in that the thiazole/oxazole forming genes (encoding for the BCD synthetase complex, Figure 1A) could be detected but the TOMM precursors themselves could not be found. The current availability of well over 1000 complete bacterial and archaeal genomes permits the use of comparative genomics methods to locate the substrates for orphan TOMMs while simultaneously broadening the search for previously unknown families of post-translationally modified peptides. Our results illustrate the power of applying multiple informatics tools to the analysis of large numbers of fully sequenced genomes and suggest new opportunities to identifying secondary metabolite biosynthetic systems.
Results and discussion
Using a combination of informatics tools against a large number of sequenced genomes, we discovered several protein families that appear to represent an entirely new class of post-translationally modified peptide. The precursors have uncharacteristically long leader sequences and large paralogous family counts per genome. Analysis of the local genomic region predicts that these precursors will have variable chemical fates, including thiazole/oxazole and lanthionine formation. These families, surprisingly, include one set of sequences with strong similarity to the alpha subunit of the enzyme nitrile hydratase (NHase) [31, 32] while another set exhibits striking similarity to nitrogen-fixing proteins from cyanobacteria (Nif11) [33, 34].
Conclusion
The proposed precursor families described in this report dramatically expand the current repertoire of ribosomally produced natural products. This revision includes hundreds of peptides that exhibit (i) long leader peptide regions, (ii) similarity to proteins and enzymes assigned to other functions and (iii) locations distant to the genomic regions used to encode their modification and export genes. Microcins recognized by TIGR01847 have leader peptides predicted to end at an average length of 24 amino acids. However, the corresponding Gly-Gly motifs in the new discovered families presented here end at an average position of 83 and 70 for NHLP and N11P, respectively. NHLPs demonstrate significant sequence similarity to the alpha subunit of NHase, suggesting strongly that they share a common ancestor. NHase is an enzyme with a function unrelated to microcin production and, thus, a broader implication of our findings is that a small protein cannot be automatically excluded from classification as a precursor to a natural product, even if it is homologous to a protein with a known function.
The success of the approach employed here implies that a parallel strategy could prove useful to unravelling other natural product biosynthetic pathways. Possible applications are found in eukaryotic systems, such as in plants, where complex natural product pathways exist, but the requisite genes are not clustered. Clearly, the discovery of new ribosomally produced natural products is far from complete. Even within the families reported here, some members of NHLP and N11P occur in species without identified TOMM or lanthionine-forming enzymes. Furthermore, numerous TOMM clusters remain orphans, with candidate precursors yet to be identified. New tools and concepts, such as those described here, will be of importance in further defining the chemical genetic scope of ribosomally produced natural products.
Note: While this manuscript was under review, an independent report was published describing the in vitro reconstitution and in vivo production of numerous N11P-derived natural products from P. marinus sp. MIT9313 [58]. This finding strongly suggests that our informatics-based predictions will hold up to further experimental validation.
Methods
General
Multiple sequence alignments were generated using MUSCLE [36] or ClustalW [44], inspected, and refined manually. Refinements included trimming, removal of truncated and other defective sequences, recruitment of additional sequences, and realignment as necessary to create representative seed alignments. Completed seed alignments were used to construct HMMs. The resulting new HMM-based protein family definitions, described in this work, were deposited in the TIGRFAMs database [59, 60]. All HMM accessions refer to TIGRFAMs release 9.0 or Pfam release 22 [61].
In order to model regions of local sequence similarity between different protein families, multiple alignments were first generated, trimmed and used to train HMMs for searches to gather additional candidate sequences through an iterated, manual process. HMM construction was performed with the Logical Depth 1.5.4 package software-accelerated emulation of HMMER 2.3. The resulting motif models, of lengths 17 and 13, were searched against the individual families TIGR01323, TIGR03793, TIGR03795, TIGR03798 and the set of 20 proteins that resulted from PSI-BLAST [62]. The PSI-BLAST iterations were carried out to convergence, starting from the predicted 49-residue leader peptide of a hypothetical lanthionine-containing peptide, gi|228993822 from B. pseudomycoides SDM 12442), using composition-based statistics and an E-value of 0.5. This search strategy provides a working definition for the set of lichenicidin-related bacteriocins homologous in the leader peptide, rather than the core peptide. All non-identical sequences scoring above 0 bits to the respective motif HMMs were aligned to the HMM, resulting in gapless alignments. For each of these, a final HMM was built in order to emit a consensus sequence.
Description of TIGR (The Institute for Genome Research) models to locate biosynthetic genes
Previous work has identified many cyclodehydratase, dehydrogenase and docking scaffold genes [4, 24, 27]. In alpha/delta-proteobacteria, actinobacteria, cyanobacteria, and chlorobi type bacteria, the cyclodehydratase and docking scaffolds tend to be found encoded as a single ORF, while other taxa usually produce separate protein products [4]. TIGR03604 describes the docking protein in both fused and unfused cases. TIGR03603 identifies cyclodehydratases that occur as separate genes adjacent to the docking scaffold gene, but a new model, TIGR03882, had to be developed to reliably identify the cyclodehydratase region of the enzymes fused to the docking scaffold. All regions identified by TIGR03882 are fused to a docking scaffold domain, and iteration by PSI-BLAST demonstrates, as expected, weak similarity to a set of known proteins: ThiF of thiamine biosynthesis [63, 64], MoeB of molybdopterin biosynthesis [65], ubiquitin E1 conjugating enzymes and the cyclodehydratases identified by TIGR03603. The sequence similarity between post-translationally modified microcins and thiamine/molybdopterin biosynthetic proteins have been previously documented [66]. MccB, an enzyme involved in microcin C7 biosynthesis, also shares considerable similarity to ThiF/MoeB/E1. The Walsh and Schulman groups have recently characterized the MccB protein, confirming the earlier report [67, 68]. TIGR03882 recognizes the cyclodehydratase domains of the TriA protein for trichamide biosynthesis in Trichodesmium erythraeum [7] and the PatD protein of patellamide biosynthesis in Prochloron didemni [8]. The corresponding cyanobactin-type TOMM precursors of these systems are recognized by TIGR03678 [67, 68]. Succinct descriptions of all TIGR models of interest to this study are tabulated in Tables 1 and 3.
An examination of the genes in the vicinity of orphan cyclodehydratase-docking scaffold fusion proteins revealed no examples of short peptides qualitatively similar to those previously presented by Lee and Mitchell et al. [4]. Previously identified peptides featured leader sequences of approximately 25 amino acids, followed by regions of very low complexity, often of a repetitive nature, and highly enriched in cysteine, serine and threonine. However, our latest survey identified somewhat larger peptides nearby which warranted further investigation as potential TOMM precursors. For each family, founding members were aligned in order to build HMMs and search results were manually inspected in order to set cutoffs for each family. The three families, now represented by TIGRFAMs models TIGR03793, TIGR03795 and TIGR03798 (Table 1) serve as the basis for this report.
Partial phylogenetic profiling
Selected TIGRFAM models were searched against a collection of 1450 complete or nearly complete bacterial and archaeal genomes. All genomes with at least one protein scoring above the trusted cutoff of the model were assigned the value 1 ('YES') in the phylogenetic profile built to represent that model, while all other genomes were assigned the value 0 ('NO'). By PPP [39], the phylogenetic profile serves as a query to find which genes in a genome may belong to protein families that can best match that profile. PPP produces a score for each protein in a genome by exploring increasing depths in the list of best BLAST matches to that protein. PPP also records the growing set of genomes from which those protein matches originate. At each depth, PPP counts the numbers of genomes agreeing ('YES') and disagreeing ('NO') with the query profile and uses the binomial distribution to score the odds of obtaining at least that many agreements. The overall score for each protein is based on a depth for which the negative log10 of the score is maximized, corresponding to an optimum for the working size of a candidate protein family. Each phylogenetic profile was used to query all genomes assigned as YES in the profile. Top-scoring proteins were identified for further analysis. In essence, PPP makes it possible to detect a protein family that matches a query profile, even if that family has never previously been defined.
List of abbreviations
ABC:

ATP-binding cassette
ATP:

adenosine triphosphate
HMM:

hidden Markov model
indel :

insertion-deletion
N11P:

Nif11-derived peptide
NHase:

nitrile hydratase
NHLP:

nitrile hydratase leader peptide
NHLP-Burk:

Burkholderia type TOMM substrate family
Nif11:

nitrogen fixation protein of unknown function
ORF:

open reading frame
PPP:

partial phylogenetic profiling
TIGR:

The Institute for Genomic Research
TOMM:

thiazole/oxazole-modified microcin.
Declarations
Acknowledgements
The authors wish to thank Eric Eisenstadt and members of the Mitchell Laboratory for the critical review of the manuscript. This work was supported by grants 1 R01 HGO04881, HHSN266200400038C and by institutional funds provided by the Department of Chemistry at the University of Illinois.
Authors' Affiliations
(1)
The J Craig Venter Institute, Rockville, USA
(2)
Department of Chemistry, University of Illinois at Urbana-Champaign, Urbana, USA
(3)
Department of Microbiology, University of Illinois at Urbana-Champaign, Urbana, USA
(4)
Institute for Genomic Biology, University of Illinois at Urbana-Champaign, Urbana, USA
Copyright
© Haft et al; licensee BioMed Central Ltd. 2010
This article is published under license to BioMed Central Ltd. This is an Open Access article distributed under the terms of the Creative Commons Attribution License (http://creativecommons.org/licenses/by/2.0), which permits unrestricted use, distribution, and reproduction in any medium, provided the original work is properly cited.