How and why cells grow as rods
Abstract
The rod is a ubiquitous shape adopted by walled cells from diverse organisms ranging from bacteria to fungi to plants. Although rod-like shapes are found in cells of vastly different sizes and are constructed by diverse mechanisms, the geometric similarities among these shapes across kingdoms suggest that there are common evolutionary advantages, which may result from simple physical principles in combination with chemical and physiological constraints. Here, we review mechanisms of constructing rod-shaped cells and the bases of different biophysical models of morphogenesis, comparing and contrasting model organisms in different kingdoms. We then speculate on possible advantages of the rod shape, and suggest strategies for elucidating the relative importance of each of these advantages.
Keywords
Morphogenesis
Cytoskeleton
Cell wall
Introduction
How nanometer-scale molecular components construct micron-scale cells of specific shapes and sizes remains an outstanding question in biology. How are cell shapes generated? Are there reasons why cells have adopted certain shapes over others? Although many shape-determining factors have been identified across divergent organisms, mere characterization of individual cellular components has not revealed how shape is determined, nor has it provided much insight into the context under which these shapes evolved. Addressing these questions will require the integration of biology, physics, and chemistry. For instance, in addition to traditional molecular cell biology, it will be important to understand the role of cellular mechanics, the material properties of cells, their microenvironment, and evolutionary constraints. Comparisons among organisms with a common shape may help to reveal general principles that dictate shape determination and its evolutionary origins.
Here, we explore how cells generate rod-like shapes. The rod, a radially symmetric cylinder with rounded ends, represents a relatively simple geometry that is ubiquitous in unicellular walled organisms. Well-studied examples include bacteria (Escherichia coli, Bacillus subtilis, Agrobacterium tumefaciens), fungi (fission yeast Schizosaccharomyces pombe, Aspergillus nidulens), and plants (pollen tubes, stem and root axis epidermal cells in Arabidopsis thaliana). E. coli and S. pombe even have similar aspect ratios (length is approximately four times width), despite a nearly 100-fold difference in volume and qualitatively different spatial patterns of growth. One speculation is that the shape and aspect ratio of these rods may have particular evolutionary advantages.
A common feature of all walled cells is that the cell wall and turgor pressure give the cell its shape. The wall can be regarded as a thin shell of fibrous, viscoelastic material [
1
],[
2
]. When the cell wall is removed, cells lose their shape; conversely, isolated cell walls largely retain the shape of the cell. In the intact cell, a large difference in osmotic pressure across the cytoplasmic membrane (turgor) provides a force that expands the elastic cell wall, analogous to pressure inflating a balloon. Thus, key elements of walled cell morphogenesis include the physical properties of the cell wall and the processes responsible for its synthesis and remodeling, and the balance of forces between cell-wall extension and turgor pressure ultimately shapes the cell [
3
]. Interestingly, different species build rods in distinct ways.
E. coli
(a Gram-negative bacterium) and
B. subtilis
(Gram-positive) grow by inserting cell wall material along the length of the cylindrical portion of the cell (Figure
1
a) [
4
],[
5
]. However,
S. pombe
[
6
]
,
plant pollen tubes [
7
], and certain other bacteria (
A. tumefaciens
,
Corynebacterium glutamicum
) [
8
],[
9
] grow by insertion of new wall material at cell tips (Figure
1
b). These contrasting mechanisms suggest that a rod-like shape may have independently evolved multiple times. In this review, we describe our current understanding of mechanisms for forming rod-like shapes, and speculate on possible evolutionary advantages of this particular shape. Studies on the morphogenesis of rods will provide a conceptual and experimental framework that can then be applied to more complex shapes.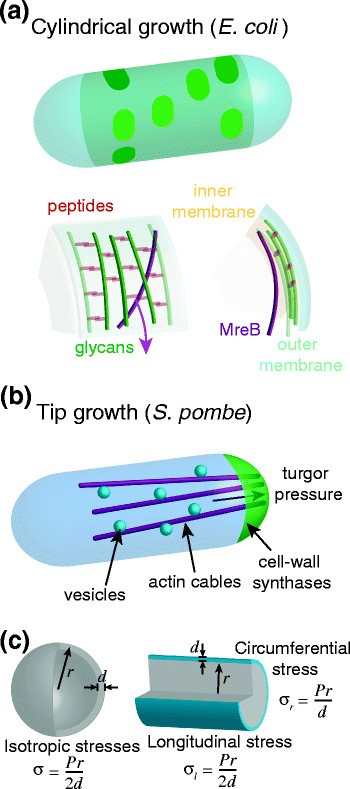 Why be a rod?
Given the ubiquity of rod-shaped organisms across kingdoms, it is tempting to speculate that the rod shape represents some kind of geometric optimum. Might there be physical principles and/or evolutionary pressures that favor this morphology? Below, we discuss several speculations on possible benefits of rods relative to other shapes in unicellular microbes, and where possible we suggest general strategies for future experiments that could explicitly test the fitness advantage of a rod relative to other shapes.
Conclusions
In this review, we have examined mechanisms and possible advantages of rod-shape formation. Consideration of organisms across kingdoms reveals differences and similarities in mechanisms for generating rod-like shapes, and also highlights common advantages that may have driven the convergent evolution of this fundamental shape. We have focused primarily on E. coli and S. pombe as well-characterized examples, but it is likely that studies of other rods will reveal a diverse spectrum of mechanisms of determining cell shape. This review perhaps poses more questions than answers, and sets the stage for future investigations by highlighting, for instance, the question of possible benefits of a given shape in a particular environment.
Our understanding of cell shape-determination mechanisms is still quite rudimentary even in E. coli and S. pombe, and the field would greatly benefit from quantitative interdisciplinary studies investigating morphogenesis at many scales. Many mutants with diverse cell shapes have been identified, and the identification of ways to systematically alter cell shape will facilitate future discoveries. Studies of the rod shape in many organisms should provide the basis for understanding the rationale of other shapes and reveal fundamental principles that specify shape determination in living cells.
Although little is known about the absolute determination of width and length in any organism, detailed studies of both morphology and growth across mutants, related species, and divergent organisms will provide a fingerprint for the underlying physical forces driving size determination. Moreover, genome-scale assays that can profile metabolic activity [106] and proteomics in a variety of limiting growth environments [107] will help to connect morphological and physiological phenotypes. While morphogenesis of any living cell is inherently complex, the pinpointing of common threads between organisms will motivate future efforts to address these fundamental questions.
Declarations
Acknowledgments
This work was supported by National Institutes of Health R01 GM056836 (to F.C.), and NIH Director's New Innovator Award DP2OD006466 (to K.C.H.). This work was also supported in part by the National Science Foundation under Grant PHYS-1066293 and the hospitality of the Aspen Center for Physics, and by the Marine Biological Laboratory. The authors thank Rosanna Chau, Alexandre Colavin, and Gabriel Billings for helpful feedback, and Erdinc Atilgan for discussions and for communicating unpublished data.
Authors' Affiliations
(1)
Department of Microbiology and Immunology, Columbia University Medical Center, New York, USA
(2)
Department of Bioengineering, Stanford University, Stanford, USA
(3)
Department of Microbiology and Immunology, Stanford University School of Medicine, Stanford, USA
Copyright
© Chang and Huang; licensee BioMed Central 2014
This article is published under license to BioMed Central Ltd. This is an Open Access article distributed under the terms of the Creative Commons Attribution License (http://creativecommons.org/licenses/by/4.0), which permits unrestricted use, distribution, and reproduction in any medium, provided the original work is properly credited. The Creative Commons Public Domain Dedication waiver (http://creativecommons.org/publicdomain/zero/1.0/) applies to the data made available in this article, unless otherwise stated.