Methodology article

Open Access
Simultaneous high-resolution detection of multiple transcripts combined with localization of proteins in whole-mount embryos
Received: 30 May 2014
Accepted: 2 July 2014
Published: 15 August 2014
Abstract
Background
Whole-mount in situ hybridization (WISH) is a fundamental tool for studying the spatio-temporal expression pattern of RNA molecules in intact embryos and tissues. The available methodologies for detecting mRNAs in embryos rely on enzymatic activities and chemical reactions that generate diffusible products, which are not fixed to the detected RNA, thereby reducing the spatial resolution of the technique. In addition, current WISH techniques are time-consuming and are usually not combined with methods reporting the expression of protein molecules.
Results
The protocol we have developed and present here is based on the RNAscope technology that is currently employed on formalin-fixed, paraffin-embedded and frozen tissue sections for research and clinical applications. By using zebrafish embryos as an example, we provide a robust and rapid method that allows the simultaneous visualization of multiple transcripts, demonstrated here for three different RNA molecules. The optimized procedure allows the preservation of embryo integrity, while exhibiting excellent signal-to-noise ratios. Employing this method thus allows the determination of the spatial expression pattern and subcellular localization of multiple RNA molecules relative to each other at high resolution, in the three-dimensional context of the developing embryo or tissue under investigation. Lastly, we show that this method preserves the function of fluorescent proteins that are expressed in specific cells or cellular organelles and conserves antigenicity, allowing protein detection using antibodies.
Conclusions
By fine-tuning the RNAscope technology, we have successfully redesigned the protocol to be compatible with whole-mount embryo samples. Using this robust method for zebrafish and extending it to other organisms would have a strong impact on research in developmental, molecular and cell biology. Of similar significance would be the adaptation of the method to whole-mount clinical samples. Such a protocol would contribute to biomedical research and clinical diagnostics by providing information regarding the three-dimensional expression pattern of clinical markers.
Keywords
RNA expression
RNA localization
Zebrafish
WISH
FISH
Immunohistochemistry
Fluorescent protein
Background
Whole-mount in situ hybridization (WISH) is used to study the RNA expression pattern of genes in the context of tissues in which the RNAs function [1,2]. Chromogenic in situ hybridization (ISH) techniques are commonly used in different model organisms for this purpose and are based on an enzymatic reaction that converts a colorless substrate into a dark visible precipitate. Employing chromogenic ISH, up to three different mRNAs can be detected simultaneously in Drosophila embryos [3,4]. However, the detection of not more than two different transcripts has thus far been achieved in zebrafish embryos using this method [4].
Compared to chromogenic ISH, fluorescent in situ hybridization (FISH) offers a higher resolution and an improved detection of overlapping gene expression patterns in a single sample [5–7]. Combining FISH with confocal microscopy can thus provide spatial information concerning the expression of the investigated RNA within three-dimensional complex samples such as embryos. The signal generated in FISH relies on the binding of a horse radish peroxidase (HRP)-conjugated antibody to modified ribonucleotides of the probe, followed by tyramide signal amplification (TSA), where HRP converts a tyramide conjugated to a fluorophore into a reactive fluorescent intermediate that covalently binds to nearby amino-acid residues, typically tyrosine. Whereas multicolor FISH can potentially be used for detecting multiple transcripts by employing different fluorescent tyramide substrates, the method is less efficient, particularly for RNAs expressed at low levels [6]. To overcome this drawback of the method, modifications to the original FISH protocol have been put forward that significantly enhance the sensitivity of the assay [7,8]. Nevertheless, as other WISH methods, this protocol also relies on the generation of diffusible products that potentially decrease resolution of transcript localization.
A newly developed alternative method has been reported that allows the simultaneous fluorescent labeling of up to five transcripts by employing an orthogonal amplification with hybridization chain reactions (HCRs) [
9
]. In this method, a probe set of one to nine probe species is used to target each mRNA molecule. Following probe hybridization, fluorescent RNA hairpins self-assemble into fluorescent amplification polymers [
9
]. More recently, a novel technology called RNAscope has been developed for RNA detection
in situ.
This method is based on fluorescent signal amplification upon target probe hybridization [
10
] (Figure
1
), and unlike other RNA ISH methods including HCR, it is a rapid protocol that can be completed within less than 2 days. Importantly, as a result of innovative probe design and a detection strategy that relies on non-diffusible fluorogenic products, this method allows the detection of rare transcripts at high resolution, while generating a low background signal [
11
–
14
]. In this method, special probes are designed such that they hybridize to the target mRNA, with each probe containing a different tail sequence that provides the base for the assembly of a signal-amplifying scaffold. As this scaffold will only form on a pair of flanking probes, signal specificity is dramatically increased (Figure
1
). This method allows the simultaneous detection of up to four mRNA species in formalin-fixed paraffin-embedded cancer cell lines and tumor tissue sections using either fluorescent or chromogenic detection [
10
]. Thus far, RNAscope has been used in medical research and for detection of histopathological biomarkers in clinical diagnosis [
11
–
15
]. As a sensitive and specific assay with multiplex capabilities, RNAscope allows quantitative measurements of RNA levels in the context of the tissue [
11
] as well as reliable detection of low abundance RNA molecules by flow cytometry [
16
]. The introduction of relatively small probes prior to the generation of immobile amplification products can contribute to good penetration into the embryo and efficient labeling of rare transcripts.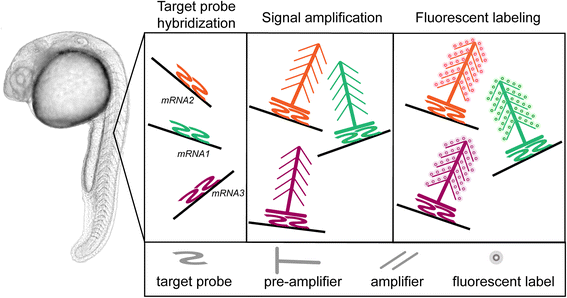 Whereas RNAscope was successfully employed for sectioned material, determination of RNA expression patterns in larger biological samples, such as intact embryos, would be extremely beneficial in biomedical research and developmental biology and when analyzing large clinical samples. Adapting this method for intact embryos would allow simultaneous high-resolution analysis of developmentally important genes and provide detailed quantitative information concerning expression patterns and expression levels within the developing embryo and tissue.
Based on the RNAscope ISH principle, we provide a fine-tuned protocol that we developed for large tissue samples, as exemplified here by using whole-mount zebrafish embryos. The devised protocol includes steps promoting effective preservation of embryo integrity, while allowing efficient penetration of the probes and an excellent signal-to-noise ratio. It is a rapid and robust protocol that facilitates the simultaneous quantitative detection of multiple transcripts within an embryo. Importantly, in addition to revealing the spatial distribution of RNA molecules, the protocol allows the simultaneous determination of protein expression patterns and protein subcellular localization.
Conclusions
ISH is a fundamental method for studying gene expression in cells, tissues and whole organisms. Using zebrafish as an example, we present the development of RNAscope-based detection of multiple transcripts in whole-mount embryos, offering a procedure that is compatible with protein localization. The improved protocol preserves embryo integrity and is remarkably rapid. The uniquely designed probes for RNAscope and the amplification of target signals allow the detection of rarely expressed transcripts. In addition, the exclusion of antibodies and the lack of diffusible reaction staining products contributed to increased resolution and excellent signal-to-noise ratios. While not tested in this study, we assume that minor modifications to the final protocol would allow its application to embryos of other species and large tissue samples as well. The implementation of such modifications in whole-mount samples would contribute to biomarker analysis of clinical samples, diagnostics and basic research.
Methods
Zebrafish work
Zebrafish (Danio rerio) with the AB genetic background and transgenic fish carrying Tol-kop-egfp-f'-nanos 3′ UTR [28], Tol-kop-gra-dsRed-nanos 3' UTR [29], fli1a-egfp [27] or the elavl3-egfp [26] transgene were used. The zebrafish were handled according to the laws of the state of North Rhine-Westphalia, supervised by the veterinarian office of the city of Muenster.
RNAscope assay
Zebrafish embryos were fixed according to their developmental stage (Additional file 2), in 4% PFA in PBS (137 mM NaCl, 2.7 mM KCl, 10 mM Na2HPO4, 1.8 mM KH2PO4, pH 7) at RT prior to (for embryos younger than 24 hpf), or after (for 24-hpf embryos and older) hand dechorionation. For each experimental point, 20 embryos were processed in one 1.5 ml Eppendorf tube. A series of increasing MeOH concentrations (25%, 50%, 75%, 2× 100%) in 0.1% PBT (0.1% Tween-20 in PBS, pH 7.4) was used to dehydrate the embryos stepwise in 5-min washes. After the last MeOH wash, embryos were stored at -20°C for at least one night. The embryos were then air-dried for 30 min at RT and subjected to the RNAscope-based signal amplification (Advanced Cell Diagnostics). Protease digestion of embryos using Pretreat 3 [10] was performed for 20 min at RT followed by rinsing the embryos three times in 0.01% PBT (0.01% Tween-20 in PBS, pH 7.4). Target probe hybridization (hybridization buffer 1: 6× SSC (1× SSC is 0.15 mol/L NaCl, 0.015 mol/L Na-citrate), 25% formamide, 0.2% lithium dodecyl sulfate, blocking reagents [10]) was performed at 40°C O/N to allow the preservation of protein fluorescence. A hybridization temperature of 50°C results in comparably high signal intensities in the sample and can thus be employed for background problems when the activity of fluorescent proteins is not of importance. Following recovery of the probes, the embryos were washed three times for 15 min in 0.2× SSCT (0.01% Tween-20, 3 mM NaCl, 0.3 mM TriNaCitratdihydrate, pH 7) at RT. An additional fixation step was performed using 4% PFA for 10 min at RT.
For RNA detection, incubation with the different amplifier solutions was performed in a water bath at 40°C. The pre-amplifier (2 nmol/L) was in hybridization buffer 2 (20% formamide, 5× SSC, 0.3% lithium dodecyl sulfate, 10% dextran sulfate, blocking reagents). The amplifier (2 nmol/L) was in hybridization buffer 2. The label probe (2 nmol/L) was in hybridization buffer 3 (5× SSC, 0.3% lithium dodecyl sulfate, blocking reagents) [10].
After each hybridization step, the embryos were washed three times with 0.2× SSCT for 15 min. The embryos were then incubated with DAPI ready-to-use solution (Advanced Cell Diagnostics) O/N at 4°C with slow agitation. Prior to imaging, embryos were rinsed in 0.01% PBT, mounted in 1% low melting point agarose (LMP) and imaged in 1× PBS solution.
Conventional in situ hybridization assays
One-color WISH was performed as previously described [30], with modifications according to [1,31]. Whole-mount FISH was performed based on [6] and the optimized FISH according to [8]. Digoxigenin-labeled myoD [GenBank:NM_131262] and cxcr4b [GenBank:NM_131834] probes were synthetized using T7 or Sp6 polymerase, respectively, according to the manufacturer's protocol (Roche, Basel, Switzerland).
Immunohistochemistry
Following the RNAscope protocol, 28-hpf embryos were embedded in 4% LMP and sectioned into 100-μm slices using a vibratome (Leica, Wetzlar, Germany VT1000E). Sections were permeabilized (0.1% Tween-20 and 0.3% Triton-X-100 in PBS) for 1 hour at RT and incubated in blocking buffer (0.3% Triton X-100 and 4% BSA in PBS) O/N at 4°C. Incubation with a mouse monoclonal primary antibody targeting E-cadherin (BD, San Jose, CA, USA Biosciences, 610181) in blocking buffer (1:100) was performed O/N at 4°C followed by three washes for 5 min in 0.3% Triton X-100 in PBS. The secondary antibody (rabbit Alexa 568 anti-mouse IgG, Invitrogen) was applied at 1:1000 dilution in blocking buffer and incubated O/N at 4°C in the dark. The sections were then washed three times, mounted on slides using fluorescence mounting medium (Dako, Hamburg, Germany) and imaged.
Microscopy and image analysis
Fluorescent images were acquired on an LSM 710 microscope (Zeiss, Oberkochen, Germany). Chromogenic ISH images were obtained on an Axioplan2 epifluorescent microscope (Zeiss, Oberkochen, Germany). Whole-clutch bright-field images were captured using a SteREO Discovery.V12 (Zeiss, Oberkochen, Germany) and AxioCam MRc5 camera (Zeiss, Oberkochen, Germany). Images were processed using ImageJ software (National Institutes of Health) and Imaris (Bitplane AG, Zurich, Switzerland).
Signal intensity measurements to assess RNAscope probe penetration were performed on confocal images after subtracting background levels using the rolling ball algorithm. The measurements were performed at four different selected expression sites in the vessels. Measurements were repeated for three independent embryos. Signal-to-noise ratio was determined employing the ROI manager of ImageJ, dividing the average pixel intensity of an area expressing egfp under the control of the fli1a promoter with that in a region where egfp is not expressed. This procedure was repeated six times in different confocal planes.
Abbreviations
ACD:

Advanced Cell Diagnostics
bp:

base pair
BSA:

bovine serum albumin
DAPI:

4',6-diamidino-2-phenylindole
dpf:

days post fertilization
FISH:

fluorescent in situ hybridization
HCR:

hybridization chain reaction
hpf:

hours post fertilization
HRP:

horse radish peroxidase
ISH:

in situ hybridization
LMP:

low melting point agarose
MeOH:

methanol
O/N:

overnight
PBS:

phosphate-buffered saline
PFA:

paraformaldehyde
PGC:

primordial germ cell
RT:

room temperature
TSA:

tyramide signal amplification
WISH:

whole-mount in situ hybridization
Declarations
Acknowledgements
This work was supported by grants from the European Research Council, the Deutsche Forschungsgemeinschaft Cells in Motion cluster of excellence (EXC 1003-CIM), the University of Muenster, Germany, and an HSFP research grant. We thank Ursula Jordan and Ines Sandbote for technical help, M Reichman-Fried for critical reading of the manuscript and Prof Juergen Brosius for use of the vibratome.
Authors' Affiliations
(1)
Institute for Cell Biology, ZMBE, Muenster, Germany
Copyright
© Gross-Thebing et al.; licensee BioMed Central Ltd. 2016
This is an Open Access article distributed under the terms of the Creative Commons Attribution License (http://creativecommons.org/licenses/by/4.0), which permits unrestricted use, distribution, and reproduction in any medium, provided the original work is properly credited. The Creative Commons Public Domain Dedication waiver (http://creativecommons.org/publicdomain/zero/1.0/) applies to the data made available in this article, unless otherwise stated.