Research article

Open Access
Plasticity versus specificity in RTK signalling modalities for distinct biological outcomes in motor neurons
Received: 1 July 2014
Accepted: 4 July 2014
Published: 14 August 2014
Abstract
Background
Multiple growth factors are known to control several aspects of neuronal biology, consecutively acting as morphogens to diversify neuronal fates, as guidance cues for axonal growth, and as modulators of survival or death to regulate neuronal numbers. The multiplicity of neuronal types is permitted by the combinatorial usage of growth factor receptors, each of which is expressed in distinct and overlapping subsets of neurons, and by the multitasking role of growth factor receptors, which recruit multiple signalling cascades differentially required for distinct biological outcomes. We have explored signalling robustness in cells where a given receptor tyrosine kinase (RTK) elicits qualitatively distinct outcomes. As the HGF/Met system regulates several biological responses in motor neurons (MN) during neuromuscular development, we have investigated the signalling modalities through which the HGF/Met system impacts on MN biology, and the degree of robustness of each of these functions, when challenged with substitutions of signalling pathways.
Results
Using a set of mouse lines carrying signalling mutations that change the Met phosphotyrosine binding preferences, we have asked whether distinct functions of Met in several MN subtypes require specific signalling pathways, and to which extent signalling plasticity allows a pleiotropic system to exert distinct developmental outcomes. The differential ability of signalling mutants to promote muscle migration versus axonal growth allowed us to uncouple an indirect effect of HGF/Met signalling on nerve growth through the regulation of muscle size from a direct regulation of motor growth via the PI3 kinase (PI3K), but not Src kinase, pathway. Furthermore, we found that HGF/Met-triggered expansion of Pea3 expression domain in the spinal cord can be accomplished through several alternative signalling cascades, differentially sensitive to the Pea3 dosage. Finally, we show that the regulation of MN survival by HGF/Met can equally be achieved in vitro and in vivo by alternative signalling cascades involving either PI3K-Akt or Src and Mek pathways.
Conclusions
Our findings distinguish MN survival and fate specification, as RTK-triggered responses allowing substitutions of the downstream signalling routes, from nerve growth patterning, which depends on a selective, non-substitutable pathway.
Keywords
Motor neurons
RTK signalling
Survival
Cell fate specification
Development
HGF/Met
Background
The assembly of locomotor circuits relies on the parallel development of spinal motor neurons (MNs) and their target muscles, and subsequently, on their coordinated functional wiring. This involves the stepwise acquisition of cell diversification programs in both cell types, each of which leads to the generation of distinct subtypes, the subsequent matching of each motor pool with its cognate target muscle through topographical arrangement of their axonal projections, and finally a process that allows numerical matching of MN pool size to the size of the target muscle [1],[2]. During these consecutive phases, a number of aspects of MN biology, including specification, axon growth, guidance and survival, are controlled by multiple target-derived growth factors and their receptors [1]. Most of these growth factors are capable of eliciting multiple responses and the specialisation appears to involve the subtype-specific distribution of their cognate receptors, respectively established through the combinatorial distribution of fate-specifying transcription factors [3]. The resulting combinations of growth factor receptors define a unique set of growth factor responses for each MN subtype, matching either specific muscles or a functional subtype [4],[5].
An additional level of complexity appears when considering signalling modalities. The actions of each growth factor receptor upon ligand binding involve the activation of cytoplasmic signalling pathways [6]. The discovery by Tony Pawson of conserved domains in signalling molecules conferring binding ability to activated receptor tyrosine kinases (RTKs) has revolutionised how we see that RTK signalling regulates cellular behaviours. In particular, a profusion of cytoplasmic signalling effectors, binding phosphorylated tyrosines via Src homology domain type 2 (SH2) and type 3 (SH3) and phosphotyrosine binding domain (PTB), can be recruited upon receptor activation by their ligands, to mediate multiple, qualitatively different, biological responses to a given factor. One signalling adaptor can be used as an effector of different biological responses to distinct growth factors. Conversely, a given growth factor receptor can employ distinct signalling effector pathways to mediate distinct cellular responses. Introducing point mutations in the genomic loci of RTKs, such as TrkC, TrkB, Met, Pdgfr or Ret, by selectively modifying the binding sites through which they recruit cytoplasmic effectors, has been instrumental in distinguishing the respective contribution of signalling adaptors, such as PLCγ, Shc, Grb2, PI3K and Src, in mediating qualitatively distinct cellular responses in vivo[7]-[12]. The studies cited above compared cellular behaviours (such as survival, migration, proliferation and target innervation) adopted by cell types with very different biological histories (i.e. neurons versus muscles or vascular smooth muscle cells) but did not distinguish distinct subtypes (molecular or anatomical) within a generic cell type. However, RTK signalling requirements for a given biological response might not always be identical in different cell types or subtypes. Signalling requirements may be determined by the intrinsic competence of each cell type to provide a robust signal transduction platform capable of executing the function, such competence being directly linked to the intrinsic molecular identity of the cell. Thus, to define the robustness of a specific biological outcome requires understanding for a cell type the degree to which several alternative signalling pathways can substitute for each other to execute qualitatively distinct RTK-driven responses, and distinguishing permissive from non-permissive pathways. We chose to address this issue by modulating the signalling competences of a growth factor/RTK system in charge of multiple biological functions in one unique cell type, focusing on MNs, and by exploring specificity versus plasticity of the pathways that intercalate to execute each of these biological responses.
Among the plethora of factors known to influence MN biology, we chose to focus on hepatocyte growth factor (HGF), a multifunctional growth factor whose functions are mediated by the Met RTK. HGF influences MN biology by acting both on MNs and on muscles. Produced by the limb bud mesenchyme, HGF first acts on muscle migration by triggering the delamination of myoblast precursors from limb level somites [13]. This event is necessary for myoblasts to undergo their long-range migration towards the limbs [13]-[15]. In embryos lacking Met signalling, the absence of limb muscles causes the death of all limb MNs [4],[16], most likely by depleting all muscle-derived neurotrophic factors required to support MN survival. Besides this indirect influence, HGF/Met signalling also plays a number of direct functions in MNs, including regulating motor axon growth [4],[9],[17],[18], MN subtype specification [4],[16] and MN survival [4],[18],[19].
Using tissue-specific ablation of the Met receptor, we have recently shown that as development proceeds, HGF acts on distinct MN pools, in which it successively controls several specific biological pathways [4]. On a subset of Met-expressing brachial MNs, HGF acts at early stages (during a muscle-independent period), by influencing cell fate specification (through cell autonomous induction of expression of the transcription factor Runx1 and non-cell autonomous induction of the transcription factor Pea3 in neighbouring neurons) and consequently axon growth toward and within their target muscle (cutaneous maximus (CM)) [4],[9],[16]. After the onset of muscle-dependency for MN survival, highlighted by a peak of naturally occurring cell death (NOCD), which spreads among motor columns to eliminate supernumerary MNs [20], we recently discovered a switch in both the biological response and in the MN pools supported by HGF/Met. As shown with neural-specific ablation of Met after NOCD, HGF/Met signalling is required for the survival of a distinct pool of Met-expressing MNs that innervate the pectoralis minor muscle, whereas it is no longer required to support CM MNs [4]. Thus, the biological response to a given target-derived growth factor depends both on the MN subtype and on timing, offering an interesting context in which to address robustness versus specificity of signalling requirements.
In this study, we took advantage of an allelic series of met, including: a) the met d signalling dead allele [15]; b) the hypomorphic met 2P and met 2S signalling mutant alleles, in which the multifunctional docking site is converted into optimal binding sites for phosphatidylinositol 3-kinase (PI3K) or Src, respectively [9]; c) an alternative knockout/knock-in met LacZ allele [4] and d) a conditional met Flox allele [4],[21]. We asked whether execution of three different biological responses (axonal patterning, specification and survival) elicited by the pleiotropic RTK Met in distinct MN subtypes, is compatible with substitutions of the signalling pathways, or requires selective non-substitutable signalling routes. By uncoupling Met functions in MNs from its function in muscle migration, and by selectively allowing Met to signal through either Src or PI3K optimal binding sites, we found that: 1) while HGF/Met signalling indirectly impacts on nerve growth through the regulation of muscle size in the limbs, a direct regulation of motor growth is achieved in the presence of limiting amounts of muscles by activating PI3K, but not Src, pathway; 2) the non-cell autonomous function of HGF/Met that allows expansion of the Pea3 expression domain in the spinal cord [16], can be accomplished through several alternative signalling cascades, although their competence is differentially sensitive to Pea3 dosage; 3) regulation of MN survival by HGF/Met can be equally achieved in vitro and in vivo by alternative signalling cascades involving either PI3K-Akt or Src and Mek pathways.
Results
Most signalling by the Met receptor is mediated by two C-terminal tyrosines, referred to as multifunctional docking sites. The surrounding amino-acid environment (Y
1349
VHVNATY
1356
VNV) is permissive to the binding of multiple signalling adaptors (Figure
1
A) [
22
]. Whereas converting both tyrosines to phenylalanine completely abrogates signal transduction (Met
d
signalling dead receptor [
15
]), modifying the amino-acids surrounding these tyrosines can alter the selective affinity for some cytoplasmic effectors (Figure
1
A) [
9
]. By converting the two docking sites into optimal binding sites for PI3K (Y
1349/1356
MDMS) or for Src (Y
1349/1356
EEI), the Met
2P
and Met
2S
receptors, respectively, were designed to determine the impact of imposing the cytoplasmic effector through which Met can signal, thus raising its contribution above generic signalling levels (Figure
1
A). These specificity-switch mutants have been instrumental in addressing the relevance of selective pathways in several biological contexts [
9
],[
23
]-[
26
]. Regarding the function of HGF/Met that triggers myoblast delamination and migration towards limb buds [
13
]-[
15
], the Met
2P
and Met
2S
specificity-switch mutants have limited ability to elicit long-range myoblast migration (Additional file
1
: Figure S1A) [
9
]. In spite of this, the small number of migrating myoblasts is nevertheless sufficient to account for the formation of a substantial amount of muscle in both forelimbs and hindlimbs (Additional file
1
: Figure S1A and Figure
2
B), and does not affect MN numbers prior to the onset of muscle dependency for survival (Figure
2
: lumbar MNs; Additional file
1
: Figure S1B: brachial MNs) [
16
]. This allelic series of
met
mutants thus represents an excellent toolbox to uncouple the effects of loss of muscle from direct functions of Met in MNs. Here, we took advantage of the differences in signalling competences of these two versions of Met to determine the degree of flexibility versus specificity for a given biological outcome, such as those elicited by HGF/Met in selective subsets of Met-dependent MN pools (Figure
1
B).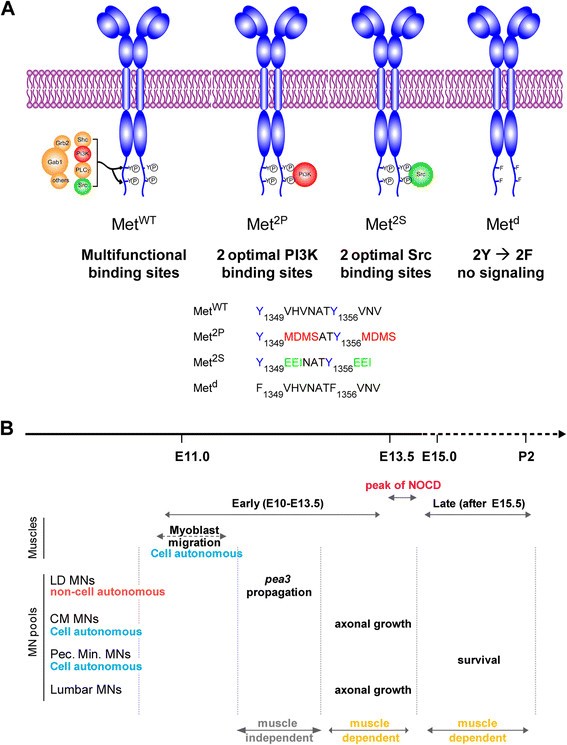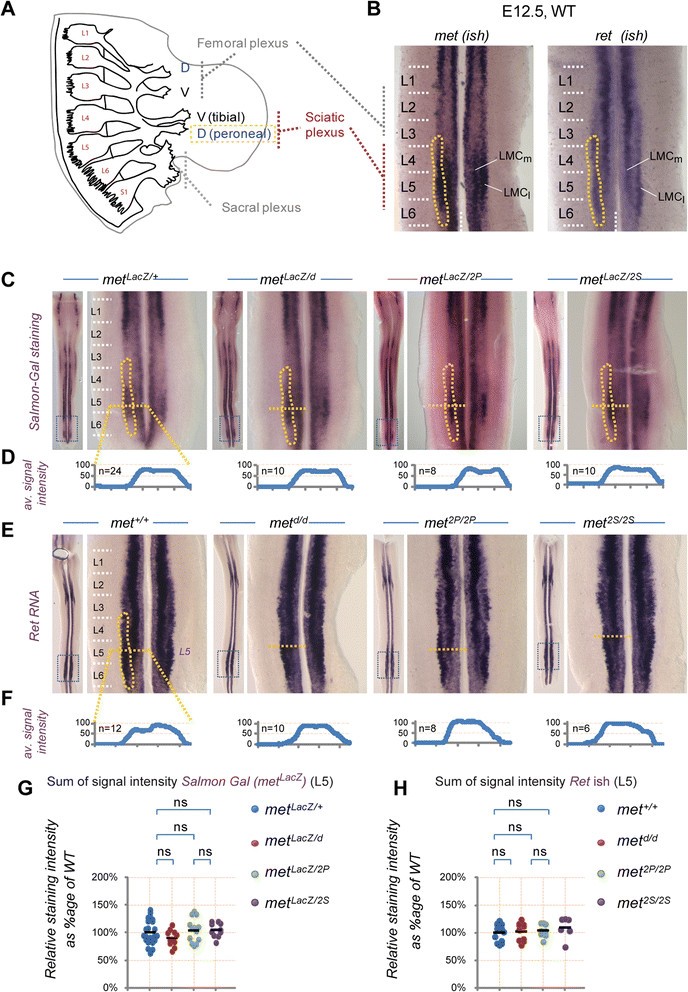 Discussion
Signalling pathways are solicited to convey information from membrane receptors activated by growth factors to coordinate a set of outcomes including short-term transcription-independent responses and long-term gene-expression changes. When the same receptor is employed to trigger distinct biological responses in a given cell type, each response can be achieved through the activation of distinct signalling cascades. The degree to which a given signalling cascade is uniquely required for a specific biological response, or can be substituted by an alternative pathway, depends on the cell type, the nature of the response, the strength of the signal and the robustness of the signalling network available for this biological outcome. We have investigated this issue
in vivo
in the context of several biological requirements of the HGF/Met system in MNs, using a set of mouse lines carrying signalling mutations of Met that modulate the phosphotyrosine binding preferences, and thereby limit the range of signalling effectors mobilised by the modified receptor. We showed that in MNs, alternative HGF-induced Met cascades such as the PI3K or Src/Mek pathways, although biochemically or genetically distinguishable, are interchangeable to ensure MN survival, and MN specification, but not for axon guidance (Figure
7
).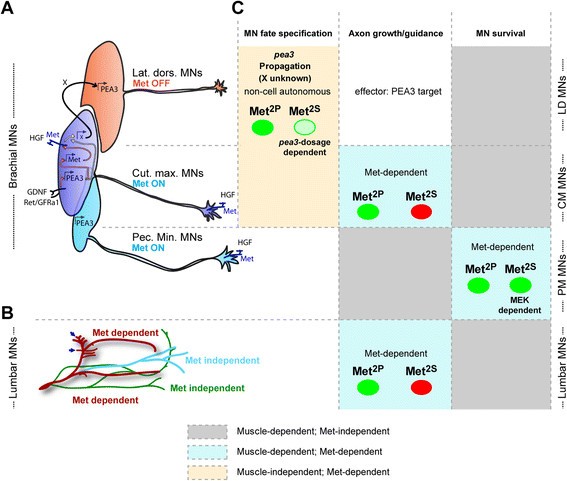 Conclusions
How can we interpret the specificity of signalling pathways necessary for axonal growth compared to the plasticity allowed when executing RTK-induced MN survival or specification responses? Axon guidance is a complex example of a biological response regulated by several non-equivalent signalling components. Their activation leads to choices between multiple qualitatively different outcomes, such as stop, go, turn, exit, etc., thereby requiring intercalation of multiple signalling systems to gate the decision-making process at the level of the growth cone. Such a context implies that some signalling cascades need to be specifically associated with selective outcomes rather than being permissive, for the proper integration of multiple instructive axon guidance signals. In contrast, MN survival and specification are dichotomic choices at the cell level, integration of which at the tissue level involves the quantitative assessment of individual neuron responses to the limited amount of neurotrophic factors produced by target tissues. Adaptation of the MN numbers in each pool to the size of its cognate muscle target is achieved by a mechanism capable of measuring accurately the amount of target-derived signal available, and of adjusting this amount with respect to an intrinsic threshold within each cell, to block the apoptotic cascade or to activate the specification program. Likewise, raising RTK signalling levels above endogenous thresholds can enhance the neuroprotective effect and limit susceptibility to MN diseases [73]. The plasticity allowing several alternative pathways to substitute for each other to achieve such responses confers robustness to the mechanisms coordinating the development and size of the neuromuscular system.
Methods
Animals and genotype analysis
The generation of the different signalling alleles of the met gene used in this study (met d , met 2P and met 2S ) has been described previously [9],[15]. The original neo+ alleles, which contained a neo selection cassette flanked by LoxP sites, were referred to as met2Pneo and met2Sneo. Alleles without neo were obtained after excision of the neo cassette by crossing mutant mice with the Deleter-Cre transgenics [9]. Genotype analysis by PCR was performed as described [9],[12]. The met LacZ allele is an alternative knockout/knock-in allele of met in which the LacZ reporter gene also reflects expression of the endogenous met gene [4]. In the original allele, LacZ expression is conditioned by the removal of a Lox-stop-Lox cassette [4]. In the allele used here, by crossing with a deleter-cre line, we have derived a mouse line in which the stop cassette has been permanently deleted. Genotype analysis was performed by PCR as described [4]. Pea3-lacZ mice were used with the permission of Arber and Jessell, and genotyped as previously described [32]. Animals were maintained and sacrificed in accordance with institutional guidelines. Adult mice were euthanised by cervical dislocation.
In situhybridisation
Embryos were collected in phosphate-buffered saline (PBS) and fixed in 4% paraformaldehyde (PFA). ISHs were performed with the relevant RNA probe on either whole-mount embryos, dissected limbs or spinal cords, according to previously published procedures [16]. Whole spinal cord ISH was performed as described [74], with digoxigenin-labelled RNA probes for met, MyoD (obtained from Ponzetto), Pea3, (from Jessell), Ret (from Rosenthal) and ChAT (choline acetyl transferase; from Henderson). Spinal cords were flat mounted as open-book preparations with MNs on the upper side, and imaged using a Zeiss Axiophot (Marly le Roi, France) or Leica stereomicroscope (Wetzlar, Germany). Whole-mount embryos were partially cleared in 50% glycerol and imaged using a stereomicroscope.
X-Gal and Salmon-Gal staining for β-galactosidase activity
Staining for β-galactosidase activity was performed using two alternative methods. For spinal cords of embryos carrying the pea3 LacZ allele, we employed the traditional protocol using X-Gal substrate in combination with ferric and ferrous ions. Briefly, spinal cords were dissected from freshly collected embryos, fixed in 4% PFA in PBS (40 min), rinsed in PBS, and incubated in X-Gal in combination with potassium ferricyanide and ferrocyanide (FeCN). To detect β-galactosidase in the spinal cords of embryos carrying the met LacZ allele, we used an alternative method based on Salmon-Gal (6-chloro-3-indolyl-beta-D-galactopyranoside from Appolo scientific, Maschester, UK) in combination with tetrazolium salt [75]. Briefly, spinal cords were dissected from freshly collected embryos, fixed in 1% PFA and 0.2% glutaraldehyde in PBS (10 min), rinsed three times in PBS, then incubated for a minimum of 7 h overnight at 37°C in pre-stain solution without substrate (potassium ferricyanide 200 mM, potassium ferrocyanide 200 mM, 4 mM MgCl2 and 0.04% NP40 in PBS) to reduce endogenous β-galactosidase activity. Samples were then rinsed three times in PBS, and incubated in staining solution (1× PBS, with 0.04% NP40, 2 mM MgCl2, 1 mg/ml Salmon-Gal (stock solution 40 mg/ml in dimethyl sulfoxide (DMSO)) and 0.33 mg/ml NBT (stock solution 75 mg/ml in 70% DMF)), for about 30 to 40 min at 37°C. In all cases (X-Gal and Salmon-Gal), staining was terminated by rinsing in PBS, and post-fixing in 4% PFA. Spinal cords were flat mounted in 1 volume glycerol/1 volume 4% PFA for imaging.
Embryonic motor neuron cultures
E12.5 mouse embryos were collected in Hibernate (E) medium (Life Technology) with B-27 supplement (Life Technology) and kept on ice until the dissection, while the genotype was determined by PCR. Ventral spinal cords from an equal number of WT and mutant embryos were dissected. MNs were isolated from either brachial + lumbar, or from cervical + thoracic + sacral segments, by a previously described method [34] involving a combination of centrifugation on BSA cushions and a metrizamide density gradient centrifugation. At the end of the procedure, the cell suspension was highly enriched in MNs. For survival assays, MNs were plated in polyornithine/laminine-coated four-well tissue culture dishes (1,500 neurons per well) in Neurobasal medium (Life Technology, Saint Aubain 91190, France). Recombinant neurotrophic factors and inhibitors were added 2 h after seeding. MNs were kept for 3 days either in Neurobasal medium or in the presence of GDNF or HGF (both obtained from R&D, Minneapolis, MN, USA). All inhibitors (LY294002, PD98059, PP2 and PP3) were obtained from Calbiochem (Darmstadt, Germany). PP3 was used as a negative control for PP2 (not shown). MN survival was quantified by counting large bright unipolar neurons with long axonal processes on the whole area of each well.
Whole-mount anti-neurofilament immunohistochemistry
Embryos were collected in cold PBS, fixed for 2 h in 4% PFA in PBS, and post-fixed overnight in Dent's fixative (80% methanol, 20% DMSO) at 4°C. Whole-mount anti-neurofilament immunohistochemistry was performed as previously described [29]. Briefly, embryos were bleached for 4 h in 6% H2O2 in Dent's solution and further rehydrated through a progressive methanol series. Antibody incubations were performed in 80% newborn calf serum, 20% DMSO, 0.5% triton with thimerosal. Antibodies used were the following: anti-neurofilament antibody (2H3 and DSHB) and HRP-conjugated goat anti-mouse antibody (Sigma). Staining was developed using DAB Tablets (Sigma, Saint-Quentin Fallavier, France). Embryos were cleared for imaging in BABB (1:2, benzyl alcohol/benzyl benzoate).
Image processing and analyses
Quantification of signal intensity was performed using the ImageJ software. Briefly, images of ISH were first converted to a grey scale and inverted to a negative scale (with the highest signal intensity matching being white and the lowest black). Signal intensity was measured along a horizontal line of a given pixel length (matching half a flat-mounted spinal cord, always positioned where indicated with dotted lines on Figure 3). After background and threshold subtraction, the values were averaged between several samples of each genotype (considering left and right sides separately, for the number of spinal cord sides used, for each plot indicated in the corresponding figures) to generate an average signal distribution plot. The total signal intensity was also calculated for each sample, and plotted individually (Figures 2 and 5, Additional file 1: Figure S1 and Additional file 4: Figure S4).
Statistical analysis
Results were expressed as mean ± standard error of the mean. Statistically significant differences were assessed by unpaired Student's t-test when data were showing a normal distribution, and by the Mann–Whitney test otherwise. * indicates P < 0.05 and ** indicates P < 0.001.
Authors' contributions
FM and FH are co-senior authors. FH and FM conceived, designed and directed the study, and analysed and interpreted the data. FH, NC, BH, FL and VA-G performed the experiments. FH wrote the manuscript with proofreading by FM. Final approval was given by all authors.
Abbreviations
BSA:

Bovine Serum Albumine
CM:

Cutaneous maximus
cut.pn:

cutaneous (sensory) peroneal
d.pn:

deep peroneal
dm:

distal muscle mass (un-split dorsal hand muscles)
DMF:

Dimethylformamide
DMSO:

Dimethyl-sulfoxide
DRG:

Dorsal Root Ganglion
EDL:

Extensor digitorum longus
edl:

extensor digitorum longus
edl.b:

branches entering the extensor digitorum longus muscle
Etv4:

Ets variant gene 4 (formerly called Pea3 for polyomavirus enhancer activator 3)
GDNF:

Glial-derived Neurotrophic Factor
HGF:

Hepatocyte Growth Factor
ISH:

in situ hybridization
LD:

Latissimus dorsi
LMC:

Lateral Motor Column
MN:

Motor Neuron
Muscles:

ta: tibialis anterior
NBT:

Nitro Blue Tetrazolium
neo:

Neomycin resistance gene
Nerves:

co.pn: common peroneal
PBS:

Phosphate-buffered saline
PCR:

Polymerase chain reaction
pd:

peroneus digiti (includes peroneus digiti quarti and peroneus digiti quinti)
PFA:

Paraformaldehyde
PI3K:

Phosphatidylinositol 3-kinase
pl:

peroneus longus
PTB:

Phosphotyrosine Binding Domain
s.pn:

superficial peroneal
SH2:

Src homology domain type 2
SH3:

Src homology domain type 3
TA:

Tibialis anterior
ta.b:

branches entering the tibialis anterior muscle
WT:

Wild-type
Declarations
Acknowledgements
We thank Chris Henderson for invaluable intellectual support; Ruediger Klein for supporting this study in its early stages and for valuable comments on the manuscript, and former members of his laboratory for insightful discussion; Elise Arbeille for help with ISHs of spinal cord sections; Sylvie Richelme for technical help; Virginia Girod-David and Leo Jullien for excellent help with mouse husbandry at the IBDM; and Angela Zimmermann for comments on the manuscript. Work in the Helmbacher laboratory was supported by funds from the CNRS (ATIP grant), FRM (Fondation pour la Recherche Médicale, Equipe FRM 2007), AFM (Association Française contre les Myopathies), FdF (Fondation de France), ARC (Association pour la Recherche contre le Cancer) and ANR (Agence Nationale de la Recherche, ANR Neuro 2007). Work in the Maina lab by FM was supported by FRM, AFM, FdF, ARC, Fondation Bettencourt-Schueller and INCa (Institut National du Cancer). The contributions of the Region Provence Alpes Côtes d'Azur and Aix-Marseille Université for the IBDM animal facility, and of the France-BioImaging/PICsL infrastructure (ANR-10-INSB-04-01) for the imaging facility are also acknowledged.
Authors' Affiliations
(1)
Aix-Marseille Université, IBDM, CNRS UMR 7288, Marseille, France
Copyright
© Caruso et al.; licensee BioMed Central Ltd. 2014
This article is published under license to BioMed Central Ltd. This is an Open Access article distributed under the terms of the Creative Commons Attribution License (http://creativecommons.org/licenses/by/4.0), which permits unrestricted use, distribution, and reproduction in any medium, provided the original work is properly credited. The Creative Commons Public Domain Dedication waiver (http://creativecommons.org/publicdomain/zero/1.0/) applies to the data made available in this article, unless otherwise stated.