Research article

Open Access
Poised chromatin and bivalent domains facilitate the mitosis-to-meiosis transition in the male germline
Received: 25 March 2015
Accepted: 18 June 2015
Published: 22 July 2015
Abstract
Background
The male germline transcriptome changes dramatically during the mitosis-to-meiosis transition to activate late spermatogenesis genes and to transiently suppress genes commonly expressed in somatic lineages and spermatogenesis progenitor cells, termed somatic/progenitor genes.
Results
These changes reflect epigenetic regulation. Induction of late spermatogenesis genes during spermatogenesis is facilitated by poised chromatin established in the stem cell phases of spermatogonia, whereas silencing of somatic/progenitor genes during meiosis and postmeiosis is associated with formation of bivalent domains which also allows the recovery of the somatic/progenitor program after fertilization. Importantly, during spermatogenesis mechanisms of epigenetic regulation on sex chromosomes are different from autosomes: X-linked somatic/progenitor genes are suppressed by meiotic sex chromosome inactivation without deposition of H3K27me3.
Conclusions
Our results suggest that bivalent H3K27me3 and H3K4me2/3 domains are not limited to developmental promoters (which maintain bivalent domains that are silent throughout the reproductive cycle), but also underlie reversible silencing of somatic/progenitor genes during the mitosis-to-meiosis transition in late spermatogenesis.
Keywords
Germ cells
Epigenome
Sex chromosomes
Meiosis
Spermatogenesis
Background
The germline is the only heritable lineage that ensures continuity of life. A unique feature of the germline is the plasticity of its epigenetic state, which is supported by cycles of programming and reprogramming that lead to acquisition of totipotency in the next generation [1, 2]. During embryonic development, primordial germ cells (PGCs) undergo extensive epigenetic reprogramming prior to the sexual differentiation of male and female germ cells [3, 4]. Male germ cells go through male-specific epigenetic programming during later stages of germ cell differentiation in adult testes, where they undergo self-renewal, enter meiosis, and differentiate into sperm. This male-specific differentiation accompanies massive cellular reconstruction and chromatin remodeling [5].
A common feature of male germ cells and embryonic stem (ES) cells is the suppression of developmental promoters with bivalent domains of H3K4me3 and H3K27me3. In ES cells, developmental regulator genes are silent but poised for activation at later developmental stages with bivalent domains [6]. In mature sperm, bivalent domains are also found on developmental promoters that are not expressed in early embryos but are activated later during development [7, 8]. These developmental genes are silent throughout germ cell development, and bivalent domains on these genes are found in PGCs [9–11] and adult germline stem (GS) cells [12], and are maintained into pachytene spermatocytes (PS) and postmeiotic round spermatids (RS) [11, 13]. Based on these findings, it is believed that bivalent domains maintain the development potential of these genes throughout the germline. However, how male germline-specific events are regulated during critical stages of spermatogenesis remains largely unknown.
In addition to epigenetic changes on autosomes, sex chromosomes undergo unique epigenetic programming during the meiotic and postmeiotic stages. In mammalian males, X and Y chromosomes are unsynapsed during meiosis in PS, and are specifically silenced by the action of DNA damage response (DDR) factors such as γH2AX and its binding partner MDC1 [14–16]. This chromosome-wide silencing is called meiotic sex chromosome inactivation (MSCI). Sex chromosome inactivation is maintained into postmeiotic RS in a distinct transcriptionally silent compartment termed postmeiotic sex chromatin (PMSC) [17–19]. In spite of postmeiotic silencing in round spermatids, a set of sex chromosome-linked genes, which function in late spermatogenesis, escapes postmeiotic silencing and is activated [17, 20]. This escape gene activation is controlled by the DDR factor RNF8, an interacting partner of MDC1 [21, 22]. Currently, the epigenetic landscape associated with epigenetic programming of the sex chromosomes during meiosis remains largely unknown.
In this study, we performed comprehensive epigenomic and transcriptomic profiling during the critical stages of spermatogenesis using chromatin immunoprecipitation sequencing (ChIP-seq) and RNA-seq, and demonstrate that global epigenetic changes underlie extensive transcriptional alterations during spermatogenesis. Our epigenomic analyses further clarify the distinct chromatin environments of autosomes and sex chromosomes during spermatogenesis, and reveals that poised chromatin and formation of bivalent domains underlie genome-wide epigenetic changes during late spermatogenesis.
Discussion
The bivalent domains we found on somatic/progenitor genes in this study are distinct from those found in previous studies. Because the mission of the germ cells is to maintain the capability to acquire totipotency after fertilization, bivalent domains could help to recover the somatic/progenitor program immediately after fertilization. Therefore, bivalent domains are not limited to developmental promoters, but could be a key feature in soma-to-germ transition. At the same time, late spermatogenesis genes are activated in the late stages of the germline but are inactivated after fertilization. Kcr and H4K8ac, which are enriched on this group of genes, could ensure temporal activation of late spermatogenesis genes without disturbing the germline potential.
Because silencing machinery during meiosis recognizes the sex chromosomes based on their unsynapsed status rather than their gene content [16, 31], it remained unclear whether the sex chromosomes are treated distinctly from autosomes prior to meiosis. Our data are in support of differential regulation prior to meiosis. Consistent with our findings, a recent study demonstrated that duplicated regions that are enriched on the X chromosome are hypomethylated and enriched with H3K9me2 in the germline prior to meiosis [32]. It could be intriguing to further investigate the details about inherent differences between the X chromosome and autosomes in the germline.
Additionally, our analyses establish the epigenomic features of sex chromosome inactivation in the germline. In spite of gene silencing, active modifications are not completely removed from X-linked genes, and most X-linked genes are poised for activation after fertilization. Furthermore, H3K9me2, but not H3K27me3, accumulates ubiquitously on the X chromosomes, and escape from postmeiotic silencing does not involve the removal of H3K9me2 but instead depends on the establishment of active marks downstream of RNF8. These modes of silencing and escape gene activation are very different from those in female X chromosome inactivation. In females, X-linked genes are not poised for later activation, and silent marks such as Xist RNA and H3K27me3 are removed only when escape genes are expressed [33]. Therefore, our analyses clarified a distinct mode of chromosome-wide regulation between males and females.
Taken together, our studies revealed the distinct features of both autosomes and the X chromosome in the male germline. These epigenetic differences could be the basis of distinct evolutionary forces between autosomes and sex chromosomes. In spite of postmeiotic silencing, RS active genes are enriched on the X chromosome (Fig. 1f). This is consistent with Rice's hypothesis and its supporting reports that male-biased genes are enriched on the X chromosome due to hemizygosity in males, despite the silent environment of the X chromosome in RS in mammals [20, 34, 35]. However, in other species such as Drosophila, male-biased genes are actually enriched on the autosomes and not on the X chromosome [36–38]. Because epigenetic events on the sex chromosomes impact their genetic evolution [20], it would be promising to investigate the links between the epigenetic principles we found in this study and their genomic features and evolutionary traits.
Conclusions
In this study, our RNA-seq analyses revealed unique features of male germline-specific transcriptomes, and our ChIP-seq analyses further revealed the epigenetic regulation underlying these features. The global gene expression change during the mitosis-to-meiosis transition accompanies both the activation of male reproductive genes and the suppression of somatic/progenitor genes, and these somatic/progenitor genes are re-activated after fertilization to recover the somatic/progenitor program. Importantly, these gene activation events are preprogrammed with poised chromatin during the late stages of the male germline (Fig.
7
). First, in GS cells, autosomal PS/RS active genes are poised with H3K4me2 and H3K4me3 at TSSs for activation in PS cells. This result suggests that spermatogenic differentiation is preprogrammed in the stem cell phase of spermatogonia. Second, in PS, RS-specific genes are modified with H3K4me2 and Kcr, thereby preparing the RS transcriptome in PS. We further demonstrate that suppression of somatic/progenitor genes during late spermatogenesis is associated with formation of bivalent domains. A large number of somatic/progenitor genes are poised with bivalent domains and, curiously, H3K27me3 is gradually established on the TSSs of somatic/progenitor genes during the PS to RS transition. Our analyses further clarified the differential regulation between autosomes and sex chromosomes.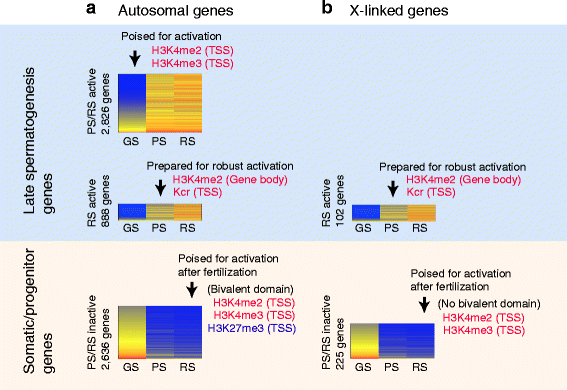 Abbreviations
ATD:

average tag density
BSA:

bovine serum albumin
ChIP-seq:

chromatin immunoprecipitation sequencing
DDR:

DNA damage response
ES:

embryonic stem cells
GEO:

Gene Expression Omnibus
GO:

gene ontology
GS:

germline stem cells
Kcr:

lysine crotonylation
KO:

knockout
MEF:

mouse embryonic fibroblasts
MSCI:

meiotic sex chromosome inactivation
PGC:

primordial germ cell
PMSC:

postmeiotic sex chromatin
PS:

pachytene spermatocytes
RNAPII:

RNA polymerase II
RPKM:

reads per kilobase per million
RS:

round spermatids
TES:

transcription end site
TSS:

transcription start site
WT:

wild-type
Declarations
Acknowledgements
We thank Tyler G Broering and Kris G Alavattam for editing the manuscript, So Maezawa for the RNA-seq data of THY1+ undifferentiated spermatogonia, and Junjie Chen for providing the Rnf8 KO mice. This work was supported by the Lalor Foundation postdoctoral fellowship for H-SS, the Developmental Fund at Cincinnati Children's Hospital Medical Center to SHN, the research grant (FY13-510) from the March of Dimes Foundation to SHN, and NIH grants HL098691 to AB and GM098605 to SHN.
Authors' Affiliations
(1)
Division of Reproductive Sciences, Division of Developmental Biology, Perinatal Institute, Cincinnati Children's Hospital Medical Center, Cincinnati, USA
(2)
Division of Allergy and Immunology, Division of Human Genetics, Cincinnati Children's Hospital Medical Center, Cincinnati, USA
(3)
Department of Pediatrics, University of Cincinnati College of Medicine, Cincinnati, USA
(4)
Present address: Department of Developmental Biology, Department of Genetics, Stanford University School of Medicine, Stanford, USA
(5)
Present address: Department of Medicine, Stanford University School of Medicine, Stanford, USA
Copyright
© Sin et al. 2015
This is an Open Access article distributed under the terms of the Creative Commons Attribution License (http://creativecommons.org/licenses/by/4.0), which permits unrestricted use, distribution, and reproduction in any medium, provided the original work is properly credited. The Creative Commons Public Domain Dedication waiver (http://creativecommons.org/publicdomain/zero/1.0/) applies to the data made available in this article, unless otherwise stated.