Research article

Open Access
The human Na+/H+ exchanger 1 is a membrane scaffold protein for extracellular signal-regulated kinase 2
Received: 21 December 2015
Accepted: 29 March 2016
Published: 15 April 2016
Abstract
Background
Extracellular signal-regulated kinase 2 (ERK2) is an S/T kinase with more than 200 known substrates, and with critical roles in regulation of cell growth and differentiation and currently no membrane proteins have been linked to ERK2 scaffolding.
Methods and results
Here, we identify the human Na+/H+ exchanger 1 (hNHE1) as a membrane scaffold protein for ERK2 and show direct hNHE1-ERK1/2 interaction in cellular contexts. Using nuclear magnetic resonance (NMR) spectroscopy and immunofluorescence analysis we demonstrate that ERK2 scaffolding by hNHE1 occurs by one of three D-domains and by two non-canonical F-sites located in the disordered intracellular tail of hNHE1, mutation of which reduced cellular hNHE1-ERK1/2 co-localization, as well as reduced cellular ERK1/2 activation. Time-resolved NMR spectroscopy revealed that ERK2 phosphorylated the disordered tail of hNHE1 at six sites in vitro, in a distinct temporal order, with the phosphorylation rates at the individual sites being modulated by the docking sites in a distant dependent manner.
Conclusions
This work characterizes a new type of scaffolding complex, which we term a "shuffle complex", between the disordered hNHE1-tail and ERK2, and provides a molecular mechanism for the important ERK2 scaffolding function of the membrane protein hNHE1, which regulates the phosphorylation of both hNHE1 and ERK2.
Keywords
NHE1
Intrinsically disordered protein
Phosphorylation
MAPK
Shuffle complex
NMR
Scaffold
Background
Extracellular signal-regulated kinase 2 (ERK2) is a member of the mitogen-activated protein kinase (MAPK) family of kinases activated in response to numerous growth factors and cytokines, leading to phosphorylation and functional regulation of downstream targets. ERK2 has been linked to more than 200 different substrates whose phosphorylation by ERK2 is orchestrated by coordination of signaling networks through common binding to so-called scaffold proteins [1]. The definition of a scaffold protein was recently refined and their identification as such suggested from qualities of multivalent binding, non-catalytic placeholders, and bidirectional process control [2]. Several scaffold proteins have been described for the MAPKs such as kinase suppressor of Ras (KSR) [3], JNK-interacting protein (JIP) [4], IQ motif containing GTPase activating protein 1 (IQGAP1) [5], and β-arrestin [6], which interact with members of the MAPK cascade, providing multivalency, spatial concentration, and/or signaling fidelity. However, although MAPKs are known to regulate the action of several membrane proteins and receptors, none of these scaffold proteins are themselves membrane proteins, requiring additional mechanisms for colocalization of the scaffold protein, the membrane protein, as well as the kinases. Moreover, most of the available molecular insights are from structures of kinases in complex with folded domains or with small peptides of the scaffold proteins, and details regarding scaffolding by non-globular proteins are lacking.
MAPKs are S/T kinases that interact with targets and regulators via two types of domains, D-domains and F-sites [7–11]. D-domains, also known as docking sites for ERK and JNK, LXL (DEJL) domains, or kinase interaction motifs (KIMs) have the canonical sequence of 2–5 basic residues (R/K), spaced by 1–6 residues to a hydrophobic motif ΦXΦ, where Φ is generally V, L, or I [8, 9]. D-domains are found in MAPK substrates such as the transcription factor Elk-1 and p90 ribosomal S kinase (RSK1-3), as well as in other MAPK targets [8, 9, 11]. In ERK2, D-domains interact with the D-domain recognition site also known as the CD/ED (common docking domain/glutamate/aspartate docking) domain, located more than 10 Å from the active site [8, 9, 11]. The F-site recruitment site in ERK2 is much less studied and incompletely understood. It binds to F-sites, also called DEF (docking site for ERK, FXFP)-domains with the canonical FXFP sequence [12]. F-sites allow for aromatic residues at the P1 (F, W) and P3 positions (F, Y, W) [13], and F-sites have been reported in substrates such as Elk-1 (FQFP) [14] and c-Fos (FTYP) [15], and within the nucleoporin FG-repeats (FXFG) [16, 17]. So far the only structure available of an F-site recruitment site-interacting protein is that of ERK2 in complex with the 15 kDa phosphoprotein enriched in astrocytes (PEA-15), which notably lacks any of the above-mentioned motifs [18].
The plasma membrane Na+/H+ exchanger 1 (NHE1, SLC9A1) is a major regulator of pH and volume in essentially all cells studied. Furthermore, NHE1 is involved in the regulation of cell proliferation, survival, motility, and other essential physiological processes, and its dysregulation contributes importantly to major human malignancies, including cancer and cardiovascular diseases [19, 20]. Numerous hormones and growth factors acting via receptor tyrosine kinases or GTP-binding protein-coupled receptors can elicit posttranslational regulation of NHE1 [21–23]. The MAPKs ERK1/2, p38 MAPK, and c-Jun N-terminal kinase (JNK) are widely implicated in NHE1 regulation [24–28], and direct phosphorylation of human (h) NHE1 by ERK1/2 was previously proposed based on 32P measurements [25] and mass spectrometry [29]. Conversely, NHE1 has been reported to regulate signaling through regulation of ERK1/2 and p38 MAPK activity [26, 28, 30–32], and yeast two-hybrid screens have suggested the interaction of NHE1 with several members of the MAPK hierarchy [33]. However, with the exception of the interaction with B-Raf [34], evidence from mammalian systems is lacking, and the possible sites of NHE1-MAPK interaction, its structural details, and possible functional consequences are unexplored. We recently showed by PONDR and DISOPRED predictions, as well as by nuclear magnetic resonance (NMR) spectroscopy and other biophysical techniques, that the distal ~ 130 residues of the hNHE1 C-terminal intracellular domain (hNHE1cdt), containing most of the known NHE1 phosphorylation sites, are intrinsically disordered (ID) [35, 36]. To our knowledge, no studies have yet addressed the mechanisms through which MAPKs interact with ID proteins (IDPs), although about one third of all proteins in higher eukaryotes contain significant ID regions (IDRs) [37], and ID is abundant in cellular signalling [38], scaffolding [39], as well as in MAPKs themselves [40].
Here, we demonstrate that hNHE1 acts as an ERK2 membrane protein scaffold in vivo that is necessary for ERK2 activation via direct interactions, and we show that loss of scaffolding by hNHE1 leads to decreased ERK2 activation. Using NMR spectroscopy we show that NHE1 scaffolds inactive (ia) ERK2 in a "shuffle complex" that involves a D-domain and two non-canonical F-sites. We characterize the order and kinetics of both previously reported and novel ERK2-mediated phosphorylations of hNHE1 in vitro. Our findings provide a molecular mechanism for the widely recognized and functionally important scaffolding function of hNHE1, and give mechanistic insight into the regulation of ERK2 activity by the intrinsically disordered hNHE1cdt.
Results
The recently suggested links between hNHE1 and ERK1/2 prompted us to investigate whether ERK1/2 and NHE1 directly interact in a cellular context. Using AP-1 cells (which lack endogenous NHE1 [
41
]) stably expressing full-length WT hNHE1, we asked if hNHE1 and ERK1/2 engage in a direct interaction
in vivo.
Interaction was assessed using
in situ
proximity ligation assay (PLA), which interrogates close interaction (<40 nm) between proteins (Fig.
1
). As seen, the detection of multiple PLA puncta when cells were incubated with both NHE1 and ERK1/2 antibodies revealed the presence of hNHE1-ERK1/2 complexes in AP-1 WT hNHE1 cells (Fig.
1a
), compared to a much lower signal in negative controls incubated with one antibody only (Fig.
1b
). Data from multiple experiments are quantified in Fig.
1c
, demonstrating that the PLA signal is significantly greater in NHE1-ERK antibody-labelled cells than in negative controls. Thus, these data show that hNHE1 and ERK1/2 directly interact in the cell.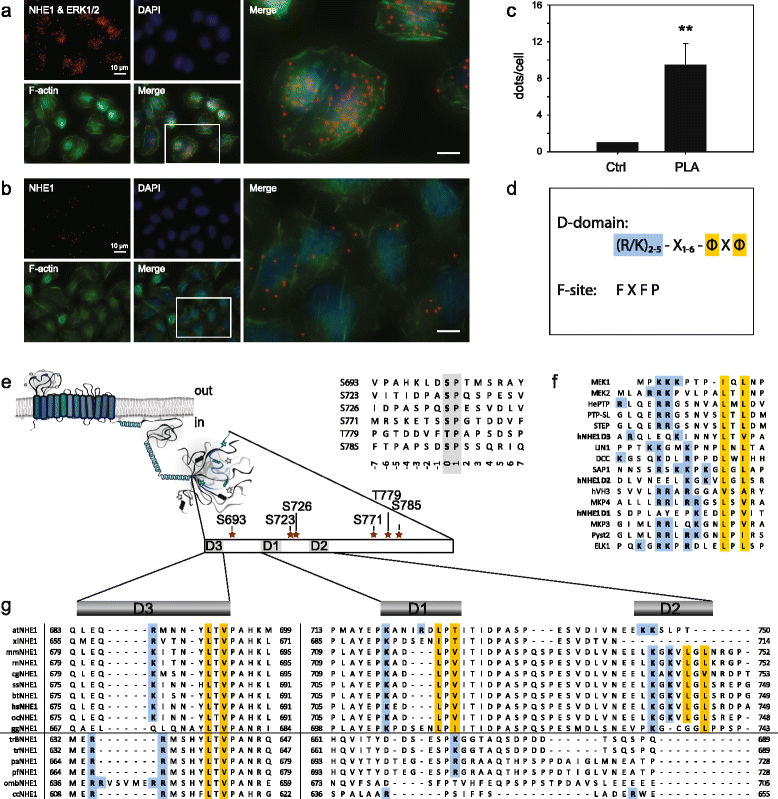 Discussion
NHE1 activity after various stimuli is regulated by ERK1/2, and the NHE1 C-terminal tail is directly phosphorylated by ERK2 in vitro [29] and in vivo [25]. Vice versa, NHE1 can regulate ERK1/2 activity [26, 28, 30–32], yet molecular details and mechanistic understanding of their interaction have been lacking. In conjunction with yeast two-hybrid studies suggesting interaction of NHE1 with MAPKs [33], these studies led us to hypothesize that NHE1 and ERK2 engage in direct physical interaction. Supporting this hypothesis, we report here that ERK2 and NHE1 interact directly in vivo as well as in vitro, and that ERK2 phosphorylates multiple sites in hNHE1cdt. Based on NMR analyses, in conjunction with various combinations of D-domain and F-site mutations, we suggest that hNHE1cdt scaffolds iaERK2 and that they interact in a non-cooperative modular manner that involves a D-domain (D3) and two F-sites. NMR titrations revealed the affinity of the D3-domain to be in the low micromolar range, in agreement with known D-domain affinities [7]. D-domain and F-site mutations did not prevent ERK2-mediated hNHE1 phosphorylation in vitro, but altered its kinetics. In vivo, hNHE1 and ERK1/2 co-localized at the plasma membrane in a manner sensitive to ERK1/2 stimulation, and mutations in the hNHE1 D3-domain and F-site altered ERK1/2 activity. Thus, a central conclusion of this work is that NHE1 and ERK2 directly interact and engage in physical and functional reciprocal interactions. This provides a novel molecular framework for understanding previous reports of both NHE1-mediated scaffolding and regulation of ERK1/2 [28] and ERK1/2-mediated phosphorylation of NHE1 [25].
The organization of IDPs as "flexible wrappers" has previously been suggested as a general scaffolding mechanism [
56
], involved in bipartite interactions, for example of Ste5 with the yeast MAPK Fus3 [
57
] and of p21
CIP1
with cyclin-dependent kinases [
58
]. Upon identification of the F-site, a bipartite modular, non-cooperative recognition system was originally suggested for kinases with the D-domain and F-site acting independently or in combination [
12
]. The tripartite (D-domain and two F-sites) interaction between hNHE1cdt and iaERK2 uncovered here extends this concept. For hNHE1, the multi-site interaction may function in a manner analogous, but not identical, to a fuzzy complex [
59
,
60
], where several binding sites are at play concomitantly, yet with none of the interactions seemingly affecting each other. The "hot potato hypothesis" was originally suggested by Perham in 1975 to describe the handover of substrates and intermediates in multi-enzyme complexes [
61
]. Indeed, the non-cooperative, multi-site scaffold interaction between hNHE1 and ERK2 may function similarly to holding a hot potato; the sites do not cooperate to increase the affinity, but will "shuffle" dynamically with sites being sometimes off, sometimes on, and hence we term this type of scaffold interaction a "shuffle complex" (Fig.
7
).

NHE1 is, to the best of our knowledge, the first membrane protein described to scaffold members of the MAPK pathway, spanning all four levels of the MAPK hierarchy [33]. Many soluble scaffold proteins acting together with, for example, G protein-coupled receptors (GPCRs) and growth factor receptors, have been described, but detailed interaction data have not provided insight into how scaffolding and regulation are coupled. In the cell, MEKs, phosphatases, and substrates all compete for the D-domain recognition site on ERK2 [62], and it is currently not known how NHE1 interacts with the other MAPK members, including MEK, and assembles a signalling complex. As NHE1 acts as a dimer in vivo [36, 63], we propose that upon release of the D3-domain from one NHE1 monomer due to competition with MEK, the shuffle complex organization keeps ERK2 in place via scaffolding by D-domains of the other NHE1 subunit in the NHE1 dimer, or by the F-sites (Fig. 7a, b). Furthermore, in a potential cellular complex, the remaining D-domains as well as F-sites will be available for further scaffolding of other members of the MAPK hierarchy (Fig. 7c), as suggested by yeast two-hybrid screens, potentially MEK, although this remains to be explored.
NHE1 is the first example of an ID substrate of ERK2 for which detailed interaction data now exist, and to the best of our knowledge, no other IDP or IDR has to date been experimentally linked to ERK2 phosphorylation or scaffolding. It has been noted that the D-domain of the tyrosine-phosphatase PTP-SL resides in a region with high disorder propensity [64]. Disorder predictions of the nuclear pore protein Tpr (Additional file 7: Figure S7) show its ERK2-interacting F-site to reside in an IDR, similar to the nucleoporin FG-repeat regions and to hNHE1cdt. Thus, it appears that the F-site recruitment site interaction may be frequently exploited by IDPs. However, it remains to be seen whether the multi-site shuffle interaction is a novel canonical IDP/IDR-ERK2 interaction mode or if it is a unique scaffolding function specific to NHE1.
All six putative ERK2 phosphorylation sites of hNHE1cdt were phosphorylated by aERK2 in vitro (S693, S723, S726, S771, T779, and S785). Previous in vivo phosphoproteomics have mapped phosphorylation at five of these sites, yet without identification of the responsible kinases, and with no information on the sequence of individual phosphorylation events [48, 65]. Further, some of these sites, i.e. S693, T779, and S785, were previously identified upon in vitro phosphorylation of NHE1 by ERK2 [29]. No non-canonical phosphorylation was detected in the present study, in contrast with previous reports identifying S766, S770, and S771 as ERK-dependent NHE1 phosphorylation sites [25, 29]. While it is possible that additional complexity may be introduced in the in vivo setting, our data underscore the major advantage of NMR for direct identification of phosphorylation sites.
Physiological roles have been proposed for all six phosphorylations, although their interplay and dynamics have never previously been assessed. S723 and S726 (corresponding to S722 and S725 in rabbit NHE1) were reported to be phosphorylated by p38 MAPK in murine pro-B-cells [66], and phosphorylation of S726 was suggested to mediate apoptosis-induced alkalinization by NHE1 [67]. Based on studies of NHE1 mutants expressed in NHE1-deficient CHO cells, S771 was reported to mediate ERK-dependent NHE1 activation [25], and later, S771, T779, and S785, but not S693, S723, or S726, which were assigned roles in ERK-dependent NHE1 phosphorylation after sustained acidosis in renal cells [68]. In Amphiuma erythrocytes, phosphorylation of residues corresponding to S693 and S785 (S701 and S783) were detected by MS, where S785 (S783) was constitutively phosphorylated [69]. The precise downstream effects of these phosphorylations are not currently known, but they are likely to both impact NHE1 structural dynamics and hence activity, and to contribute to the scaffolding role of NHE1 in regulation of ERK, hence fine-tuning cellular ERK signaling. Timing of signalling events is crucial for many cellular functions, and phosphorylation events that are interdependent or distributive with very different rate constants are possible ways of controlling signal duration and strength. Indeed, it has been suggested that such temporally ordered phosphorylations serve as platforms for signal integration [55]. Our findings provide evidence for a distinct temporal order of ERK2 phosphorylation of hNHE1cdt with the occurrence of specific intermediates. These intermediates could function as tightly regulated docking sites or thresholds that convert graded signals to switch-like responses [70]. Such dynamics in ERK2 signalling have been observed to affect the half-life of an ERK2 downstream effector, the transcription factor c-Fos [15]. Timed phosphorylation events in hNHE1cdt may therefore similarly partake in control of the ERK2 signal duration. The hNHE1cdt has other confirmed phosphorylation sites than those demonstrated in the present study, and many more putative ones [36], several of which are close to the ERK2 interaction sites, for example S703, phosphorylated by RSK [27]. These sites may mediate interactions with other binding partners, introducing additional layers of complexities, for example of pathway crosstalk.
The close proximity of the primary S693 and T779 phosphorylation sites to the D3-domain and F1-site, respectively, suggests regulatory role(s) for the interaction of hNHE1cdt with, and phosphorylation by, ERK2. Analogously, the first phosphorylation events in hNHE1cdt (S693 and T779) may change the binding mode and/or dynamics with ERK2 in a way that regulates the phosphorylation of succeeding sites, although we showed that they do not act as priming sites. The effects of hNHE1 variants on the phosphorylation kinetics support the hypothesis that all sites are at play within the shuffle complex, where the sites closest to the phosphorylation site are exploited for interaction with ERK2. The current data does not allow us to evaluate whether all six sites are phosphorylated during NHE1 activation. Some sites, and most likely the slowest ones observed here, may only react under certain physiological conditions. We hypothesize that such conditional phosphorylations could be important for a rheostatic regulation of both ERK2 and NHE1. Consequently, the results of this work open a series of new questions, both regarding the generality of shuffle complexes in scaffolding by IDPs, but also concerning the functional roles and spatial and temporal interconnectivity of the six identified phosphorylation sites in hNHE1.
Conclusions
In this work we have demonstrated that the intrinsically disordered region of hNHE1 acts as a membrane scaffold engaging ERK2 in a multi-site shuffle complex. We show that the interaction is recapitulated in vivo, and that co-regulation of hNHE1 and ERK2 manifests in distinct in vivo effects on ERK1/2 activity and in vitro effects on hNHE1 phosphorylation. Our work provides a molecular mechanism for the important scaffolding function of NHE1, and characterizes a direct interaction between the intrinsically disordered hNHE1cdt and ERK2, leading to hNHE1cdt phosphorylation and regulation of ERK1/2 activity.
Methods
Cloning and mutagenesis
The human NHE1 C-terminal distal tail was extended by six residues to M + I680-Q815 (hNHE1cdt; primer sequences presented in Additional file 8). The variants D1D2-(AXA)2, D3-AXA, D1D2D3-(AXA)3, F1-A, and F2-AA; S693A and T779A were prepared from the WT hNHE1cdt plasmid and the WT full-length hNHE1 in a pcDNA3.1 plasmid using a QuikChange II Kit (Stratagene). Final constructs were confirmed by sequencing (Eurofins MWG Operon).
Protein expression and purification
The expression and purification of unlabeled human ERK2, and of hNHE1cdt and 15N- and 13C,15N- labeled hNHE1cdt were performed essentially as in [71]. All protein preparations were > 95 % pure judged from SDS-PAGE (Additional file 9: Figure S8). Details are presented in Additional file 8: Supplementary materials and methods.
Bioinformatics
Putative D-domains and consensus ERK2 phosphorylation sites in the hNHE1cdt were predicted by Scansite 3 [72] and aligned with Clustal Omega [73]. Intrinsic disorder was analysed using PONDR-FIT [74] and DISOPRED 3.1 [75].
NMR spectroscopy
All NMR spectra were recorded on Varian INOVA 750 MHz or 800 MHz 1H NMR spectrometers with a 5 mm triple resonance probe and a Z field gradient at 5 °C. Chemical shift referencing was relative to 4,4-dimethyl-4-silapentane-1-sulfonic acid (DSS), and spectra zero-filled, apodized, Fourier transformed, and baseline-corrected in NMRDraw [76], and analysed manually in CCPN Analysis [77]. Backbone resonance assignments of hNHE1cdt and variants were done at 5 °C using 1.0–1.5 mM samples of 15N,13C-hNHE1cdt in PBS pH 7.2, 0.5 mM DSS, 10 mM dithiothreitol (DTT), and 10 % (v/v) 99.96 % D2O by standard 3D triple resonance experiments as described [35]. Intrinsic random coil referencing was done from assignments of hNHE1cdt in 8 M urea from similar experiments. Chemical shift perturbations of hNHE1cdt WT and variants from interaction with unlabeled iaERK2 were determined using 0.1 mM 15N-labeled hNHE1cdt WT or variants in the presence/absence of equimolar iaERK2 and 15N,1H-HSQC spectral analyses, dialyzed against PBS pH 7.4, 5 mM EDTA, and added 0.5 mM DSS, 2 mM DTT, 10 % (v/v) 99.96 % D2O prior to recording. Chemical shift perturbations of hNHE1cdt WT by variation of pH were determined using 0.1 mM 15N-labeled hNHE1cdt WT in PBS, 2 mM DTT, 0.5 mM DSS, 10 % (v/v) 99.96 % D2O at pH 7.2 and 7.4 and 15N,1H-HSQC spectral analyses. 15N transverse relaxation times (R 2 ) were determined using standard 15N,1H-HSQCs at a 750 MHz proton frequency field at 5 °C with relaxation decays extracted from a nine-step relaxation delay (0.01, 0.05, 0.09, 0.13, 0.17, 0.19, 0.21, 0.23, and 0.25 s). R 2 values were calculated by fitting the height of each peak to a single exponential decay function, and each fit was manually reviewed.
Native mass spectrometry
Protein samples were dialyzed against 200 mM ammonium acetate supplemented with 0.5 mM DTT. To detect the complex 12 μM ERK2 (MW 42343.7 Da) was mixed with a 4 × molar excess of NHE1cdt (48 μM, 14755.3 Da). Intact mass spectrometry experiments were performed on a Waters SYNAPT HDMS modified for high mass transmission as previously described [78]. Gold-coated capillaries prepared in-house [79] were filled with sample and held at 1.6 kV against a sample cone of 200 V. Trap and transfer collision cells were maintained at 10 V, with an argon collision gas at 6.6 × 10-2 mbar. Backing pressure in the early ion optics was increased to 5.5 mbar to improve transmission of high m/z ions. Spectra were assigned using the UniDec software as previously described [46].
Model of hNHE1-ERK2 complex
The structure of iaERK2 in complex with PEA [PDB:4IZ5] [18] was used for F-site recruitment site modelling and the structure of iaERK2 in complex with a MAP kinase interacting kinase peptide [PDB:4H3Q] [80] for the D-recruitment site modelling. From the templates, the ERK2-NHE1 complex was modelled using Modeler version 9.11 [81], generating an ensemble of 1,000 models. These were clustered using the Linkage algorithm and the average structure from the most populated cluster selected as a final model. In the final model, the remaining linker regions were analysed to assess whether they were able to provide a structure of the complex compatible with the hydrodynamic radius observed experimentally. Since linker locations in the complex were ambiguous, they are not shown in the figure.
In vitro ERK2 phosphorylation assays by NMR
Time course experiments were run at 25 °C. Assignments were transferred to 25 °C by recording 15N,1H-HSQCs at 5, 10, 15, 20, and 25 °C. NMR samples of 400 μL of 100 μM or 200 μM 15N-labeled hNHE1cdt or variants were prepared in PBS buffer, 5 mM EDTA, 5 mM ATP, 15 mM MgCl2, 0.01 % (w/v) NaN3, 1 mM PMSF, 0.5 mM DSS, 2 mM DTT, 10 % (v/v) 99.96 % D2O, pH 7.0. A reference 15N,1H-HSQC spectrum was recorded before addition of kinase. Phosphorylation was started by addition of 10 μL of 0.1 mg/mL (55 nM, 401,000 units/mg) unlabeled active ERK2 (proteinkinase.de), resulting in a molar excess of hNHE1cdt:ERK2 of 1,800:1. Phosphorylation was monitored from extraction of peak position and volumes from a series of 15N,1H-HSQCs. Peak intensities were normalized to unperturbed residues (Q815). Kinetics of S693, S771, T779, and S785 phosphorylation were extracted from non-linear least squares fittings of disappearing peaks of the unphosphorylated state and/or appearing peaks of the phosphorylated state, as well as reporting neighbours to single exponentials (S693 (D692, S693, and R700), S771 (S770, S771, and G773), T779 (V777 and T779), and S785 (S785, S787, and S788)). Kinetics of S723 and S726 require fitting to bi-exponentials due to their crosstalk. For this purpose peak intensities reporting on the disappearing unphosphorylated state, the appearing phosphorylated state, and both intermediates I1 and I2 of both S723 and S726 were fitted. For the comparison of the NHE1cdt variants, one peak was chosen for each site and each variant, i.e. S693, S723, S771P, V777 (reporting on T779), and S785. The disappearing peak of S723 reports on both, S723 and S726 phosphorylation. Fully phosphorylated 15N,13C-hNHE1cdt was assigned from standard 3D triple resonance NMR experiments as above.
Mammalian cell culture and transfections
AP-1 cells (a kind gift from Dr. S. Grinstein, University of Toronto, ON, Canada), which are CHO-derived cells with no endogenous NHE activity [41] and no recovery from an acid load in the nominal absence of HCO3 - [41, 82], were used for all experiments in mammalian cells. AP-1 cells were grown at 37 °C, 5 % CO2, 95 % humidity in α-Minimum Essential Medium Eagle (Sigma) with 10 % fetal bovine serum, 1 % L-glutamine, 1 % penicillin/streptomycin (Gibco). Every 3–4 days, cells were passaged by gentle trypsination, and only passages 5–35 were used for experiments. WT and variant hNHE1 were expressed in AP-1 cells as in [82]. Transfectants were selected for resistance to 600 μg/ml G418 (Calbiochem), individual clones picked, and hNHE1 expression verified by immunoblotting and immunofluorescence analysis.
EGF-mediated stimulation of ERK1/2 activity in AP-1 cells
Untransfected AP-1 cells or AP-1 cells expressing WT or variant hNHE1 were grown to ~ 80 % confluence in 10 cm Petri dishes, and incubated for 15 min in absence or presence of 100 ng/ml recombinant human EGF (Sigma). Cells were subsequently lysed and processed for immunoblotting as described below.
Immunoblotting
Immunoblotting was carried out essentially as in [26]. Antibody descriptions and experimental details are provided in Additional file 8. For quantifications, blots were scanned, and band intensities quantified using Un-Scan-IT Graph Digitizer software (Silk Scientific). The pERK1/2 and ERK1/2 bands were normalized to those of the loading control (tubulin) from the same gel to eliminate gel-to-gel differences, and subsequently, pERK1/2 was taken relative to total ERK1/2 from the same experiment.
Immunofluorescence analysis
Immunofluorescence analysis was carried out essentially as in [22]. Antibody descriptions and experimental details are provided in Additional file 8. Line scan quantification of immunofluorescence was performed using Olympus image analysis software, as the average pixel intensity at each wavelength across the line indicated. Co-localization was quantified as the percentage of cells with NHE1-ERK1/2 co-localization in both membranes, based on representative immunofluorescence images. Data are shown as mean percentage with SEM error bars, based on analysis of at least 60 cells in three to five independent replicates per condition.
Proximity ligation assay
Proximity ligation assay was carried out with the Duolink II Detection Reagents Red kit from Sigma Aldrich. AP-1 WT cells were seeded on coverslips the day before assaying. Cells were washed in ice-cold PBS, fixed in 4 % PFA for 20 min on ice, and washed in Duolink II Buffer A. Quenching was carried out in 0.1 M glycine for 15 min followed by permeabilization in 0.5 % Triton X-100. After permeabilization, cells were washed in Duolink II Buffer A and added O-link blocking solution for 30 min. Incubation with primary antibodies for 60 min in a humidity chamber at 37 °C was followed by 60 min incubation with PLA probes diluted 1:5 in Duolink II Antibody Diluent buffer at 37 °C. Coverslips were washed in Duolink II Buffer A and added ligation solution diluted 1:5 for 30 min at 37 °C, followed by wash in Duolink II Buffer A. Amplification solution diluted 1:5 was carried out for 100 min at 37 °C. After amplification, coverslips were washed in Duolink Buffer A, incubated with phalloidin488 for 1 h, and treated with DAPI to stain nuclei. Finally, coverslips were washed in Duolink Buffer A, mounted on object glass with mounting buffer, and sealed with nail polish. Imaging was carried out with an Olympus BX-61 epifluorescence microscope using cellSens Dimensions V1.6 software. Images were taken as z-stacks and z-projection images were created. Further image processing and quantification were carried out in ImageJ.
Data analysis and statistics
Data from mammalian cell culture on NHE1 function, immunofluorescence, and immunoblotting are shown as individual experiments representative of at least n = 3, or as means ± standard error of the mean (SEM) as indicated. ANOVA with Tukey post-test, or Student's t-test, as appropriate, were used to test for statistically significant differences, with p < 0.05 as the significance level.
Availability of data and materials
Data supporting the results of this article are available in the Additional files 1, 2, 3, 4, 5, 6, 7, and 9, and further details on the materials and methods can be found in Additional file 8. Backbone assignments of the NHE1cdt have been deposited in the BioMagResBank [BMRB:26755].
Declarations
Acknowledgements
We are grateful to J. B. Johansen, V. Nylander, K. Mark, G. W. Haxholm, and S. A. Sjørup for excellent technical assistance; S. Grinstein (University of Toronto, ON, Canada) for the AP-1 cells; M. Musch (University of Chicago, IL, USA) for the polyclonal NHE1 antibody; and G. W. Haxholm and L. Ellgaard for critical reading of the manuscript.
Financial disclosure
This study was supported by the Novo Nordisk Foundation (SFP), the Danish research council (SFP: FNU: 12-126942). BBK is supported by the VELUX FOUNDATION and grants from the Danish national research councils (12-128803; 4181-00344).
Open AccessThis article is distributed under the terms of the Creative Commons Attribution 4.0 International License (http://creativecommons.org/licenses/by/4.0/), which permits unrestricted use, distribution, and reproduction in any medium, provided you give appropriate credit to the original author(s) and the source, provide a link to the Creative Commons license, and indicate if changes were made. The Creative Commons Public Domain Dedication waiver (http://creativecommons.org/publicdomain/zero/1.0/) applies to the data made available in this article, unless otherwise stated.
Authors' Affiliations
(1)
Cell and Developmental Biology, Department of Biology, University of Copenhagen, Copenhagen Ø, Denmark
(2)
Structural Biology and NMR Laboratory, Department of Biology, University of Copenhagen, Copenhagen N, Denmark
(3)
Physical and Theoretical Chemistry Laboratory, Department of Chemistry, University of Oxford, Oxford, UK
Copyright
© Hendus-Altenburger et al. 2016