Research article

Open Access
RNA-binding activity of TRIM25 is mediated by its PRY/SPRY domain and is required for ubiquitination
Received: 18 October 2017
Accepted: 19 October 2017
Published: 8 November 2017
Abstract
Background
TRIM25 is a novel RNA-binding protein and a member of the Tripartite Motif (TRIM) family of E3 ubiquitin ligases, which plays a pivotal role in the innate immune response. However, there is scarce knowledge about its RNA-related roles in cell biology. Furthermore, its RNA-binding domain has not been characterized.
Results
Here, we reveal that the RNA-binding activity of TRIM25 is mediated by its PRY/SPRY domain, which we postulate to be a novel RNA-binding domain. Using CLIP-seq and SILAC-based co-immunoprecipitation assays, we uncover TRIM25's endogenous RNA targets and protein binding partners. We demonstrate that TRIM25 controls the levels of Zinc Finger Antiviral Protein (ZAP). Finally, we show that the RNA-binding activity of TRIM25 is important for its ubiquitin ligase activity towards itself (autoubiquitination) and its physiologically relevant target ZAP.
Conclusions
Our results suggest that many other proteins with the PRY/SPRY domain could have yet uncharacterized RNA-binding potential. Together, our data reveal new insights into the molecular roles and characteristics of RNA-binding E3 ubiquitin ligases and demonstrate that RNA could be an essential factor in their enzymatic activity.
Keywords
Novel RNA-binding proteins
TRIM25
ZAP
RNA-binding domain
PRY/SPRY
Background
More than 300 novel RNA-binding proteins have been identified in HeLa [1], HEK293 [2], and mouse ES cells [3]. Furthermore, a recent study identified 393 new RNA-binding proteins unique to cardiomyocytes [4]. Strikingly, many of these proteins were not previously known for their RNA-binding properties and do not contain canonical RNA-binding domains. Intriguingly, E3 ubiquitin ligases from the Tripartite Motif (TRIM) family (TRIM25, TRIM56, and TRIM71) are among these newly identified RNA-binding proteins. TRIM proteins have a characteristic architecture that includes RING zinc-finger, B-Box, coiled-coil (CC), and variable C-terminal domains. There are over 80 TRIM proteins in the human genome, and they have been divided into 11 subfamilies based on their structural composition [5]. The largest subfamily (C-IV) of 33 TRIM proteins is characterized by the PRY/SPRY domain at the C-terminal end. Most proteins from the TRIM family are involved in innate immune responses [6, 7]. For example, TRIM25 plays a role in the Retinoic Acid-Inducible Gene 1 (RIG-I)-mediated interferon response to viral RNAs [5, 8]. RIG-I recognizes viral RNA molecules with a 5′-triphosphate (5′-ppp-RNA) [9] and initiates a downstream signaling cascade that culminates with the expression of type I interferons (interferon α and β) [10] and an anti-viral response. TRIM25 mediates K63-linked ubiquitination of RIG-I, which leads to efficient recruitment of its downstream partners. Such recruitment in turn triggers the interferon response [11]. Recently, TRIM25 was shown to be required for the antiviral activity of RNA-binding Zinc Finger Antiviral Protein (ZAP) [12, 13]. However, little is known about the RNA-mediated roles and characteristics of these RNA-binding E3 ligases.
Although TRIM25 has been generally well characterized, the functional importance of its RNA-binding activity remains unclear. Our recent study provided the first clues, showing that the binding of TRIM25 to pre-let-7 leads to its more efficient Lin28a-mediated uridylation [14]. This finding raised the possibility that RNA processing may be spatially controlled through post-translational protein modifications by RNA-binding protein-modifying enzymes such as TRIM25. Furthermore, TRIM25 could be using RNA as a scaffold to ubiquitinate its targets. Importantly, the transcriptome and proteome-wide targets of TRIM25 have not yet been identified. Finally, its RNA-binding domain has not been unequivocally described.
Herein, using data from a proteome-wide analysis of RNA-binding domains, RNA pull-downs, and an electrophoretic mobility shift assay (EMSA), we show that the PRY/SPRY domain of TRIM25 harbors its RNA-binding activity. Furthermore, TRIM25 CLIP-seq and quantitative SILAC-based co-immunoprecipitation assays reveal a comprehensive overview of interacting RNAs and proteins, respectively. Our CLIP-seq data identifies hundreds of coding and non-coding RNAs bound by TRIM25. We show that TRIM25 binds a distinct set of RNAs and prefers to bind GC-rich sequences. We also demonstrate that TRIM25 associates with many RNA-binding proteins, thus suggesting it could play a role in regulating RNA metabolism. Crucially, we present evidence that the binding of TRIM25 to RNA is important for its ubiquitin ligase activity towards itself (autoubiquitination) and its physiologically relevant target ZAP. Finally, by showing that the PRY/SPRY regions of other TRIM proteins rescue TRIM25's RNA-binding activity, we propose that TRIM25 represents a novel group of E3 ligases with RNA-binding activity that use PRY/SPRY as a novel RNA-binding domain. These results provide original insights into the RNA-mediated activities of RNA-binding E3 ubiquitin ligases.
Discussion
TRIM25 E3 ubiquitin ligase is a new RNA-binding protein with a role in Lin28a-mediated uridylation of pre-let-7 transcripts [
14
]. Here, we revealed that the RNA-binding activity of TRIM25 is contained in its PRY/SPRY region. We also presented the first high-throughput analysis of the molecular interactomes of TRIM25. We showed that TRIM25 is a bona fide RNA-binding protein associated with many proteins involved in RNA metabolism and that interacts with numerous coding and non-coding transcripts. This suggests that TRIM25 could play a role in the regulation of RNA metabolism. Our data showed that TRIM25 binding to RNA, and to the 3′-UTR of
TRIM25
mRNA in particular, can augment its autoubiquitination. Finally, we demonstrated that RNA is an important constituent of TRIM25's ubiquitin ligase activity towards itself and its physiologically relevant protein target ZAP. Recently, ZAP was shown to suppress HIV-1 replication by binding CG-rich regions in viral RNAs [
28
]. Intriguingly, the first paper that described ubiquitin conjugation to substrates showed that tRNA is required for selected ubiquitination reactions [
29
]. We propose a model whereby the ubiquitin ligase activity of TRIM25 is substantially enhanced by using RNA as a scaffold (Fig.
9a
). Alternatively, binding of TRIM25 to RNA could enhance its ubiquitin ligase activity by allosteric changes (Fig.
9b
). These models should be verified by detailed structural analysis of the free and RNA-bound TRIM25. Finally, it is exciting to speculate that activity of many other E3 ubiquitin ligases could depend on binding to RNA.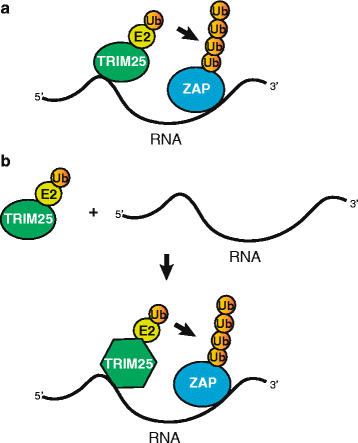 Our results carry very important functional implications given that the 3′-UTRs are platforms for regulatory RNA-binding proteins and that the lengths of the 3′-UTRs associated with specific mRNAs are variable. For example, cancer cells have mRNAs with much shorter 3′-UTRs, which exhibit increased stability and produce more proteins in part through the loss of microRNA-mediated repression [30]. Additionally, the shortening of 3′-UTRs is associated with proliferating T cells but is not accompanied by a corresponding change in protein levels [31]. For these reasons, regulation of the lengths of the 3′-UTRs could allow for tight control of the type and amount of TRIM25 that is associated with specific mRNAs and the subsequent ubiquitination/ISGylation of nascent peptides. This could be an important mechanism in the physiological and pathological control of protein stability and function. Importantly, TRIM25 also binds to the 5′-UTRs of mRNAs and within coding regions. Thus, the RNA-related functions of TRIM25 might not be limited to 3′-UTRs, which could result in different functions depending on where in the RNA the TRIM25 binds.
Previously, the CC domain of TRIM25 has been implicated in binding to RNA [3]. TRIM25 deletion mutants lacking the CC domain were unable to interact with RNA in the UV immunoprecipitation and T4 polynucleotide kinase assays [3]. In contrast, the mutant lacking the PRY/SPRY domain still retained its RNA-binding ability. Surprisingly, the results from the proteome-wide analysis of RNA-binding domains in HeLa cells (Fig. 1b) [19], as well as the results obtained from the RNA pull-down (Fig. 1e), EMSA (Fig. 1a, c), co-IP (Fig. 3), and RIP (Fig. 4f, g) assays, implicate the PRY/SPRY domain as the point of contact with the RNA. This discrepancy could arise from the fact that deletion of the CC domain from TRIM25 eliminates its dimerization [15, 17, 18] and oligomerization [16] ability (Fig. 2c). While it is not univocally confirmed that TRIM25 needs to dimerize to bind RNA, such a phenomenon is widespread across many RNA-binding proteins [20, 21]. Additionally, the experiments presented by Kwon et al. [3] were performed in wild-type mouse embryonic stem cells, where levels of endogenous TRIM25 are particularly high. This means that any ectopically overexpressed TRIM25 mutant (if it has the CC domain), including TRIM25ΔPRY/SPRY, will have a chance to heterodimerize with the wild-type, endogenous TRIM25, which could mask the requirements for a TRIM25 domain, such as PRY/SPRY, to bind to RNA. Our RNA pull-down data with the extracts from the TRIM25 KO cells clearly demonstrated that T7-TRIM25ΔPRY/SPRY could not bind RNA (Fig. 1g). Further structural characterization of the TRIM25/RNA complex should reveal detailed features of this interaction and shed more light on this novel, putative RNA-binding domain.
Importantly, there are more than 80 TRIM proteins in the human genome [5], divided into 11 subfamilies based on their structural composition; 43 of these have PRY/SPRY domains (subfamilies C-I and C-IV). Although there is a high degree of similarity between them, only TRIM25 (from TRIM proteins containing PRY/SPRY) was identified in HeLa [1] and mouse embryonic stem cell [3] screens for proteins that bind to RNAs, which could reflect a lack of saturation of RNA-capture screens or lack of expression of many other PRY/SPRY-containing TRIM proteins in the cell lines used for these assays. Interestingly, another protein from the TRIM family, TRIM71, was shown to use its NHL, but not its CC, domain to bind RNA [3, 32]. Our results from the RNA pull-down experiments with chimeric TRIM25/TRIM5, TRIM25/TRIM21, TRIM25/TRIM27, and TRIM25/TRIM65 proteins indicate that other TRIM proteins with the PRY/SPRY domain could harbor yet undiscovered RNA-binding potential (Fig. 7). Thus, in the future, it will be important to assay other TRIM proteins to determine their RNA-binding activities. Notably, other E3 ubiquitin ligases, including Mex3b and Dizip3, have been shown to use RNA as a scaffold to mediate the ubiquitination of their substrates, which are bound to the same RNA [33]. Roquin is another example of an E3 ubiquitin ligase with a well-established RNA-binding ability [34]. Moreover, the BRACA1 E3 ubiquitin ligase, which is implicated in familial breast cancer, has been shown to interact with RNAs [35]. Altogether, these results strongly suggest the possibility of widespread roles of E3 ubiquitin ligases in the direct regulation of RNA metabolism.
TRIM25 is involved in normal development and disease [36]. For example, TRIM25 has been implicated in estrogen-dependent organ development [37]. Consequently, TRIM25 KO mice present significantly underdeveloped uteri [38, 39]. Furthermore, TRIM25 plays a role in promoting proliferation of many cancer cell types, often in association with the estrogen response [40–43]. Recently, TRIM25 has been shown to be a master regulator of breast cancer metastasis [26]. Additionally, TRIM25 is known for its role in the RIG-I-mediated interferon pathway [5, 8]. Upon detection of viral RNAs with 5′-ppp-RNA, RIG-I activates a signaling cascade that results in phosphorylation-mediated dimerization of the transcription factor IRF3, leading to type I interferon (interferon α and β) expression [9, 10]. K63-linked ubiquitination of RIG-I by TRIM25 is required for an efficient interferon response [11]. RIG-I can also be stimulated by unanchored polyubiquitin chains generated by TRIM25 [44]. This interaction is targeted by viruses to suppress the interferon response. For example, the influenza's RNA-binding protein NS1 inhibits TRIM25-mediated ubiquitination of RIG-I by binding to the TRIM25 CC domain and disrupting its dimerization, allowing the virus to avoid the innate immune response [45]. This inhibitory activity is significantly reduced in an NS1 mutant, R38A/K41A, which cannot bind RNA [46], raising questions about a possible functional link between the RNA-binding activities of TRIM25 and NS1. Finally, the SARS-CoV nucleocapsid protein (N-protein) has been shown to inhibit TRIM25 by binding to TRIM25's PRY/SPRY domain [47]. Considering our results, it is plausible that N-protein could directly inhibit the TRIM25 RNA binding activity. To fully understand the RNA-related role of TRIM25 in development and disease, it will be important to characterize TRIM25/RNA complexes, especially in the context of RIG-I activation by viral RNAs.
Conclusions
In summary, we have presented the transcriptome and proteome-wide interactomes of a novel RNA-binding protein, TRIM25. We showed that the PRY/SPRY domain is responsible for the ability of TRIM25 to bind RNA. Finally, we have provided evidence that RNA is an important component in TRIM25's ubiquitin ligase activity. A recent genome-wide bioinformatics screen of the human proteome identified more than 2600 proteins with RNA-binding capacity [48]. Unravelling the RNA-related characteristics and functions of these proteins, including TRIM25, will undoubtedly reveal novel biologically and medically relevant molecular pathways.
Methods
EMSA
EMSAs were performed with an end-labeled pre-let-7a-1 probe (50 × 103 counts per minute, ~0.1 pmol) and the indicated amounts of proteins produced in E. coli. Binding reactions were performed in 16-μL reactions containing gel exclusion buffer (4.8 mM Tris (pH 8), 144 mM NaCl, 0.96 mM DTT) supplemented with 3 mM MgCl2, 0.5 mM ATP, and 37.5 mM creatine phosphate. Reactions were incubated at 4 °C for 1 h, followed by electrophoresis on a 6% w/v non-denaturing polyacrylamide gel. The signal was recorded with radiographic film or as exposed to a phosphoimaging screen and scanned on a FLA-5100 scanner (Fujifilm).
RNA pull-down assay
RNA pull-down assays were performed as previously described [49], with slight modifications. Briefly, total protein extracts were incubated with in vitro-transcribed RNAs that were chemically coupled to beads [50]. The incubation was followed by a series of washes with buffer G (20 mM Tris (pH 7.5), 135 mM NaCl, 1.5 mM MgCl2, 10% v/v glycerol, 1 mM EDTA, 1 mM dithiothreitol, and 0.2 mM phenylmethanesulfonyl fluoride). After the final wash, the proteins associated with the beads were analyzed by western blotting.
Co-immunoprecipitation
Extracts prepared from HeLa cells transfected with plasmids expressing T7-tagged or EGFP-tagged proteins were incubated with protein A agarose with the anti-T7 antibody. The bound proteins were separated on a 4–12% SDS polyacrylamide gel and analyzed by western blotting. As indicated, some samples were treated with RNases A and T1 prior to loading on the gel. For mass spectrometry, the T7-bound beads were incubated with HeLa extracts grown in Light or Heavy R6K4 (13C-labeled arginine and 2D-labeled lysine) isotopes (Dundee Cell Products LM014/16). Next, the bound proteins were run on a 4–12% SDS polyacrylamide gel followed by in-gel digestion as described previously [49]. Gene Ontology enrichment mapping was performed by functionally annotating the enriched proteins using DAVID [22] and visualizing them with the Enrichment Map Plugin v2.1.0 [23] in Cytoscape (P value cutoff = 0.001; false discovery rate Q-value cutoff = 0.1; Jaccard coefficient = 0.25). Enriched protein sets are represented as nodes (red circles) connected by edges (green lines), with the sizes of nodes and edges representing the number of proteins in gene sets and the amount of overlap.
CLIP-seq
The protocol was adapted from Moore et al. [51] using adapters and PCR oligonucleotides described by Kilchert et al. [52]. Briefly, two P100 dishes per sample were transfected with plasmid expressing T7-tagged TRIM25. Anti-T7 antibody was coupled to 50 μL of Dynabeads per sample. Following immunoprecipitation, the RNA was dephosphorylated, the 3′ linker was ligated and radiolabeled, and the 5′ linker was ligated on the beads. The 3′ linker reaction was performed in a total of 80 μL, with 1× PNK buffer, 1 μM 3′ adapter (3′ adapter in CLIP oligos), 800 U T4 RNA ligase 2 truncated K227Q, 80 U RNase out, and 10% PEG 8000. The 5′ linker reaction occurred in a total of 80 μL, with 1× PNK buffer, 1 mM ATP, 12.5 nM 5′ linker L5B (L5Ba-d in CLIP oligos), 80 U RNase OUT, and 40 U T4 RNA ligase. The RNA was reverse transcribed (RT Oligo in CLIP oligos) and amplified by PCR (P5_Forward and P3_barcode Reverse BC1 or BC2) using LA Takara Taq. The libraries were analyzed on an Illumina Miseq system, and the data were processed using the pyCRAC software [25]. TRIM25 binding motifs were analyzed using pyMotif and WebLogo on identified clusters. The distribution of TRIM25 CLIP clusters across the protein coding genes was performed using pyBinCollector. The correlation between the experiments was calculated by comparing the heights of the clusters in the three experiments. The correlation with total RNA abundance was performed by comparing the heights of the clusters common in all three experiments with the transcript abundance in the RNA-seq data derived from HeLa cells.
RIP
The RIP experiments were performed as in the CLIP-seq immunoprecipitations, except for cross-linking and RNase treatment. The bound RNAs were isolated by Trizol extraction, and RNAs were identified by qRT-PCR, using the SuperScript III Platinum SYBR Green One-Step qRT–PCR Kit (Life Technologies) following the manufacturer's instructions on a Roche 480 LightCycler.
In vitro ubiquitination
Immunoprecipitation was performed as described above. Following the final wash, proteins bound to beads were incubated with Ube1, His-Ube2D3, and ubiquitin (UBPBio), where 1 mg/mL of Ube1, 2 mg/mL of His-Ube2D3, and 50 mg/mL of ubiquitin were used for TRIM25 autoubiquitination and 5 mg/mL of Ube1, 10 mg/mL of His-Ube2D3, and 250 mg/mL of ubiquitin were used for ZAP ubiquitination. The reactions were carried out at 37 °C for 1 hour or as otherwise indicated and were stopped by addition of loading buffer and reducing agent. The protein ubiquitination was analyzed by western blot with anti-TRIM25 or anti-ZAP antibodies.
Western blot
Total protein samples were resolved by standard NuPAGE SDS-PAGE electrophoresis with MOPS running buffer (Life Technologies) and transferred onto a nitrocellulose membrane. The membrane was blocked overnight at 4 °C with 1:10 western blocking reagent (Roche) in Tris-buffered saline buffer with 0.1% Tween-20 (TBST). The following day, the membrane was incubated for 1 hour at room temperature with the primary antibody solution in 1:20 western blocking reagent diluted in TBST. Antibodies used included rabbit polyclonal anti-TRIM25 (1:1000, ab167154, clone EPR7315, Abcam), rabbit polyclonal anti-DHX9 (1:1000, 17721-1-AP, RRID – AB_2092506, Protein-Tech), mouse monoclonal anti-tubulin (1:10000, T6199, RRID – AB_477583, Sigma-Aldrich), mouse monoclonal anti-T7 tag HRP conjugate (1:10000, 69048, RRID – AB10807495, Novagen), mouse monoclonal anti-HA-probe HRP conjugate (1:1000, sc-7392HRP, F-7, Santa Cruz), rabbit monoclonal anti-DDX5 (1:1000, ab126730, RRID – AB_11130291, Abcam), and rabbit polyclonal anti-ZAP (ZC3HAV1) (1:1000, 16820-1-AP, Protein-Tech). After washing in TBST, the blots were incubated with the appropriate secondary antibody conjugated to horseradish peroxidase and detected with the SuperSignal West Pico detection reagent (Thermo Scientific) or WesternSure ECL substrate (Licor). The membranes were stripped using the ReBlot Plus Strong Antibody Stripping Solution (Chemicon) equilibrated in water, blocked in 1:10 western blocking solution in TBST, and re-probed as described above.
Cell culture, overexpression, and actinomycin D treatment
HeLa cells (American Type Culture Collection) were maintained in standard Dulbecco's modified Eagle's medium (DMEM) (Life Technologies), supplemented with 10% fetal bovine serum (Life Technologies). For SILAC mass spectrometry, cells were cultured in DMEM supplemented with Light or Heavy R6K4 (13C-labeled arginine and 2D-labeled lysine) isotopes (Dundee Cell Products LM014/16). Fragments encoding proteins of interest were cloned into the pCG T7 plasmid and transiently expressed in HeLa cells using Lipofectamine 2000 (Invitrogen). For RNA stability assays, 10 μg/mL of actinomycin D (Sigma) was added to cells and RNA extracted at the time points indicated using Tri Reagent (Sigma). Levels of RNAs of interest were determined by qRT-PCR using SuperScript III Platinum SYBR Green One-Step qRT-PCR Kit (Thermo-Fisher). A total of 200 ng of RNA were loaded per well for RNAs of interest and these levels were normalized to 18S Ribosomal RNA, for which 1 ng of total RNA was loaded per well (1 in 200 dilution).
Recombinant protein purification
The full-length human TRIM25 and RBD mutant were cloned into pET30a, which was transformed into BL21 gold cells. Bacteria was grown in Superbroth in the presence of kanamycin at 37 °C until the OD600 reached 0.6. The bacteria were induced by 0.5 mM IPTG and incubated for 24 hours at 30 °C with agitation. Pellets were lysed with a cell disruptor in lysis buffer (20 mM NaPPi (pH 7.4), 500 mM NaCl, 5 mM MgCl2, protease inhibitor, DNase, and RNase or benzonase), and lysates were loaded onto an IMAC HiTrap 1-mL FF column in binding buffer (20 mM NaPPi (pH 7.4), 500 mM NaCl, 10 mM imidazole) and eluted with increasing amounts of elution buffer (20 mM NaPPi (pH 7.4), 500 mM NaCl, 500 mM imidazole). Protein fractions were further purified with a gel exclusion column (Superdex 200 30/100 GL or HiLoad Superdex 200 16/60) in gel exclusion buffer (10 mM Tris (pH 8.0), 300 mM NaCl, 2 mM DTT). Selected fractions were pooled and concentrated using Vivaspin 5 30,000 MWCO (Sartorius Stedim UK Ltd.). His-Lin28s was produced and purified as previously specified [53].
Thermal denaturation assay
Thermal denaturation assays were performed on a Bio-Rad IQ5 ICycler. Recombinant proteins (~4 μM) were mixed with Sypro orange (×5) in a 50-μL reaction. Fluorescent readings were taken every 30 seconds between 20 °C and 70 °C. The melting temperature was determined from the maximum of the first derivative of the melting curve, and the mean melting temperature of three replicates was calculated for each protein.
Size exclusion chromatography with multi-angle light scattering
Mass measurements were performed on a Viscotek MALS-20 and VE3580 RI detector attached to an ÄKTA 10 Purifier with microflow components. Protein samples were run at approximately 0.75 mg/mL on a Superdex200 Increase 10/300 GL column, running at 1.0 mL/min in gel exclusion buffer (with 0.5 mM TCEP instead of DTT) with 100-μL injections.
TRIM25 CRISPR/Cas9 knockout
HeLa cells were transfected with 200 ng of GeneArt CRISPR Nuclease mRNA (Thermo-Fisher) in addition to 50 ng of each of two sgRNAs (TRIM25 Left sgRNA – CCACGTTGCACAGCACCGTGTTC and TRIM25 Right sgRNA CTGCGGTCGCGCCTGGTAGACGG) targeting sequences in exon 1 of TRIM25. After 24 hours, cells were seeded to a 96-well plate such that there was on average 1 cell per well, and the cells were grown until colonies were visible to the naked eye. Next, cells were split into two 96-well plates, one of which was used for a dot blot analysis. For the dot blot analysis, cells were washed twice in PBS prior to the addition of 30 μL of Passive Lysis Buffer (Promega) per well and incubation for 15 minutes at room temperature. Two microliters of protein from each well was spotted directly onto a nitrocellulose membrane, followed by western blotting, as described above. Selected clones were seeded from the second 96-well plate into 6-well plates, grown, and TRIM25 levels were validated by standard western blotting.
CLIP oligonucleotides
L5Ba: 5′-invddT-ACACrGrArCrGrCrUrCrUrUrCrCrGrArUrCrUrNrNrNrArGrArGrCrN-OH-3′. L5Bb: 5′-invddT-ACACrGrArCrGrCrUrCrUrUrCrCrGrArUrCrUrNrNrNrGrUrGrArGrCrN-OH-3′. L5Bc: 5′-invddT-ACACrGrArCrGrCrUrCrUrUrCrCrGrArUrCrUrNrNrNrCrArCrUrArGrCrN-OH-3′. L5Bd: 5′-invddT-ACACrGrArCrGrCrUrCrUrUrCrCrGrArUrCrUrNrNrNrUrCrUrCrUrArGrCrN-OH-3′. 3′ adapter: 5′App-NAGATCGGAAGAGCACACGTCTG-ddC 3′. RT Oligo: 5′-CAGACGTGTGCTCTTCCGATCT-3′.
PCR oligonucleotides
P5_Forward: 5′-AATGATACGGCGACCACCGAGATCTACACTCTTTCCCTACACGACGCTCTTCCGATCT-3′. P3_barcode_Reverse: BC1: 5′CAAGCAGAAGACGGCATACGAGATCGTGATGTGACTGGAGTTCAGACGTGTGCTCTTCCGATCT-3′ (has indexing barcode IDX1). BC2: 5′CAAGCAGAAGACGGCATACGAGATACATCGGTGACTGGAGTTCAGACGTGTGCTCTTCCGATCT-3′ (has indexing barcode IDX2).
Declarations
Acknowledgments
We thank Hywel Dunn-Davies for providing a script for the analysis of the distribution of Clip-seq clusters in total RNA and in mRNA. We thank Finn Grey and Sam J. Wilson for the ZAP (ZC3HAV1) plasmid [54].
Funding
GH was a recipient of a Wellcome Trust PhD studentship (105246). JR was supported by a Wellcome Trust Senior Research Fellowship (084229). JSN was a recipient of a Wellcome Trust PhD Studentship (096996). SG was supported by a Wellcome Trust Career Development Fellowship (091549). GM was a recipient of an MRC Career Development Award (G10000564). This work was also supported by two Wellcome Trust Centre Core Grants (077707 and 092076) and by a Wellcome Trust instrument Grant (091020). Next generation sequencing was carried out by Edinburgh Genomics (MiSeq), The University of Edinburgh. Edinburgh Genomics is partly supported through core grants from NERC (R8/H10/56), MRC (MR/K001744/1), and BBSRC (BB/J004243/1).
Availability of data and materials
All data generated or analyzed during this study are included in this published article (and its additional files). The mass spectrometry proteomics data have been deposited in the ProteomeXchange Consortium via the PRIDE [55] partner repository with the dataset identifier PXD007960. Requests for material should be made to the corresponding author.
Authors' contributions
GM conceived of the study. GM, NRC, GH, MT, and PK designed the experiments, NRC, GH, MT, PK, and CS performed experiments. GM, NRC, GH, MT, PK, SW, SG, CS, JR, and AC analyzed the data. NRC and GM wrote the manuscript with input from other authors. All authors read and approved the final manuscript.
Ethics approval and consent to participate
Not applicable
Competing interests
The authors declare that they have no competing interests.
Publisher's Note
Springer Nature remains neutral with regard to jurisdictional claims in published maps and institutional affiliations.
Open AccessThis article is distributed under the terms of the Creative Commons Attribution 4.0 International License (http://creativecommons.org/licenses/by/4.0/), which permits unrestricted use, distribution, and reproduction in any medium, provided you give appropriate credit to the original author(s) and the source, provide a link to the Creative Commons license, and indicate if changes were made. The Creative Commons Public Domain Dedication waiver (http://creativecommons.org/publicdomain/zero/1.0/) applies to the data made available in this article, unless otherwise stated.
Authors' Affiliations
(1)
Wellcome Centre for Cell Biology, University of Edinburgh, Edinburgh, UK
(2)
Institute of Quantitative Biology, Biochemistry and Biotechnology, University of Edinburgh, Edinburgh, UK
(3)
Centre for Synthetic and Systems Biology (SynthSys), University of Edinburgh, Edinburgh, UK
(4)
Department of Biotechnology, Technische Universität Berlin, Berlin, Germany
(5)
Department of Biochemistry, University of Oxford, Oxford, UK