Research article

Open Access
Phylogenomics of the olive tree (Olea europaea) reveals the relative contribution of ancient allo- and autopolyploidization events
Received: 21 December 2017
Accepted: 4 January 2018
Published: 25 January 2018
Abstract
Background
Polyploidization is one of the major evolutionary processes that shape eukaryotic genomes, being particularly common in plants. Polyploids can arise through direct genome doubling within a species (autopolyploidization) or through the merging of genomes from distinct species after hybridization (allopolyploidization). The relative contribution of both mechanisms in plant evolution is debated. Here we used phylogenomics to dissect the tempo and mode of duplications in the genome of the olive tree (Olea europaea), one of the first domesticated Mediterranean fruit trees.
Results
Our results depict a complex scenario involving at least three past polyploidization events, of which two—at the bases of the family Oleaceae and the tribe Oleeae, respectively—are likely to be the result of ancient allopolyploidization. A more recent polyploidization involves specifically the olive tree and relatives.
Conclusion
Our results show the power of phylogenomics to distinguish between allo- and auto polyploidization events and clarify the contributions of duplications in the evolutionary history of the olive tree.
Keywords
Olive
Lamiales
Polyploidy
Phylogenomics
Hybridization
Background
The duplication of the entire genetic complement—a process known as polyploidization or whole-genome duplication (WGD)—is one of the most drastic events that can shape eukaryotic genomes [1]. Polyploidization can be a trigger for speciation [2], and can result in major phenotypic changes driving adaptation [3]. This phenomenon is particularly relevant in plants, where it is considered a key speciation mechanism [4, 5], and where the list of described polyploidizations grows in parallel with the sequencing of new genomes [6–11]. Polyploidization in plants has been a common source of genetic diversity and evolutionary novelty, and is in part responsible for variations in gene content among species [3, 4, 12]. Importantly, this process seems to have provided plants with traits that make them prone to domestication [13], and many major crop species, including wheat, maize, and potato, are polyploids [6, 10, 14].
Polyploidization can take place through two main mechanisms: autopolyploidization and allopolyploidization. Autopolyploidization is the doubling of a genome within a species, and thus, resulting polyploids initially carry nearly identical copies of the same genome [2]. Allopolyploids, also known as polyploid hybrids, originate from the fusion of the genomic complements from two different species followed by genome doubling. This genome duplication can enable proper pairing between homologous chromosomes and restore offspring fertility [15–17]. This mechanism has been described as the fastest (one generation) and most pervasive speciation process in plants [18, 19]. Hence, allopolyploids harbor chimeric genomes from the start, with divergences reflecting those existing between the crossed species.
Elucidating the exact number and type of past polyploidization events from extant genomes is challenging. This is partly because, after polyploidization, the genome progressively returns to a diploid state [4, 20]. This so-called diploidization is attained through chromosome fusion or loss, (retro)transposon mobility, repetitive DNA loss, and gene loss, sometimes resulting in a relatively fast reduction of genome size [21]. For instance, Sorghum bicolor (sorghum) and Zea mays (maize) have the same number of chromosomes, even though maize underwent WGD since their divergence (~11.9 MyA) [22]. Similar examples of a rapid reduction of the number of chromosomes after polyploidization can be found in the family Brassicaceae [21]. Hence, chromosome number can be used to estimate the existence of polyploidization events, but it is not a precise indicator of the number or type of such events. Of note, it has been proposed that the nature of rearrangements and the number of losses may differ following auto- and allopolyploidization events, because in autopolyploids, in contrast to allopolyploids, the recurrent random assortment of chromosomes may select against deletions of duplicated genes, which would lead to gametes lacking a complete gene set [23].
Gene order (also known as synteny) is often used to assess past polyploidizations, generally by comparing the purported polyploid genome to a related non-duplicated genome. However, this approach requires well-assembled genomes, and its power is limited for ancient events, as the signal is blurred by the accumulation of genome rearrangements over time. Finally, phylogenomics provides an alternative approach to studying the history of polyploidizations. In particular, a topological analysis of phylomes, which are complete collections of gene evolutionary histories, has helped to uncover ancient polyploidization (paleoploidization) events [12, 24–27]. Recently, phylome analysis was instrumental in distinguishing between ancient auto- and allopolyploidization in yeast [28]. Such analyses compare topological patterns observed in gene trees and their frequencies, with the expected topologies resulting from auto- and allopolyploidization scenarios followed by gene loss. Hybridization involves non-vertical patterns of inheritance that can result in the preponderance of anomalous gene tree topologies. For instance, in the above mentioned yeast study [28], the topologies of paralogous gene families revealed that often each paralogous set of genes had orthologs only in species from one of two different yeast clades, suggesting allopolyploidization between these two clades.
The olive tree (Olea europaea subsp. europaea var. europaea) is one of the most important fruit trees cultivated in the Mediterranean basin [29]. It belongs to the family Oleaceae (order Lamiales). Despite the large number of families in the order Lamiales (24) [30], with the olive tree (Olea europaea) as the taxonomic type species, only eight families have at least one species with public genome sequences. The family Oleaceae is one of the first lineages that diverged within the Lamiales [31] and is composed of five tribes: Fontanesieae, Forsythieae, Myxopyreae, Jasmineae, and Oleeae. The last tribe is a large group that is further divided into four subtribes (Ligustrinae, Schreberinae, Fraxininae, and Oleinae) [32, 33]. The genus Olea belongs to the subtribe Oleinae and includes approximately 40 taxa [34]. O. europaea is divided into six subspecies: europaea, laperrinei, guanchica, maroccana, cerasiformis, and cuspidata [32, 35]. The subsp. europaea is further subdivided into two taxonomic varieties: var. sylvestris, also named oleaster, which encompasses the wild forms of the olive tree, and var. europaea, which comprises cultivated forms [32]. Despite the large number of species in the subtribe Oleinae, only two olive genomes are currently available [36, 37]. The genome of O. europaea has a diploid size of 1.32 Gb distributed in 46 chromosomes (2n). To date, polyploids have been described within O. europaea as a recent polyploid (neoployploid) series (2×, 4×, and 6×) based on chromosome counting, flow cytometry, and molecular markers of living trees [29]. However, little is known about paleopolyploidizations in the olive tree and relatives. One of the analyses performed on the reference olive genome [36] revealed an increased gene content compared to other Lamiales. This very much suggests the existence of at least one past polyploidization event since the olive tree diverged from other sequenced Lamiales [36]. The sequencing of the genome of Fraxinus excelsior [38] and the second genome of Olea europaea (var. sylvestris) [37] confirmed the presence of at least one, possibly two, common WGDs [39]. Still, it is as yet unclear whether these events represent auto- or allopolyploidization events. To clarify this puzzle, we performed a phylogenomic analysis of the genomes of O. europaea and relatives.
Conclusions
Altogether our results underscore the power of phylogenomics to distinguish between allo- and autopolyploidization. All our results indicate that the evolutionary history of the olive tree comprises not only a species-specific WGD, but also two ancestral allopolyploidization events (Fig.
5
). The most ancestral paleoploidization occurred at the base of the family Oleaceae, where a non-Oleaceae Lamiales species could be involved as one of the parental species. Also, this event is independent of that described before for the lineage of non-Oleaceae Lamiales species. The second paleoploidization at the base of the tribe Oleeae seems to involve a species related to
Jasminum
as one of the partners, although increased taxonomic sampling may reveal other alternative scenarios. The third (neopolyploidization) event is specific to
O. europaea
and seems to be partially blurred by the fact that some duplicated regions may appear collapsed in the currently available assemblies. Future assembly efforts should consider this aspect. With the current set of sequenced species, we do not find phylogenetic support for an allopolyploidization scenario in which two
Olea
species hybridized to generate the modern olive tree. However, increased taxonomic sampling may change this. Finally, that
Fraxinus
and
Olea
have the same number of chromosomes may indicate that the last duplication event specific to olive was rapidly followed by genome rearrangements and with a quick return to the previous chromosome numbers. However, considering the ancient divergence (more than 35 MyA) between the two subtribes (Fraxininae and Oleeae) [
51
], alternative hypotheses may be considered. Further analyses and additional fully sequenced genomes from genera of Oleaceae are certainly needed to clarify these events better.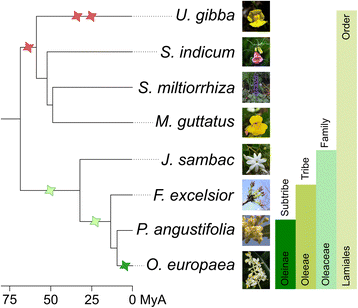 Declarations
Acknowledgments
TG's group acknowledges support from the Spanish Ministry of Economy and Competitiveness through grants "Centro de Excelencia Severo Ochoa 2013-2017" SEV-2012-0208 and BFU2015-67107, cofounded by the European Regional Development Fund; from the Catalan Research Agency (AGAUR) SGR857, from the CERCA programme/ Generalitat de Catalunya; and from the European Union's Horizon 2020 research and innovation program under Marie Sklodowska-Curie grant agreement H2020-MSCA-ITN-2014-642095 and European Research Council grant agreement ERC-2016-CoG-724173. TG and PV acknowledge support from Banco Santander for the olive genome sequencing project. IJ was supported in part by a grant from the Peruvian Ministry of Education, "Beca Presidente de la República" (2013-III).
Availability of data and materials
All data generated or analyzed during this study are included in this published article and its supplementary information files, or are available upon request.
Authors' contributions
IJ and MMH performed the bioinformatics analysis. IJ, MMH, and TG analyzed the results. TG and PV supervised the study. All authors wrote, read, and approved the manuscript.
Competing interests
The authors declare that they have no competing interests.
Publisher's Note
Springer Nature remains neutral with regard to jurisdictional claims in published maps and institutional affiliations.
Open AccessThis article is distributed under the terms of the Creative Commons Attribution 4.0 International License (http://creativecommons.org/licenses/by/4.0/), which permits unrestricted use, distribution, and reproduction in any medium, provided you give appropriate credit to the original author(s) and the source, provide a link to the Creative Commons license, and indicate if changes were made. The Creative Commons Public Domain Dedication waiver (http://creativecommons.org/publicdomain/zero/1.0/) applies to the data made available in this article, unless otherwise stated.
Authors' Affiliations
(1)
Centre for Genomic Regulation (CRG), The Barcelona Institute of Science and Technology, Barcelona, Spain
(2)
Universitat Pompeu Fabra (UPF), Barcelona, Spain
(3)
Universitat Autònoma de Barcelona (UAB), Barcelona, Spain
(4)
Real Jardín Botánico de Madrid (CSIC-RJB), Madrid, Spain
(5)
ICREA, Pg. Lluís Companys 23, Barcelona, Spain