Research article

Open Access
Three rounds (1R/2R/3R) of genome duplications and the evolution of the glycolytic pathway in vertebrates
Received: 03 February 2006
Accepted: 06 June 2006
Published: 06 June 2006
Abstract
Background
Evolution of the deuterostome lineage was accompanied by an increase in systematic complexity especially with regard to highly specialized tissues and organs. Based on the observation of an increased number of paralogous genes in vertebrates compared with invertebrates, two entire genome duplications (2R) were proposed during the early evolution of vertebrates. Most glycolytic enzymes occur as several copies in vertebrate genomes, which are specifically expressed in certain tissues. Therefore, the glycolytic pathway is particularly suitable for testing theories of the involvement of gene/genome duplications in enzyme evolution.
Results
We assembled datasets from genomic databases of at least nine vertebrate species and at least three outgroups (one deuterostome and two protostomes), and used maximum likelihood and Bayesian methods to construct phylogenies of the 10 enzymes of the glycolytic pathway. Through this approach, we intended to gain insights into the vertebrate specific evolution of enzymes of the glycolytic pathway. Many of the obtained gene trees generally reflect the history of two rounds of duplication during vertebrate evolution, and were in agreement with the hypothesis of an additional duplication event within the lineage of teleost fish. The retention of paralogs differed greatly between genes, and no direct link to the multimeric structure of the active enzyme was found.
Conclusion
The glycolytic pathway has subsequently evolved by gene duplication and divergence of each constituent enzyme with taxon-specific individual gene losses or lineage-specific duplications. The tissue-specific expression might have led to an increased retention for some genes since paralogs can subdivide the ancestral expression domain or find new functions, which are not necessarily related to the original function.
Keywords
Duplication Event
Genome Duplication
Glycolytic Enzyme
Glycolytic Pathway
Fish Lineage
Background
In many cases, evolution is accompanied by an increase of genetic and phenotypic complexity, yet the biochemical machinery necessary for the energy supply of an increasing diversity of cell- and tissue types had to work effectively, even if different tissues have specific conditions such as pH values, ion and substrate concentrations. Based on basic data such as genome sizes and allozymes, Ohno [
1
] proposed that the increase in complexity-during the evolution of the vertebrate lineage was accompanied by an increase in gene number due to duplication of genes and/or genomes. Recent data from genome sequencing projects showed that genome size is not strongly correlated with the numbers of genes an organism possesses. Nevertheless, for many genes, multiple copies can be found in vertebrates, while basal deuterostomes and invertebrates typically have only one orthologous copy. The "one-two-four" rule is the current model to explain the evolution of gene families and of vertebrate genomes more generally (Figure
1
). Based on this model, two rounds of genome duplication occurred early in the vertebrate evolution [
2
,
3
], but see also [
4
,
5
]. An ancestral genome was duplicated to two copies after the first genome duplication (1R), and then to four copies after the second (2R) duplication [
6
,
7
]. While it is commonly accepted that 1/2R occurred before the divergence of Chondrichthyes [
8
], the position of lamprey and hagfish relative to the 1R still remains unclear, even though there is some evidence for a 1R-early (before divergence of cyclostomes) [
9
]. Recent data suggest that an additional whole genome duplication occurred in the fish lineage (3R or fish-specific genome duplication, extending the "one-two-four" to a "one-two-four-eight" rule [
10
–
16
].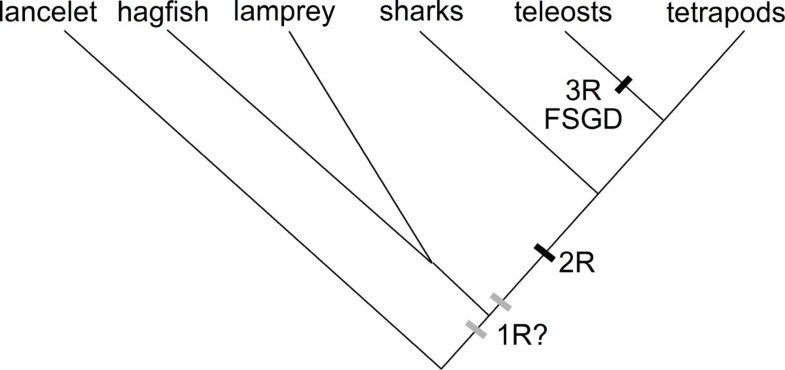 Duplicated genes, resulting from large scale duplications, initially possess the same regulatory elements and identical amino-acid sequence and are therefore thought to be redundant in their function, which means that inactivation of one of the two duplicates should have little or no effect on the phenotype, provided that there are no dosage compensation effects [17]. Therefore, since one of the copies is free from functional constraint, mutations in this gene might be selectively neutral and will eventually turn the gene into a non-functional pseudogene. Although gene loss is a frequent event, 20–50% of paralogous genes are retained for longer evolutionary time spans after a genome duplication event [18, 19]. On the other hand, a series of non-deleterious mutations might change the function of the duplicate gene copy [20]. Natural selection can prevent the loss of redundant genes [21] if those genes code for components of multidomain proteins, because mutant alleles disrupt such proteins. A selective advantage due to a novel function might be sufficient to retain this gene copy and to select against replacement substitutions and prevent this functional gene copy from turning into a pseudogene. In this way, genes can pick up new functions (neofunctionalization) [6] or divide the ancestral function between the paralogs (subfunctionalization) [22].
The glycolytic pathway is particularly suitable for testing theories of enzyme evolution and the involvement of gene/genome duplications. Previous phylogenetic analyses of these enzymes mainly focused on deep phylogenies [23, 24] or the evolution of alternative pathways in different organisms, which displays high variability in bacteria [25, 26]. This central metabolic pathway is highly conserved and ancient; it is therefore possible to compare enzymes from phylogenetically distant organisms [27]. The standard pathway includes 10 reaction steps; glucose is processed to pyruvate with the net yield of two molecules of adenosine triphosphate and two reduced molecules of hydrogenated nicotinamide adenine dinucleotide per molecule of glucose broken down. The classical glycolytic reactions are catalyzed by the following 10 enzymes: hexokinase (HK; EC 2.7.1.1), phosphoglucose isomerase (PGI; EC 5.3.1.9), phosphofructokinase (PFK; EC 2.7.1.11), fructose-bisphosphate aldolase (FBA; EC 4.1.2.13); triosephosphate isomerase (TPI; EC 5.3.1.1), glyceraldehyde-3-phosphate dehydrogenase (GAPDH; EC 1.2.1.12), phosphoglycerate kinase (PGK; EC 2.7.2.3), phosphoglycerate mutase (PGAM; EC 5.4.2.1), enolase (ENO; EC 4.2.1.11), and pyruvate kinase (PK; EC 2.7.1.40) [28].
The tertiary structures of all 10 of these enzymes show a superficial similarity; they are all variations on a common theme [27]. All glycolytic enzymes belong to the class of α/β-barrel proteins. Since this pathway is of crucial importance for the energy delivery of any cell, these genes are thought to be highly conserved and therefore have often been used as phylogenetic markers for "deep" phylogenies [23, 29, 30]. In fact, glycolytic enzymes are probably among the most conserved proteins known. Many vertebrate genes occur in multiple copies in the genome, and are often expressed in a tissue-specific manner. This increased genetic complexity might be utilized for highly specific requirements in terms of substrate optimum, pH value and salt concentration in different types of tissues [31]. Glucokinase, one of the hexokinase isozymes, is expressed in the liver and the pancreas, and requires a high concentration of glucose to reach the maximum turnover rate. As a result of this, high glucose levels after food uptake are reduced by the production of glycogen in the liver [32]. The other hexokinase isozymes work with much lower substrate concentrations.
The main goal of the present work was to contribute to an evolutionary understanding of glycolysis by phylogenetic analyses of the 10 glycolytic enzymes from representatives of the vertebrate lineage. Based on the observation of increased size of gene families in vertebrates [10, 33–40] and their highly specialized tissues, we expected to find duplications of entire pathways in the vertebrate lineage.
Results
For most glycolytic enzymes, two or more copies can be found in vertebrates. The topologies for the inferred gene trees generally reflect the history of one or two rounds of duplications within the vertebrate lineage plus an additional duplication event within the teleost fish. The phylogenetic analyses confirm duplication events leading to multiple copies within vertebrates; these duplications occurred almost invariantly after the divergence of the urochordate
C. intestinalis
(Figures
2B, 2C
,
3B
,
4A, 4B
,
5A, 5C
)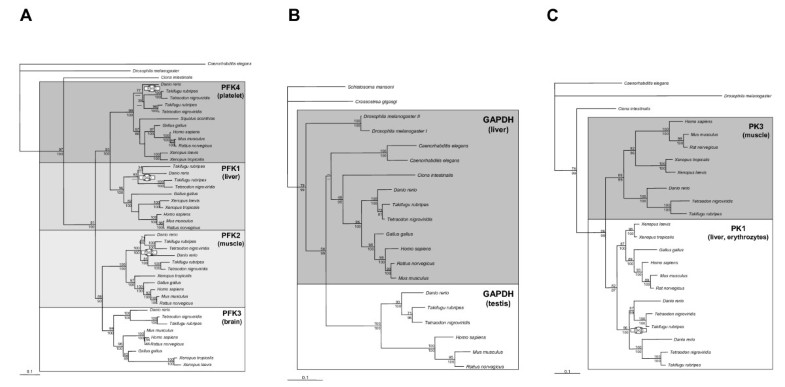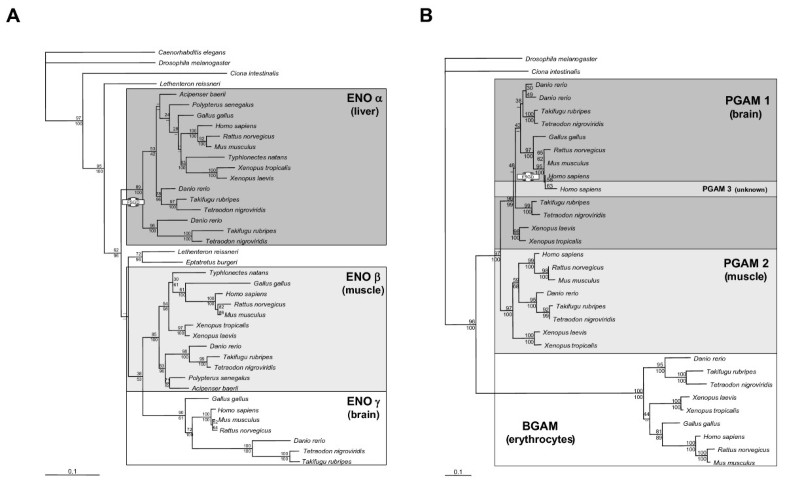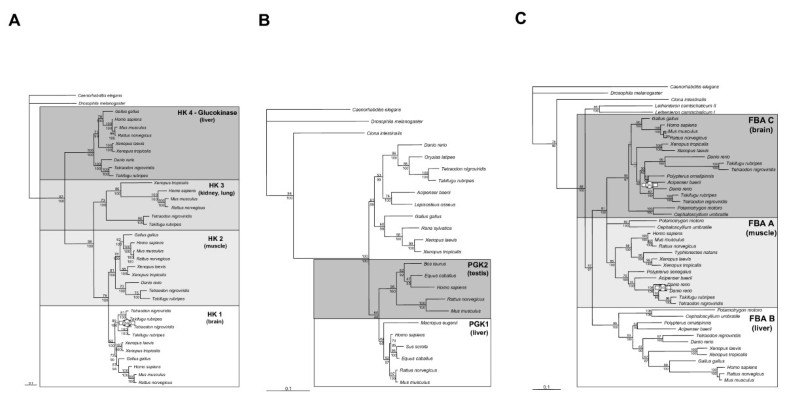 Discussion
The individual glycolytic enzymes are among the most slowly evolving genes [51], yet the glycolytic pathway has adapted to the varying metabolic requirements of different tissues and different organisms. Genome duplications appear to have been the principal mechanism that gives rise to multiple copies of isoenzymes. The topologies for eight of the gene trees (Figures 2, 3, 4, 5) generally reflect the 1R/2R/3R genome duplication history during vertebrate evolution. Convincing data supporting the 2R hypothesis stems from paralogons, genomic regions containing paralogous genes and therefore being the result of large-scale duplications [52–54]. Only some of the glycolytic enzymes showing 1R/2R duplications are found on chromosomes where paralogons have been previously reported, i.e., PK (PK3 on chromosome 15, PK1 on chromosome 1), ENO (ENOα on chromosome 1, ENOβ on chromosome 17, ENOγ on chromosome 12), HK (HK1 on chromosome 10, HK2 on chromosome 2, HK3 on chromosome5), and FBA (FBAA on chromosome 16, FBAC on chromosome 17).
For many single-copy genes in tetrapods, two copies have been described for ray-finned fish. The first observation of this pattern began with the discovery of more than four Hox clusters in zebrafish (Danio rerio) [55] and medaka (Oryzias latipes) [56]. Recent data from puffer-fish genomes confirmed the existence of at least seven Hox clusters even in these very compact genomes [57, 58]. With an increase of available sequences, especially from genome and EST projects, the number of genes which show a duplication event in the fish lineage increased significantly [10–12, 15, 34, 38, 59–61]. Data from the genes analyzed in this study, including genomic sequences (Tetraodon nigroviridis, Takifugu rubripes) and EST data (Danio rerio), shows that enzyme isoforms were duplicated before the divergence of Ostariophysii (zebrafish) and Neoteleostei (medaka, pufferfishes). The determination of the phylogenetic timing of the duplication event for glycolytic genes is difficult due to missing sequence data for basal actinopterygian species (bichir, sturgeon, gar and bowfin). Also, in many cases a strikingly increased evolutionary rate of at least one copy of the duplicated genes might result in a basal position of this paralogous cluster via LBA artifacts ("outgroup tree topology"). [49, 62] rendering the phylogenetic reconstruction of the ancient events (~400-350 MYA) difficult [63]. Previous studies have shown that the most likely position of the 3R genome duplication event is after the divergence of gar/bowfin (Holostei) from the teleost lineage [44–46].
Conclusion
From our data, we could not detect a 1R/2R/3R trend consistent for all enzymes of the glycolytic pathway. Even though most of them do show a repeated pattern of duplications, which are accompanied by tissue-specific expression, this is not the case for all of them. Considerations of tertiary protein structure also could not give further indications for why some enzymes have four isozymes in tetrapods and others only one. Given the expectation that most genes get lost rather rapidly after a duplication event [17, 18], the tissue-specific expression might have led to an increased retention for some genes since paralogs can subdivide the ancestral expression domain (subfunctionalization) or find new functions, which are not necessarily related to the original function (neofunctionalization [95]). This is, however, not true for all genes, and we can conclude that the pathway is not evolving as a unit but each gene follows its own history, as has been shown previously for Bacteria and Archaea [25, 26]. For a better understanding of the gene-duplication history, further genome projects on a greater diversity of evolutionary lineages will be required.
Methods
Sequencing
ENO and FBA cDNAs for bichir
Polypterus ornatipinnis
, sturgeon
Acipenser baerii
and caecilian
Typhlonectes natans
were sequenced using degenerated primers designed based on amino-acid alignments of previously known sequences and the rapid amplification of cDNA end (RACE) method to obtain complete coding sequences. Total RNA was extracted from muscle tissue freshly frozen in liquid nitrogen and stored at -80°C. Extractions were performed with Trizol (Gibco, Germany). cDNA first strand syntheses were done using the First Strand synthesis kit following the manufacturers manual (Gibco, Germany). A c-tailing step was added to allow 5' RACE. Fragments were amplified using degenerate primers based on the amino-acid sequences of previously reported sequences. See Table
1
for sequences of degenerate primers. Amplification was performed in 50-μl reactions containing 0.5 units of RedTaq (Sigma, Germany), RedTaq reaction buffer (10 mM Tris-HCl, pH 8.3, 50 mM KCl, 1.1 mM MgCl
2
, 0.01% gelatin), 0.2 μM of each primer (MWG-Biotech AG, Germany, 0.4 mM dNTPs (Peqlab Biotechnology, Germany) and 0.5 mM MgCl
2
. Cycle conditions included an initial denaturation step of 94°C, then 35 cycles of 94°C for 10 seconds, 42°C for 1 minute and 72°C for 2 minutes. Final extension was performed at 72°C for 5 minutes. PCR products were purified either directly or, in cases of multiple bands, by cutting bands from 1% agarose gels and using the QIAGEN spin system. 3' RACE reactions were performed with nested approaches of two sequence-specific primers and the Not-I short primer (AAC TGG AAG AAT TCG CGG CC). 5'RACE were preformed with nested sequence specific primers and the oligo-G primer binding the c-tail at the 5' end of the cDNA (CTA GTA CGG GII GGG IIG GG). Sequences were confirmed by amplification and sequencing of both strands of the complete coding sequences by specific primers located in the 5' and 3' non-coding regions. Cycle sequencing was performed using the ABI sequencing mix and 35 cycles of 94°C for 10 seconds, 42°C – 50°C for 10 seconds and 68°C for 4 minutes. Sequences were run on an ABI3100 capillary sequencer. Sequences were proofread and assembled using Sequence Navigator [
102
].
Table 1
Degenerate primers designed and used in this study
| Name | Sequence | Enzyme |
| --- | --- | --- |
| Eno.uni.FN1 | GGN AAY CCI ACI GTN GAR GT | Enolase |
| Eno.uni.FN2 | ACI GGI ATH TAY GAR GC | Enolase |
| Eno.uni.FM | AAR TAY GGI AAR GAY GC | Enolase |
| Eno.uni.RC1 | GT RTC YTC IGT YTC NCC | Enolase |
| Eno.uni.RC2 | GC ICC IGT YTT DAT YTG | Enolase |
| Eno.uni210.F | ACC AAC GTT GGI GAY GAR GGI GG | Enolase |
| Eno.uni320.R | TTG GTC ACA GTI ARR TCT TCI CC | Enolase |
| FBA.Super+ | GGT AAR GGT ATC YTI GCI GCI GAY G | Fructose-Bisphosphate Aldolase |
| FBA.uni.125+ | ACT ACT AYT CAG GGN YTN GAY GG | Fructose-Bisphosphate Aldolase |
| FBA.uni.240- | GC ATG ACC AGS AGT NAC CAT RTT NGG | Fructose-Bisphosphate Aldolase |
| FBA.uni.315- | CAG AGC AGW AGC CTG CAG NGC NCK NCC | Fructose-Bisphosphate Aldolase |
Database searches and sequence analyses
Protein sequences of pufferfishes (Tetraodon nigroviridis, Takifugu rubripes) zebrafish (Danio rerio), human (Homo sapiens), mouse (Mus musculus), rat (Rattus norvegicus) chicken (Gallus gallus), claw frogs (Xenopus laevis, Xenopus tropicalis), sturgeon (Acipenser baerii), caecilian (Typhlonectes natans), bichir (Polypterus sp.), lamprey (Lethenteron sp, Eptatretus burgeri), shark (Cephaloscyllium umbratile), and ray (Potamotrygon motoro) were obtained from the Ensembl database [103] or by conducting BLAST (BLASTp and translated BLAST) searches [104] against GenBank. All accession numbers are listed in the supplementary data. Sequences were aligned with Clustal X [105]. For each alignment, a preliminary tree was drawn. This tree facilitated the identification of identical sequences, sequences that varied only in length, and multiple sequences within species that differed by only few amino acids, all of which were removed from the alignment. Draft trees were reconstructed from the remaining sequences using Poisson-corrected genetic distances and the neighbor-joining algorithm [106] in MEGA 3.0 [107]. If subsequent phylogenetic surveys provided an indication for fish-specific gene duplication, additional BLAST searches were conducted to find more putative actinopterygian copies. With a few exceptions, human "reference sequences" [108] were used as query sequences for the BLAST searches. Species were surveyed one at a time to improve the identification of a drop in sequence similarity, which was used as a "cut-off" criterion.
As outgroup sequences, we used data from Caenorhabditis elegans, Drosophila melanogaster and Ciona intestinalis. In one case (GAPDH), we used data from Schistosoma mansoni and Crassostrea gigas as outgroup sequences. In another case (PGK), we extended the dataset with protein sequences from Oryzias latipes, Lepisosteus osseus, Rana sylvatica, Equus caballus, Sus scrofa, Bos taurus and Macropus eugenii. Amino-acid data were analyzed using PHYML [109] and the maximum-likelihood (ML) model, and parameters were chosen based on ProtTest [110] analyses. Confidence in estimated relationships of ML tree topologies was evaluated by a bootstrap analysis with 500 replicates [111] and Bayesian methods of phylogeny inference. Bayesian analyses were initiated with random seed trees and were run for 200,000 generations. The Markov chains were sampled at intervals of 100 generations with a burn-in of 1000 trees. Bayesian phylogenetic analyses were conducted with MrBayes 3.1.1 [112].
Declarations
Acknowledgements
We thank Birte Kalveram for technical assistance. Support from the Deutsche Forschungsgemeinschaft (DFG) to AM and from the Landesgraduiertenförderung Baden-Württemberg to SH is gratefully acknowledged. The authors also would like to thank Ingo Braasch and three anonymous referees for valuable comments on the manuscript.
Authors' Affiliations
(1)
Lehrstuhl für Evolutionsbiologie und Zoologie, Department of Biology, University of Konstanz, Konstanz, Germany
(2)
Département de biochimie, Université de Montreal, Montreal, Canada
(3)
Canadian Centre for DNA Barcoding, Biodiversity Institute of Ontario, University of Guelph, Guelph, Canada
Copyright
© Steinke et al; licensee BioMed Central Ltd. 2006
This article is published under license to BioMed Central Ltd. This is an Open Access article distributed under the terms of the Creative Commons Attribution License (http://creativecommons.org/licenses/by/2.0), which permits unrestricted use, distribution, and reproduction in any medium, provided the original work is properly cited.