Research article

Open Access
A periodic pattern generator for dental diversity
Received: 25 January 2008
Accepted: 14 July 2008
Published: 14 July 2008
Abstract
Background
Periodic patterning of iterative structures is a fundamental process during embryonic organization and development. Studies have shown how gene networks are employed to pattern butterfly eyespots, fly bristles and vertebrate epithelial appendages such as teeth, feathers, hair and mammary glands. Despite knowledge of how these features are organized, little is known about how diversity in periodic patterning is generated in nature. We address this problem through the molecular analysis of oral jaw dental diversity in Lake Malawi cichlids, where closely related species exhibit from 1 to 20 rows of teeth, with total teeth counts ranging from around 10 to 700.
Results
We investigate the expression of conserved gene networks (involving bmp2, bmp4, eda, edar, fgf8, pax9, pitx2, runx2, shh and wnt7b) known to pattern iterative structures and teeth in other vertebrates. We show that spatiotemporal variation in expression pattern reflects adult morphological diversity among three closely related Malawi cichlid species. Combinatorial epithelial expression of pitx2 and shh appears to govern the competence both of initial tooth sites and future tooth rows. Epithelial wnt7b and mesenchymal eda are expressed in the inter-germ and inter-row regions, and likely regulate the spacing of these shh-positive units. Finally, we used chemical knockdown to demonstrate the fundamental role of hedgehog signalling and initial placode formation in the organization of the periodically patterned cichlid dental programme.
Conclusion
Coordinated patterns of gene expression differ among Malawi species and prefigure the future-ordered distribution of functional teeth of specific size and spacing. This variation in gene expression among species occurs early in the developmental programme for dental patterning. These data show how a complex multi-rowed vertebrate dentition is organized and how developmental tinkering of conserved gene networks during iterative pattern formation can impact upon the evolution of trophic novelty.
Keywords
Tooth Germ
Tooth Development
Cyclopamine
Hedgehog Pathway
Dental Papilla
Background
Biology is replete with periodically patterned elements, from the sensory bristles of a fruit fly to the hair and teeth of mammals. Models of periodic patterning seek to explain the developmental origin of boundaries separating adjacent repetitive structures and the maintenance of cellular compartments once formed [1–8]. For example, the formation of feather tracts on the dorsal surface of chick embryos [9] and mammary (milk) lines on the ventral surface of embryonic mammals [10] serve to pre-pattern regions competent for the initiation of these structures. Similarly, a functionally equivalent field is established along the axis of the oral jaws in most vertebrates, competent to form tooth bud primordia [11–15]. In teleost fish this initial field is known as the primary odontogenic band (OB) [12, 13, 15] and in mammals it is termed the dental lamina [4, 14]. This band or lamina sets the regionally restricted 'field' along the jaw axis from which tooth induction is triggered.
As with all periodically patterned systems, an initial 'field of competence' is set from a once-homogeneous cellular region, followed by the establishment of positional information throughout the restricted 'field' [16, 17]. The initial field may be set up by a number of diffusing molecules such as morphogens that allow regionalization to occur, from which cellular differentiation responds along a gradient [5, 18], probably by means of a reaction-diffusion-type mechanism [19, 20]. Positional information determines cell differentiation, cellular compartmentalization and subsequent unit placode initiation, the first of which is imperative for iterative initiation of adjacent placodes via activator-inhibitor mechanisms [2]. Placode initiation is thought to be triggered by cellular accumulation (self-organization) over a given threshold that reacts to a number of positional cues within the competent field [1]. Within the placode itself, additional activators and inhibitors determine the boundaries of the placode unit and the spacing between units. Studies of periodically patterned systems such as the developing vertebrate dentition and developing chick feathers have led to the identification of a number of molecules that have been modelled as activators or inhibitors within the specific developing system [2, 21, 22]. In feather placode patterning, Shh and members of the Eda pathway have activator roles, while Bmp2 and Bmp4 are thought to act as inhibitors [2, 23, 24]. During mouse odontogenesis the same molecules are involved in patterning the molar cusps. Attempts have been made to model cusps according to activator-inhibitor patterning mechanisms; however, whether individual candidates can be classed as activators or inhibitors during tooth development is largely stage dependent [21, 25–27].
Molecules involved in the establishment of vertebrate dentition have been well characterized from studies of the mouse [11, 21, 28]. A number of these molecules are known to have detrimental effects on the murine dentition when removed/inhibited from the dental network early in tooth development; Shh [29, 30], Pitx2 [31] and Pax9 [32] are among those with severe dental phenotypes [33]. For example, inhibition of Shh in mandibular explants during the transition of dental competence to initiation (E10.5) leads to tooth arrest at the bud stage [29, 30]. Thus, it is clear that this gene is essential for the correct establishment of the global dental programme. However, these studies are specific to the mouse experimental model, which develops a single set of teeth with no replacements. We therefore know nothing of the resulting phenotypes when modifications occur to these networks, for example the hedgehog pathway, in vertebrates with numerous functional tooth rows and continuous replacement cycles.
The morphogenesis of teeth, like that of other periodically patterned vertebrate organs (for example, hair, mammary glands, feathers), is regulated both by sequential and reciprocal molecular interactions between two adjacent cell layers, the epithelium and the directly underlying mesenchyme [
11
,
28
]. During early stages, these distinct organs share a number of features and express a familiar suite of genes with common roles [
28
,
34
]. Many studies have attempted to identify the morphodynamic control of iterative organization and how such patterning mechanisms change during development to generate evolutionary novelty [
6
,
7
,
21
,
35
–
37
]. We sought to characterize the expression of a set of these molecules in the dentitions of Lake Malawi cichlids to tackle an unanswered and fundamental biological question: how is the diversity of periodically patterned elements generated in nature? Malawi cichlids are exemplars of natural craniofacial diversity. In essence, natural selection has conducted an experiment in micro-evolutionary diversification, and we want to know how development works to produce variation in phenotype [
37
]. The range of dental variety in Malawi is tremendous given a common ancestor in the last 500,000 to 1 million years [
26
]; species possess about 10 teeth in a single row (per jaw), or as many as 700 teeth in up to 20 rows. Species differ in tooth size, spacing and shape in coordinated fashion [
26
,
36
]. We focus on three closely related Lake Malawi cichlids with alternative dental phenotypes (Figure
1
):
Cynotilapia afra
(CA, Figure
1a
), a unicuspid species with two tooth rows of large, widely spaced teeth;
Metriaclima zebra
(MZ, Figure
1b
), a bicuspid and tricuspid species with five or six tooth rows of intermediately sized and spaced teeth; and
Labeotropheus fuelleborni
(LF, Figure
1c
), a uniformly tricuspid species with 10 or more tooth rows of small, tightly packed teeth [
26
,
36
]. Previously, we have used these species to identify the chromosomal basis of divergent tooth shapes among species [
26
,
36
]. Here we address a different question: we ask how conserved gene networks are deployed to influence the diversity in the size, number, spacing within rows and number of rows of teeth.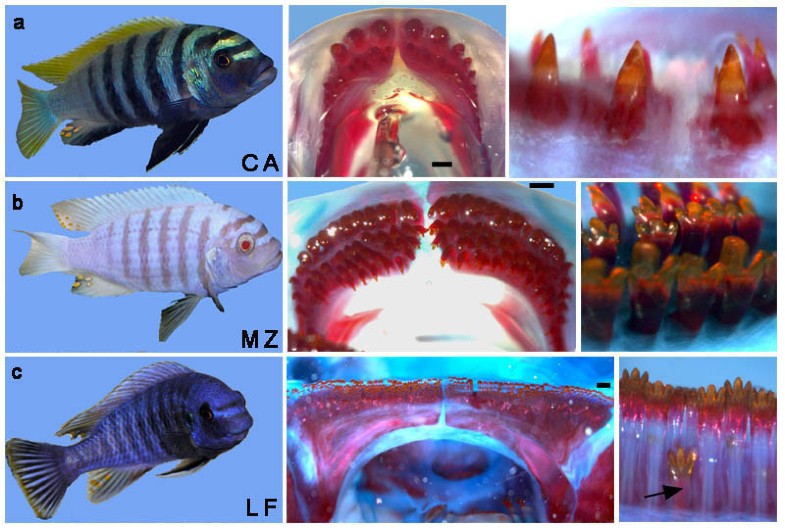 Conclusion
Periodically patterned phenotypes such as the dentitions of Lake Malawi cichlids present important exemplars for evolutionary developmental biology. The discipline has heretofore focused on the molecular basis of evolutionary novelty among distantly related organisms [35, 56] or the genetic/transcriptional basis of discrete trait loss among closely related groups [51, 57]. Trait elaboration (for example, bigger, longer, stronger [58, 59]) is more difficult to study because phenotypes are subtler, but this remains the more common type of evolutionary change [37]. Dental diversity is an intermediate case; quantitative elaboration takes the form of gain or loss of discrete units. Our results support the general model that old genes, and entire developmental modules, are deployed anew to generate micro-evolutionary novelty in iterative structures.
Declarations
Acknowledgements
We thank Craig Albertson, Marty Cohn, Anthony Graham, Darrin Hulsey, Moya Smith, and three anonymous reviewers for comments on previous drafts of the manuscript. Alizarin red-prepared fish (Figure 1) were collected from Lake Malawi and stained by Darrin Hulsey. Cichlid pitx2 was cloned by Keen Wilson, University of Georgia, Athens, GA, USA. Research is supported by grants, from the Petit Institute for Bioengineering and Bioscience (IBB 1241318), the NIH (DE 017182), and the Alfred P Sloan Foundation (BR-4499), to JTS. RFB was a GIT Presidential Undergraduate Research Fellow.
Authors' Affiliations
(1)
School of Biology, Petit Institute of Bioengineering and Bioscience, Georgia Institute of Technology, Atlanta, USA
Copyright
© Fraser et al; licensee BioMed Central Ltd. 2008
This article is published under license to BioMed Central Ltd. This is an Open Access article distributed under the terms of the Creative Commons Attribution License (http://creativecommons.org/licenses/by/2.0), which permits unrestricted use, distribution, and reproduction in any medium, provided the original work is properly cited.