Research article

Open Access
Testing ecological theories with sequence similarity networks: marine ciliates exhibit similar geographic dispersal patterns as multicellular organisms
Received: 12 August 2014
Accepted: 28 January 2015
Published: 24 February 2015
Abstract
Background
High-throughput sequencing technologies are lifting major limitations to molecular-based ecological studies of eukaryotic microbial diversity, but analyses of the resulting millions of short sequences remain a major bottleneck for these approaches. Here, we introduce the analytical and statistical framework of sequence similarity networks, increasingly used in evolutionary studies and graph theory, into the field of ecology to analyze novel pyrosequenced V4 small subunit rDNA (SSU-rDNA) sequence data sets in the context of previous studies, including SSU-rDNA Sanger sequence data from cultured ciliates and from previous environmental diversity inventories.
Results
Our broadly applicable protocol quantified the progress in the description of genetic diversity of ciliates by environmental SSU-rDNA surveys, detected a fundamental historical bias in the tendency to recover already known groups in these surveys, and revealed substantial amounts of hidden microbial diversity. Moreover, network measures demonstrated that ciliates are not globally dispersed, but are structured by habitat and geographical location at intermediate geographical scale, as observed for bacteria, plants, and animals.
Conclusions
Currently available 'universal' primers used for local in-depth sequencing surveys provide little hope to exhaust the significantly higher ciliate (and most likely microbial) diversity than previously thought. Network analyses such as presented in this study offer a promising way to guide the design of novel primers and to further explore this vast and structured microbial diversity.
Keywords
Biogeography
Microbial diversity
High-throughput sequencing
Environmental rDNA sequencing
Protist
Background
Evaluating the patterns and processes of microbial diversity is central for understanding the ecology and evolution of life on Earth [1-3]. Currently, morphological and molecular methods have prompted a number of alternative perspectives on these issues. The extent of global dispersal versus levels of local endemism for microbial taxa [4-7], as well as the respective impacts of historical barriers to dispersal versus that of current conditions selecting among species in specific environments [8-11] were debated to explain the distribution of these organisms. These perspectives have previously been difficult to evaluate for microbial eukaryotes because extensive diversity underlies many morphospecies and most species are recalcitrant to cultivation [12,13]. Traditional morphological and molecular methods have also imposed temporal and financial limits on collecting data on total diversity within and among communities [14,15].
The recent introduction of high-throughput sequencing (HTS) methodologies provided a way to push these limits to eukaryotic microbial diversity research [16-21]. It is now possible to quickly obtain hundreds of millions of sequences. However, the development of HTS was one of those events in which a nascent technology rapidly progressed far beyond our ability to best collect and analyze the data. This situation encouraged developments to justify which DNA region should be targeted for sequencing and which primer-pairs should be used, for example, in foraminifera [22], ciliates [17,23-25], dinoflagellates [26], fungi [27], bacteria [28] and archaea [29]. There has also been little effort put into effectively exploiting the resulting millions of short HTS sequences in a statistical framework, especially when placed into the context of previous studies. Computational steps are still a major bottleneck in molecular-based environmental studies. These shortcomings have hampered the identification of novel taxa, of distribution patterns, and their biological and ecological causes.
Sequence similarity network analyses, based on sequence similarity [30-35] offer an extension to sequence clustering analyses. They should not be conflated with co-occurrence networks [36,37]. Beyond a first step of clustering, sequence similarity networks allow biologists to perform fine-grained analyses of similarities between sequences, because they exploit the information provided by the topology of weighted connections between sequences within and between clusters. Such networks rely on methods from graph theory that have recently been adapted to address an increasing number of biological questions using large molecular datasets [30,31,38-43]. With such analyses, combining massive sequence data produced from numerous studies becomes feasible, and diversity patterns can be inferred that otherwise would not be apparent from individual studies alone. For example, a count of phylotypes in two separate datasets provides no information about which of these phylotypes are the same, while sequences from different studies can be directly compared in a single network analysis.
Phylogenetic analysis of short read data has made great strides in recent years, following the development of phylogenetic placement algorithms for incorporating short read data into a reference phylogeny (for example, [
44
,
45
]). Yet, multiple alignments and tree reconstructions with hundreds of thousands to millions of environmental sequences from HTS are either slow (when accurate) or inaccurate (when fast) [
44
]. Furthermore, a challenge in such tools still consists in developing appropriate visualization tools and metrics for analyzing distributions of reads on computed trees [
44
]. The network approach offers a powerful alternative in terms of comparative and visualization strategies (Figure
1
), with the benefit of introducing several informative graph-based estimates describing the relationships between sequences (Table
1
), thereby offering independent ways of analyzing the distribution of microbial organisms. In other words, sequence similarity networks allow the empirical testing of aspects of the theoretical framework of microbial ecology through the exploitation of network-based properties (Table
1
). Community clustering and Louvain community analyses [
46
] can be used to identify groups of similar sequences at various thresholds of sequence similarity. Assortativity analyses [
47
] can be used to define sets of sequences with distinctive characteristics. Path analyses [
31
] can be used to quantify divergence between sequences. All these measures offer an original path from graph theory to empirical analyses of the patterns and processes shaping microbial diversity.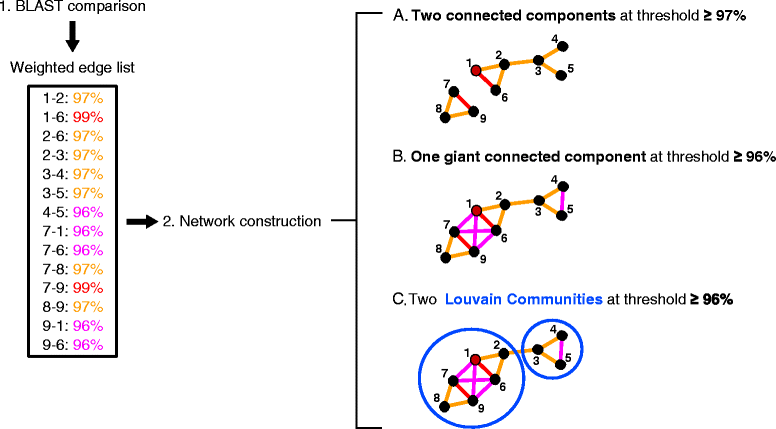 Table 1
Network methods and their adaptation to biological questions
| Network term | Term description | Biological meaning in this work |
| --- | --- | --- |
| Node | Single unit of a graph | A V4 sequence |
| Edge | Connection between two nodes | Sequence similarity between two V4 sequences |
| Assortativity | Measure of the preferential connection between a set of nodes of interest | Evaluation of similarity of a set of sequences from the same habitat or location (for example, if sequences from one habitat are more similar to one another than they are similar to sequences from other habitats, their assortativity will be high. Environments with distinctive similar V4 will have such a high assortativity). See Figure 2C. |
| Closeness | Measure of the centrality/peripherality of a node in a network | Measure of sequence divergence relative to the rest of the dataset (for example, divergent sequences (with respect to the rest of the dataset) have a low closeness and tend to be more peripheral as they share less similarity to other sequences). See Figure 2D. |
| Shortest path | Shortest distance between a pair of nodes | Measure to quantify the divergence between a pair of sequences (for example, a long shortest path between an environmental sequence and a sequence from a cultured ciliate indicates a high divergence between these sequences, since these sequences are not direct neighbors in the graph). See Figure 2D. |
In this study, we analyzed a network of 85,482 DNA and cDNA ciliate pyrosequences from the V4 region of the SSU-rDNA locus collected at eight European coastal sites from three different habitats (sediments, deep chlorophyll maximum (DCM), subsurface; for sampling details see [18,48]). We developed a protocol to: 1) detect novel diversity in our new data in the context of existing sequence data from previous environmental diversity inventories (Additional file 1, Table S1) and cultured species; and 2) test ecological theories about ciliate dispersal at multiple evolutionary levels (from conspecific to more inclusive taxonomical units). We conclude that ciliates in European coastal areas—just like bacteria, plants and animals—are under strong environmental and geographical selection at intermediate geographical scale, and agree with previous observations rejecting global dispersal hypotheses [49-53]. We argue that such a diversity structure calls for specific improved sampling strategies in future microbial community surveys.
Conclusions
Network analysis in microbial biogeography
We present network analyses as highly efficient tools to exploit massive HTS datasets and identify novel diversity. Further, network analyses appear as a useful means to address fundamental subjects in ecology using environmental diversity inventories. Such subjects include the analyses of microbial distribution patterns that allow us to draw conclusions about the underlying biological causes. For instance, while closely related ciliate sequences grouped together in our networks, the in-depth analyses of these groups showed that they are structured with regard to habitat or geographic location. With a broad ecological perspective, this can be interpreted as taxonomically closely related groups (depending on the resolution of sequence similarity we choose) which form distinct subcommunities in different habitats or at different geographic locations in European coastal waters. At the same time, we also find highly adapted groups which are restricted to one specific habitat or one location. This is similar to patterns observed in animals and plants [76] and confirms observations on ciliate dispersal patterns from other oceanographic areas [49,50]. Using network analyses of molecular markers, important theories can thus be tested: the technology for massive data production at an affordable price is in place, and powerful inclusive methods are available.
As we integrated data from multiple samples into the same comparative context, we must also conclude that surveying ciliate diversity appears more as a challenge than ever. The restriction of most taxa to one or a few different geographic locations and habitats, supported by all network estimates and for both DNA and cDNA sequences, means that we may have to bury our hopes to exhaust the ciliate (and most likely the microbial) diversity of an environment using available 'universal' primers and local in-depth sequencing [62]. Network analyses of sequence data can still contribute to explore such a structured vast microbial diversity. Sequence similarity networks provide all the tools needed to detect exclusively environmental clusters (CC or LC) and/or groups of sequences which are distant from previously described diversity. Alignment of groups of novel, peripheral, environmental sequences thus revealed by network analyses can guide the design of new sets of primers which will be useful to expand our knowledge of microbial diversity, moving it further away from the current status quo and its logical starting point: the sequences of cultured organisms.
The creation of distinct primers should compensate for the inherent tendency of recent environmental rDNA surveys whose findings gravitate around the same groups of organisms [62]. We encourage readers who want more than 'more of the same' from diversity surveys, and to enhance the scale at which ecological theories about microbial diversity can be tested, to experience this kind of inclusive network-based strategy.
Declarations
Acknowledgements
We thank PA Jachiet for technical help. We are grateful to the CNRS-UPMC ABiMS bioinformatics platform (http://abims.sb-roscoff.fr) for providing computational resources and support. The BioMarKs 454 sequence data were generated as part of a study supported by the EU-FP7 ERA-net program BiodivERsA, under the project BioMarKs (2008-6530). We thank all members of the BioMarKs consortium who participated in field sampling and data generation. We also appreciate the support of the Research Unit BioComp at the University of Kaiserslautern, funded by the Research Initiative of Rhineland-Palatinate. This work was supported by a grant from Stipendienstiftung Rheinland-Pfalz to D.F.; a grant from University of Kaiserslautern to L.B.; Deutsche Forschungsgemeinschaft (DFG, grant # DU1319/1-1) to M.D.; DFG (grants # STO414/3-1, STO414/3-2 and STO414/11-1) to T.S., and by a grant from Region Ile-de-France (DIM Malinf) to S.K. E.B. is funded by the European Research Council under the European Community's Seventh Framework Programme FP7 (2007-2013 Grant Agreement n°615274). We greatly appreciate the comments of three anonymous reviewers for their constructive comments on our manuscript.
Authors' Affiliations
(1)
Department of Ecology, University of Kaiserslautern, Kaiserslautern, Germany
(2)
CNRS, FR3631, Institut de Biologie Paris-Seine, Paris, France
(3)
Sorbonne Universités, UPMC Univ Paris 06, Institut de Biologie Paris-Seine (IBPS), Paris, France
(4)
CNRS, UMR7138, Institut de Biologie Paris-Seine, Paris, France
(5)
CNRS, UMR 7144, Station Biologique de Roscoff, Roscoff, France
(6)
Sorbonne Universités, UPMC Univ Paris 06, UMR 7144, Station Biologique de Roscoff, Roscoff, France
Copyright
© Forster et al.; licensee BioMed Central. 2015
This is an Open Access article distributed under the terms of the Creative Commons Attribution License (http://creativecommons.org/licenses/by/4.0), which permits unrestricted use, distribution, and reproduction in any medium, provided the original work is properly credited. The Creative Commons Public Domain Dedication waiver (http://creativecommons.org/publicdomain/zero/1.0/) applies to the data made available in this article, unless otherwise stated.