Methodology article

Open Access
Hybrid de novo genome assembly and centromere characterization of the gray mouse lemur (Microcebus murinus)
Received: 20 June 2017
Accepted: 10 October 2017
Published: 16 November 2017
Abstract
Background
The de novo assembly of repeat-rich mammalian genomes using only high-throughput short read sequencing data typically results in highly fragmented genome assemblies that limit downstream applications. Here, we present an iterative approach to hybrid de novo genome assembly that incorporates datasets stemming from multiple genomic technologies and methods. We used this approach to improve the gray mouse lemur (Microcebus murinus) genome from early draft status to a near chromosome-scale assembly.
Methods
We used a combination of advanced genomic technologies to iteratively resolve conflicts and super-scaffold the M. murinus genome.
Results
We improved the M. murinus genome assembly to a scaffold N50 of 93.32 Mb. Whole genome alignments between our primary super-scaffolds and 23 human chromosomes revealed patterns that are congruent with historical comparative cytogenetic data, thus demonstrating the accuracy of our de novo scaffolding approach and allowing assignment of scaffolds to M. murinus chromosomes. Moreover, we utilized our independent datasets to discover and characterize sequences associated with centromeres across the mouse lemur genome. Quality assessment of the final assembly found 96% of mouse lemur canonical transcripts nearly complete, comparable to other published high-quality reference genome assemblies.
Conclusions
We describe a new assembly of the gray mouse lemur (Microcebus murinus) genome with chromosome-scale scaffolds produced using a hybrid bioinformatic and sequencing approach. The approach is cost effective and produces superior results based on metrics of contiguity and completeness. Our results show that emerging genomic technologies can be used in combination to characterize centromeres of non-model species and to produce accurate de novo chromosome-scale genome assemblies of complex mammalian genomes.
Keywords
Centromeres
de novo assembly
Hi-C
Optical maps
Physical maps
Super-scaffolding
Strepsirrhine primate
Background
Genomic technologies have advanced rapidly over the past decade, allowing for many novel research opportunities for biologists examining the genetics of non-model species. Perhaps one of the most exciting areas of advancement has been in the field of genome sequencing and assembly, where it is now possible for individual researchers to produce genome assemblies for organisms of their choosing. However, despite these recent advancements, there remain significant challenges to the production of high-quality de novo eukaryotic genome assemblies. An ideal de novo whole genome assembly will be as continuous as possible (i.e., have minimal gaps), will accurately reflect the linear organization of chromosomes, and will contain few, if any, errors in nucleotide sequence. Such high-quality assemblies can be annotated with all the genomic features that biologists wish to investigate, including protein coding genes, non-coding genes, regulatory sequences, repetitive regions, and heterochromatic regions, including telomeres and centromeres. One fundamental challenge in the de novo assembly of complex eukaryotic genomes is the inability of many current DNA sequencing datatypes (and associated genome assembly algorithms) to completely resolve highly repetitive regions such as SINES, LINES, and heterochromatin (including centromeres) [1, 2]. The de novo assembly of repeat-rich genomes is especially problematic when using high-throughput short read technologies (often called next-generation sequencing or NGS). Methods that depend solely on traditional short read data typically result in fragmented and incomplete assemblies that impede many important areas of biological research (e.g., comparative genomics, gene discovery, genome evolution) [3–8]. Nevertheless, the low cost of NGS, combined with its success in producing high accuracy sequences, is driving the production of many new de novo genome assemblies using solely NGS data.
Addressing the current shortcomings of NGS-exclusive de novo mammalian genome assemblies, without incurring the cost of generating deep long-read data (e.g. the recent gorilla assembly; [9]), requires complementary methods that can greatly improve scaffold lengths and fill gaps within these scaffolds using relatively low-coverage, long-read sequence data [10–12]. With respect to the de novo assembly of primate genomes, including human, long-range genomic information must be used to resolve and span highly repetitive regions and generate chromosome-scale assemblies [7, 9, 11, 13]. Recent advances in single-molecule sequencing and NGS sequencing library construction now allow for the production of long-range genomic data in various forms. These long-range technologies and methods are powerful, rapidly improving and, at the time of this writing, include long-read single-molecule DNA sequence data (e.g., Pacific Biosciences (PacBio) RSII and Sequel, or Oxford Nanopore MinION and PromethION), physical maps of individual DNA molecules (e.g., BioNano Genomics Irys and OpGen Argus), genome-wide chromatin interaction data (e.g., Hi-C, Dovetail Genomics), and genome-wide barcoded and localized linked-reads (e.g., 10X Genomics). Hybrid de novo genome assembly approaches that utilize combinations of these diverse technologies alongside fragmented yet high-quality de novo NGS contigs have the potential not only to resolve and span structural variants and repetitive regions, but also to generate accurate chromosome-scale scaffolds [11].
Complementary orthogonal technologies, such as high-resolution, whole-genome physical maps, can be used to identify and correct genome assembly errors and can also be mined for complex or repetitive sequence patterns of biological significance. As an example, physical maps can characterize highly repetitive regions of the genome that span millions of bases in length but are otherwise notoriously difficult to sequence and assemble. These genomic features, such as heterochromatin, are largely absent from most genome assemblies, thus reducing their biological applicability. In the human reference assembly the tandemly organized alpha-satellite DNA associated with centromeres has proven nearly impossible to fully sequence and assemble using existing approaches [14–16]. Although centromeres play a fundamental role in eukaryotic cell division and are essential for chromosome stability, the field of centromere biology faces numerous challenges and a molecular characterization of centromeres from various research organisms is not yet available.
Here, we present an iterative approach to hybrid de novo genome assembly that incorporates datasets stemming from multiple genomic technologies and methods, namely Illumina, PacBio, Hi-C, and BioNano (Fig.
1
, Additional file
1
: Figure S1). We selected these particular technologies and library construction methods because they have been shown to produce high-quality, chromosome-scale assemblies when used together and are ideally suited for hybrid genome assembly of mammalian genomes [
17
]. We used a hybrid approach to improve the gray mouse lemur (
Microcebus murinus
; genome size ~2.7 Gb) genome from early draft status to a near chromosome-scale assembly, with contig and scaffold N50 values that are comparable to, or exceed, those of recently released non-human primate genomes [
9
,
18
]. The gray mouse lemur is the only lemuriform primate known to routinely and spontaneously develop Alzheimer's disease-like pathologies in captive populations and therefore is of intense interest for biomedical research focused on aging, translational disease research, and the convergent evolution of disease [
19
–
22
]. Moreover, as members of the strepsirrhine primate clade (Lemuriformes plus Lorisformes), mouse lemurs are representatives of the sister lineage to the haplorrhine primates (apes, including humans, Old World monkeys, New World monkeys, and tarsiers). Their position in the primate evolutionary tree makes mouse lemurs especially informative concerning the content and function of the ancestral (basal) primate genome. Thus, the availability of a robust high-quality annotated chromosome-scale assembly of the
M. murinus
genome will be beneficial to basic, comparative evolutionary, and translational research areas.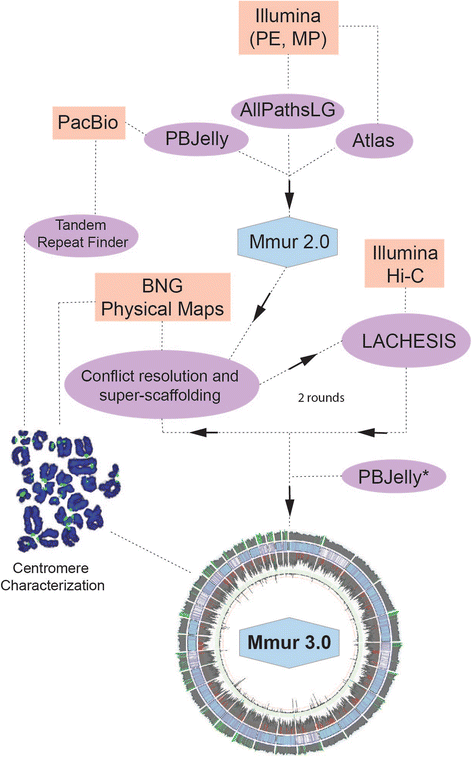 Discussion
Employing an iterative analytical approach that integrates a diverse suite of sequencing, scaffolding, and physical mapping methods (Fig. 1), we produced a gray mouse lemur genome assembly (Mmur 3.0) that has long, high-quality contigs to support gene annotation and chromosome-scale scaffolds (Fig. 2). De novo assemblies for index species within clades of mammals for which no high-quality assembly is available, such as the strepsirrhine primates, open many new avenues for basic, evolutionary, and biomedical research [31]. The strepsirrhine primate clade contains more than 100 recognized living species, and is the sister clade to the haplorrhine primates, the group that includes all extant monkeys and apes, including humans. Our new assembly for the gray mouse lemur provides a high-quality reference that will be useful as a basis for comparative analyses of this species and all lemurs. This assembly also provides much improved resources for investigation of biomedical questions such as the basis of Alzheimer-related amyloid plaques and the origin of neurodegenerative disease and other pathologies of brain aging found to develop spontaneously in this species [19–22, 32].
Conclusions
The genus Microcebus constitutes a remarkable adaptive radiation of primates comprising at least 25 species distributed throughout and endemic to Madagascar [44]. The availability of a robust chromosome-level reference assembly, combined with novel biological insights into the mouse lemur centromere structure, creates new opportunities for analyses of evolutionary history, speciation mechanisms, and disease dynamics within Microcebus, and a greater general understanding of primate evolution. Moreover, the M. murinus genome will serve as an invaluable resource for a range of biomedical research areas. Comparisons of the content and function of the mouse lemur genome at both the nucleotide and structural level with that of other primates will allow researchers to reconstruct the content of the ancestral primate genome and, accordingly, provide insight for understanding the origin of primates. Genomic analyses among the strepsirrhine primates themselves will undoubtedly generate novel discoveries concerning this remarkable radiation that parallels the radiation of haplorrhine primates.
Declarations
Acknowledgements
We thank the Duke Lemur Center staff, especially Erin Ehmke, Cathy Williams and Bobby Schopler for logistical support of our research. Michelle Coleman, Rachel Pugh, Michael Reardon and Palak Sheath assisted with optical map production and data analysis, and Kelsie E. Hunnicutt assisted with graphic design. We are grateful to Pieter de Jong for providing tissue samples used for the primary mouse lemur genome assembly that was prepared by Kjerstin Lindblad-Toh and the Broad Institute using the original Sanger sequence data. We thank Viktoriya Korchina for project management within the genome center and the HGSC production teams for Illumina sequencing of the genomic and Hi-C libraries. Yi Han, Venessa Vee and Adam English kindly provided assistance with PacBio sequencing and data analysis, and Evette Skinner, Walker Hale and the HGSC submission team helped make the data associated with this project publicly available.
Funding
This study was funded by a grant (U54 HG003273) to RAG from the National Human Genome Research Institute, National Institutes of Health, and by grants to ADY from the National Science Foundation (DEB-1354610) and Duke University start-up funds. JS and SJB were supported by NIH grant number P20 GM103418. We are grateful for the support of Duke Research Computing and the Duke Data Commons (NIH 1S10OD018164-01). This is Duke Lemur Center publication #1363.
Availability of data and materials
All raw data presented herein are deposited at NCBI under BioProject PRJNA19967. Our final Mmur 3.0 assembly is available under the RefSeq accession GCF_000165445.2.
Authors' contributions
PAL, RAH, MR, ADY, JR, and KCW wrote the paper. YL assembled the Illumina data. SCM improved the assembly with PacBio data and PBJelly. OD prepared the Hi-C libraries and OD, IM, NCD, MSS, and ELA performed quality control of the Hi-C libraries. DMM and RAG directed the sequencing efforts. JR and KCW directed and designed the mouse lemur genome sequencing and assembly project. CRC, RAH, SCM, and PAL generated the figures and tables for the manuscript. JS and SJB generated the BioNano Genomics data. PAL, JS, CRC, and SJB analyzed the BioNano Genomics data. RAH used Lachesis to super-scaffold using the Hi-C data. PAL and RAH iteratively super-scaffolded the genome assembly. PAL, CRC, and BAS identified and analyzed the centromeric repeat. ADB developed primary fibroblast cell lines and crosslinked cells for Hi-C. BAS performed the FISH. ADY identified specimens and provided mouse lemur samples for the project. MR managed the sequencing samples within the HGSC. All authors read and approved the final manuscript.
Ethics approval and consent to participate
Samples were collected by veterinarians of the Duke Lemur Center, Durham, North Carolina. All animal procedures were reviewed and approved by the Duke University Institutional Animal Care and Use Committee under protocol number A027-12-02.
Consent for publication
Not applicable.
Competing interests
The authors declare that they have no competing interests.
Publisher's Note
Springer Nature remains neutral with regard to jurisdictional claims in published maps and institutional affiliations.
Open AccessThis article is distributed under the terms of the Creative Commons Attribution 4.0 International License (http://creativecommons.org/licenses/by/4.0/), which permits unrestricted use, distribution, and reproduction in any medium, provided you give appropriate credit to the original author(s) and the source, provide a link to the Creative Commons license, and indicate if changes were made. The Creative Commons Public Domain Dedication waiver (http://creativecommons.org/publicdomain/zero/1.0/) applies to the data made available in this article, unless otherwise stated.
Authors' Affiliations
(1)
Department of Biology, Duke University, Durham, USA
(2)
Human Genome Sequencing Center, Baylor College of Medicine, Houston, USA
(3)
Department of Molecular and Human Genetics, Baylor College of Medicine, Houston, USA
(4)
Department of Pharmacology and Cancer Biology, Duke University, Durham, USA
(5)
Department of Molecular Genetics and Microbiology, Duke University, Durham, USA
(6)
Kansas State University Bioinformatics Center, Division of Biology, Kansas State University, Manhattan, USA
(7)
The Center for Theoretical Biological Physics, Rice University, Houston, USA
(8)
Department of Computer Science, Rice University, Houston, USA
(9)
Present address: Department of Genome Sciences, University of Washington, Seattle, USA
(10)
Present address: Bristol Myers-Squibb, Lewisville, USA
(11)
Present address: New York Genome Center, New York, USA