RNAi in the regulation of mammalian viral infections
Received: 10 April 2012
Accepted: 22 June 2012
Published: 26 June 2012
RNA interference (RNAi) is a process in which small non-coding RNAs (of endogenous or exogenous origin) are incorporated into a multi-protein RNA-induced silencing complex (RISC) in cells to silence the expression of a sequence-homologous target RNA [1]. Three major types of small non-coding RNAs function as RNAi: the piRNAs (PIWI-interacting RNAs), miRNAs (microRNAs), and siRNAs (small interfering RNAs). piRNAs and miRNAs are endogenous, small non-coding RNAs transcribed from cellular loci and then processed to generate fragments that engage with the downstream silencing machinery. Until recently, siRNAs were thought to be exclusively processed from the exogenous RNA of pathogens (for example, viruses) that infect the cell, but that view changed with the discovery of abundantly expressed endogenous siRNAs (endo-siRNAs) in animal cells [2, 3]. Currently, mammals are known to have hundreds of thousands of different piRNAs, produced from gene clusters of repetitive elements, and more than 1,000 different miRNAs; the number of endo-siRNAs still needs to be fully clarified.
Simplified representations of the different RISC complexes are shown schematically in Figure
1
. miRNA biogenesis requires the RNAse III proteins Drosha and Dicer, while siRNA processing depends solely on Dicer, and the nuclease(s) required for piRNA processing remain(s) unidentified [
4
]. Short double-stranded RNAs (dsRNAs) are bound to form the miRNA- and siRNA-RISC complex while the biogenesis of the piRNA-RISC can arise from either a single-stranded precursor RNA or through a 'ping-pong' mechanism [
1
]. A major constituent of the miRNA-RISC and siRNA-RISC complexes is the AGO protein; the parallel constituent in piRNA-RISC is the PIWI protein. In the RISC complex, a guide RNA strand is retained that captures target mRNA through complete or incomplete sequence complementarity. The RISC complex then may either inhibit translation of the mRNA or, through the so-called slicer activity of the AGO and PIWI proteins, degrade it, thus silencing the gene from which it was transcribed.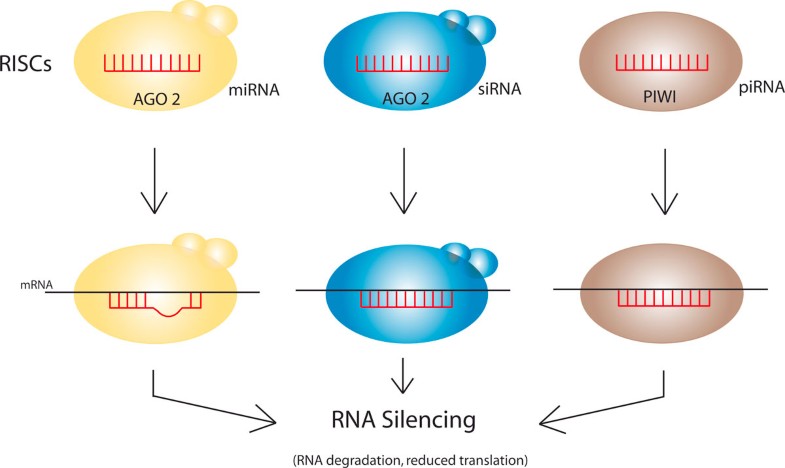 One of the earliest descriptions of RNAi was in Caenorhabditis elegans. Early on, it was found that mutations affecting RNAi function in C. elegans and Drosophila melanogaster produced apparently normal organisms, but that these mutations increased the susceptibility of mutated animals to infection by viruses [5, 6]. These findings suggested an evolutionary role for RNAi in the defense of cells against pathogenic viral infections. Indeed, this rationale is consistent with the role of RNAi in post-transcriptional gene silencing of plant viruses [7] and with the conservation of an RNAi-like antiviral defense mechanism using small CRISPR (clusters of regularly interspaced short palindromic repeats) RNAs in prokaryotes [8]. The need for conservation of an analogous antiviral system in vertebrates, however, has been questioned on the grounds of their advanced adaptive immunity to viral (and non-viral) pathogens and on the emergence of an interferon-based defense mechanism. Silencing mechanisms that depend on RNAi are, however, already known to operate in vertebrates to protect the germline DNA from transposons and endogenous retroviruses; and as discussed below, they appear also to operate in somatic cells.
(1)
The National Institutes of Health, Bethesda, MD 20892-0460, USA
© Jeang; licensee BioMed Central Ltd. 2012
This article is published under license to BioMed Central Ltd. This is an Open Access article distributed under the terms of the Creative Commons Attribution License (http://creativecommons.org/licenses/by/2.0), which permits unrestricted use, distribution, and reproduction in any medium, provided the original work is properly cited.