Research article

Open Access
Arabidopsis PRC1 core component AtRING1 regulates stem cell-determining carpel development mainly through repression of class I KNOX genes
Received: 10 October 2016
Accepted: 25 November 2016
Published: 22 December 2016
Abstract
Background
Polycomb repressive complex 2 (PRC2)-catalyzed H3K27me3 marks are tightly associated with the WUS-AG negative feedback loop to terminate floral stem cell fate to promote carpel development, but the roles of Polycomb repressive complex 1 (PRC1) in this event remain largely uncharacterized.
Results
Here we show conspicuous variability in the morphology and number of carpels among individual flowers in the absence of the PRC1 core components AtRING1a and AtRING1b, which contrasts with the wild-type floral meristem consumed by uniform carpel production in Arabidopsis thaliana. Promoter-driven GUS reporter analysis showed that AtRING1a and AtRING1b display a largely similar expression pattern, except in the case of the exclusively maternal-preferred expression of AtRING1b, but not AtRING1a, in the endosperm. Indeterminate carpel development in the atring1a;atring1b double mutant is due to replum/ovule-to-carpel conversion in association with ectopic expression of class I KNOX (KNOX-I) genes. Moreover, AtRING1a and AtRING1b also play a critical role in ovule development, mainly through promoting the degeneration of non-functional megaspores and proper integument formation. Genetic interaction analysis indicates that the AtRING1a/b-regulated KNOX-I pathway acts largely in a complementary manner with the WUS-AG pathway in controlling floral stem cell maintenance and proper carpel development.
Conclusions
Our study uncovers a novel mechanistic pathway through which AtRING1a and AtRING1b repress KNOX-I expression to terminate floral stem cell activities and establish carpel cell fate identities.
Keywords
Polycomb
AtRING1
KNOX-I
Floral stem cell
Carpel development
Background
The development of both animals and plants relies on stem cells, which are defined by their ability to renew themselves and give rise to daughter cells that differentiate and contribute to tissue and organ formation. In higher plants, stem cells reside in meristems, and cell lineage is easily traceable due to the immobility of cells. The shoot apical meristem (SAM) initiates at the embryo stage, and continuously produces the aerial part of the plant during post-embryonic growth. Upon transition to the reproductive phase, SAM usually shifts to the fate of inflorescence meristem (IM) and subsequently generates floral meristems (FMs) from the IM flanks [1–4]. Distinct from the indeterminacy of SAM and IM, the determinate FM produces a fixed number of peripheral floral organs around a central population of stem cells that are consumed in the formation of carpels. The ovules emerge from the meristematic placenta within the carpel, undergo the production of the embryo sac (ES, the female gametophyte/megagametophyte), and upon double fertilization ultimately give rise to seeds [5, 6]. For female gametophyte development, firstly, a single and enlarged megasporocyte (also called megaspore mother cell, MMC) differentiates from the archesporial cell at the tip of the ovule primordium and undergoes meiosis to develop a tetrad of four haploid megaspores (developmental stage FG1). Normally the chalazal-proximal one survives and becomes the functional megaspore. This megaspore undergoes three rounds of mitotic division and cellularization to give rise to an eight-nucleate/seven-celled female gametophyte, which comprises three antipodal cells, two synergids, one central cell containing two unfused polar nuclei, and one egg cell (developmental stage FG5) [7].
The class I KNOX (KNOX-I) family gene SHOOT MERISTEMLESS (STM) and the feedback loop formed by CLAVATA (CLV) and WUSCHEL (WUS) have independent but complementary functions in shoot stem cell maintenance. For instance, STM prevents stem cell differentiation, while WUS specifies stem cell identity (reviewed in [8]). The knockdown mutants stm and wus display very similar flower phenotypes, such as the absence of carpels and a reduced number of other floral organs. In addition to STM, the other KNOX-I family genes KNAT1/BREVIPEDICELLUS (BP), KNAT2, and KNAT6 may also have a role in carpel development because overexpression of either STM or KNAT2 can induce ectopic carpel formation and ovule-to-carpel homeotic conversion within the gynoecium [9]. Very importantly, AGAMOUS (AG) plays a key role in the termination of floral stem cell maintenance. At flower developmental stage 3, WUS together with LEAFY (LFY) activate AG, which in turn shuts off WUS expression at stage 6, leading to the termination of stem cell maintenance and the initiation of carpel primordia [10–14]. Either ag, displaying spatially restricted but delayed WUS extinction, or clv, displaying an enlarged WUS expression domain, is sufficient to induce FM indeterminacy [13–18]. Thus, AG combined with the CLV-WUS feedback loop regulates carpel development, conveniently named the WUS-AG pathway. Recent studies demonstrate that some Polycomb group (PcG) proteins play an essential role within the WUS-AG pathway to terminate floral stem cell fate [19, 20].
PcG proteins constitute two major types of complexes: Polycomb repressive complex 2 (PRC2), which catalyzes histone H3 lysine 27 trimethylation (H3K27me3) on target chromatin, and PRC1, which acts as both the H3K27me3 reader and the histone H2A lysine 119 monoubiquitination (H2AK119ub1) writer. Arabidopsis PRC2 components are able to form at least three different complexes involved in somatic cell fate determinacy, vegetative development maintenance, vernalization, flower timing regulation, and seed development (reviewed in [21]). Arabidopsis PRC1 core components, including LIKE HETEROCHROMOTIN PROTEIN1 (LHP1), AtBMI1, and AtRING1, display different evolutionary conservation [22]. Though LHP1 can interact with AtRING1 and AtBMI1 in vitro [23], the mutant phenotype of lhp1 shows some degree of difference from that of the atring1a;atring1b or atbmi1a;atbmi1b double mutant. Furthermore, LHP1 was recently reported to co-purify with the PRC2 complex in vivo [24, 25], indicating that LHP1 is more closely associated with PRC2 in this specific context than PRC1. Arabidopsis PRC1 RING finger proteins AtRING1 and AtBMI1 act as the most conserved components involved in preventing seed germination and development of somatic embryo traits [23, 26, 27], maintaining stem cell identity [28], and promoting floral transition [29]. Intriguingly, atring1a;atring1b mutants display abnormal flower developmental phenotypes, yet the underlying mechanisms remain to be investigated.
In this study, we show that AtRING1a and AtRING1b play an essential role in Arabidopsis floral stem cell maintenance and carpel development, primarily via repression of the KNOX-I family genes. Both AtRING1a and AtRING1b genes display very similar expression patterns throughout the whole plant life cycle, except for the imprinting expression of AtRING1b, but not AtRING1a, in the endosperm. Indeterminate carpel growth in the atring1a;atring1b mutant is associated with homeotic replum-to-carpel and ovule-to-carpel conversions. Further molecular and genetic analyses demonstrate that AtRING1a/b modulate floral stem cell activity and carpel development, mainly through repression of the KNOX-I pathway. Lastly, our analyses indicate that defective ovule development in the atring1a;atring1b mutant is essentially due to survival of non-functional megaspores, growth arrest of integuments, and overproliferation of the nucellus.
Discussion
PRC1 RING finger genes are broadly expressed, with AtRING1b and AtBMI1c specifically showing parental imprinting
Loss of either AtRING1a or AtRING1b does not impact plant development, but the atring1a;atring1b double mutant displays pleiotropic phenotypes throughout vegetative and reproductive stages, indicating their redundant functions in plant development. Detailed expression analysis using GUS reporter constructs confirmed very similar and wide-ranging expression patterns of both AtRING1a and AtRING1b during the plant life cycle. In the early vegetative stage, embryo-like structures develop in the SAM and young leaves, and pkl-like taproot and twist rosette leaves are also found in atring1a;atring1b, which is in agreement with strong expression of both AtRING1a and AtRING1b found in SAM, RAM, young leaves, and vasculatures. Proceeding to the reproductive phase, AtRING1a and AtRING1b were first detected in the inflorescence apex and various floral organ primordia, which is consistent with the high number of floral organs and homeotic conversions observed in atring1a;atring1b. AtRING1a/AtRING1b expression gradually decreases or completely ceases as surrounding floral organs expand, suggesting the highest activity for AtRING1a/AtRING1b in proliferating/rapidly dividing tissues. Lastly, both AtRING1a and AtRING1b are expressed during various stages of carpel, ovule, and embryo development, which is consistent with the homeotic conversions of replum/ovule-to-carpel and defective ovule formation observed in atring1a;atring1b mutant gynoecia.
The major difference between AtRING1a and AtRING1b is the specific expression of AtRING1b, but not AtRING1a, in endosperm. So far, most known examples of imprinted genes are confined to the endosperm in higher plants. For instance, the PRC2 component genes FIS2 and MEA display maternally biased expression in the endosperm [31, 50, 51]. Moreover, all known plant genes with imprinted expression depend on differential DNA methylation, PRC2 activity, or both. Investigation based on reciprocal crosses of either the AtRING1b::AtRING1b-GUS reporter or the AtBMI1c::AtBMI1c-GUS reporter with WT, met1-3, or fis2 showed that they display preferentially maternal expression in the endosperm, and that both AtRING1b and AtBMI1c are regulated by CG DNA methylation independent of the FIS2-PRC2 complex. Loss of function of each FIS2-PRC2 component (i.e., MEA, FIE, FIS2, and MSI1) causes endosperm overproliferation without fertilization, embryo abortion, and seed lethality [21]. Neither atbmi1c nor atring1b single mutants show a visible phenotype during endosperm development, indicating that both have redundant functional homologs or that PRC1 might have only a minor effect and separate function from FIS2-PRC2 during endosperm development.
Ovule development is impaired in the atring1a;atring1b mutant
Both AtRING1a and AtRING1b display strong expression throughout ovule and ES development, indicating their potential importance in megasporogenesis and megagametogenesis. Indeed, the atring1a;atring1b mutant displays broad abnormalities during ovule development, ranging from ovule morphology and structure to ES formation. On one hand, AtRING1a and AtRING1b inhibit nucellus overproliferation, but indirectly promote outer integument growth. On the other hand, AtRING1a/b regulate ES development by ensuring degeneration of destined megaspores after meiosis. Thus, AtRING1a/b coordinate ovule development in both sporophytic and gametophytic phases. Many gametophytic ovule mutants have normal sporophytic tissue structures, but sporophytic ovule mutants usually have abnormal gametophyte development, suggesting that integument and ES development are interdependent processes and that accurate architecture of sporophytic tissue is necessary for successful development of a fully functional gametophyte [52]. For example, bell1 (bel1) ovules develop a single integument-like structure (ILS) taking the place of the two integuments, and fail to produce a normal ES [36, 53, 54]. In short integuments1 (sin1) ovules, both integuments are too short to enclose the nucellus, and the ES does not develop [36, 55]. Therefore, continuous signaling from sporophytic tissue appears necessary to precisely direct gametophyte development. Here, in the atring1a;atring1b double mutant, defective outer integument and nucellus growth may cause the arrest of ES development. Alternatively, AtRING1a/b might control sporophytic tissue and ES development in a parallel manner. Further investigation through complementation experiments by introducing recombinant genes expressing AtRING1 under the control of integument-, nucellus-, or ES-specific promoters into the atring1a;atring1b mutant may be helpful to address these questions.
AtRING1a and AtRING1b control carpel development mainly through repression of KNOX-I genes
In Arabidopsis there are at least two independent and complementary pathways, the
WUS
-
AG
pathway and the
KNOX
-
I
pathway, controlling stem cell activity and carpel development. Several lines of evidence indicate that
AtRING1a
and
AtRING1b
act mainly via repression of the
KNOX
-
I
but not the
WUS-AG
pathway. Firstly, qRT-PCR showed that the expression of
KNOX-I
genes is significantly increased, which is in contrast to the decreased expression of
WUS
and
AG
, in the
atring1a;atring1b
mutant. Notably
LFY,
an upstream regulator of the
WUS
-
AG
pathway, is drastically upregulated in floral buds of
atring1a;atring1b
, which might be associated with floral reversion such as the "flower-in-flower" phenotype observed in the mutant [
28
]. Secondly,
GUS
reporter analysis revealed that ectopic
KNOX-I
gene expression occurs in developing carpels, ovules, and carpel-like structures of the
atring1a;atring1b
mutant, whereas
AG
lines display weak GUS staining. Expression of
WUS
in secondary ovules and of
AG
in ectopic papillae of carpelloid-like sepals was observed in the
atring1a;atring1b
mutant, which likely reflects the requirement for
WUS
-
AG
in specifying ovule-carpel identity. Thirdly, ovule-to-carpel conversion observed in the
atring1a;atring1b
mutant is reminiscent of transgenic plants overexpressing
STM
or
KNAT2
described in a previous study [
9
]. Finally, genetic analysis demonstrates that misexpression of
KNOX-I
genes is important for the defective carpel developmental phenotype observed in
atring1a;atring1b
. Loss of AtRING1 activities partially rescue
stm
architecture and flower phenotype due to release of the other
KNOX-I
genes in the
atring1a;atring1b;stm-7
triple mutant; this resembles
as1
partial rescue of the
stm
phenotype in the
as1;stm
double mutant via upregulation of other
KNOX-I
genes [
46
]. Furthermore, we found that
as1
can enhance
atring1a;atring1b
flower and carpel phenotypes due to a synergistic derepression of
KNOX-I
genes in the
atring1a;atring1b;as1-1
triple mutant. Thus, repression of
KNOX-I
genes constitutes an important regulatory mechanism in carpel and ovule development, and a dosage-dependent effect of
KNOX-I
genes likely explains the degree of severity on central carpel development defects observed across the mutants studied (Fig.
8a
).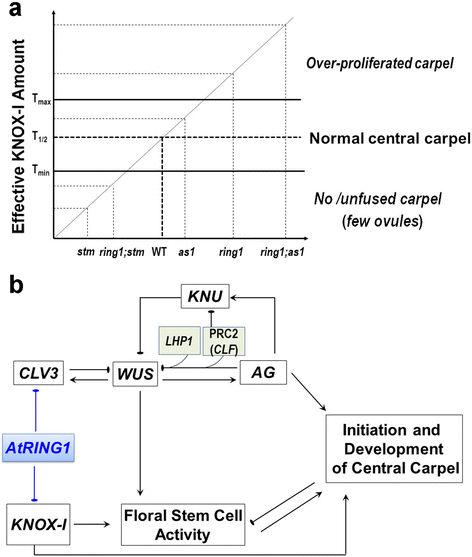 Our conclusion that the PRC1 core components AtRING1a and AtRING1b repress the KNOX-I but not the WUS-AG pathway is also in agreement with a previous study carried out using atring1a;atring1b mutant seedlings [28]. PRC1 RING finger proteins AtBMI1a and AtBMI1b are also not required for AG repression in seedlings [27]. In contrast, it is well known that AG is derepressed in lhp1 and PRC2-related mutant plants, indicating that LHP1 and PRC2 are involved in the developmental switch from SAM to FM. During the reproductive stage, PRC2-mediated H3K27me3 has been shown to play a critical role in repressing WUS directly via AG recruitment, or indirectly via competitive displacement by AG at the promoter of the WUS repressor KNU; together these mechanisms account for floral stem cell termination and carpel development initiation ([19, 20]; Fig. 8b). Our finding that AtRING1 suppresses KNOX-I and CLV3 provides additional novel information to the gene networks controlling floral stem cell activity and carpel development (Fig. 8b). Stem cells are consumed upon carpel development, yet they are required at the initiation of carpel development; thus, disruption of the stem cell master regulator WUS or STM leads to the absence of central carpel development. Our analyses of atring1a;atring1b together with the atring1a;atring1b;stm-7 and atring1a;atring1b;as1-1 triple mutants clearly establish a key role of KNOX-I suppression in maintenance of carpel and ovule determinacy. Interestingly, derepression of KNOX-I alone is insufficient, and proper carpel initiation depends on the WUS-AG pathway as evidenced by the absence of carpel development in the atring1a;atring1b;wus-8 triple mutant and the polycarpous proliferation in the atring1a;atring1b;clv3-2 triple mutant. Although direct genetic interaction between AtRING1 and AG is unexamined so far, it is well established that CLV3 and WUS regulate carpel development through AG, which is the key regulator in determination of carpel identity [13, 14]. Thus, it is reasonable to conclude that the WUS-AG and KNOX-I pathways act independently and complementarily in regulation of carpel development. Similarly, it is well known that WUS and STM act independently and complementarily in maintaining vegetative shoot development [56]. These independent and complementary pathways, together with the finding that AtRING1 and PRC2 regulate various pathway genes with different specificity, may mean that it is advantageous for stem cells to integrate diverse developmental and environmental cues to cope with plant developmental plasticity. It is also reasonable to speculate that AtRING1-mediated suppression of CLV3 may provide a link coordinating the WUS-AG pathway with the KNOX-I pathway in the regulation of floral stem cell activity and carpel development (Fig. 8b). Meanwhile, PRC2-mediated H3K27me3 involvement in suppression of KNOX-I genes during vegetative growth is well described [57]. Future studies are necessary to determine to which extent PRC2 repression is involved in floral stem cell termination and carpel development and whether it is associated with AtRING1 function.
Conclusion
Our study provides important information about tissue-specific expression patterns and unravels a key role of the PRC1 core component genes AtRING1a and AtRING1b in suppression of KNOX-I genes, which independently but complementarily act together with the WUS-AG pathway to determine floral stem cell proliferation and termination during flower carpel development.
Abbreviations
AG:

AGAMOUS
BP:

BREVIPEDICELLUS
CLSM:

confocal laser scanning microscopy
CLV:

CLAVATA
DIC:

differential interference contrast
ES:

embryo sac
FIS2:

FERTILIZATION INDEPENDENT SEED 2
FM:

floral meristem
H3K27me3:

histone H3 lysine 27 trimethylation
IM:

inflorescence meristem
KNU:

KUNCKLES
LFY:

LEAFY
LHP1:

LIKE HETEROCHROMOTIN PROTEIN1
MET1:

DNA METHYLTRANSFERASE1
MMC:

megaspore mother cell
PcG:

Polycomb group
PRC:

Polycomb repressive complex
RAM:

root apical meristem
SAM:

shoot apical meristem
SEM:

scanning electron microscopy
SHP1:

SHATTERPROOF1
STK:

SEEDSTICK
STM:

SHOOT MERISTEMLESS
WUS:

WUSCHEL
Declarations
Acknowledgements
We thank Xu Y for assistance with in situ hybridization analysis, and Laux T, Pautot V, Weigel D, and Werr W for providing AG::GUS (KB9R), WUS::GUS and various KNOX::GUS reporter lines. We thank Emily J. McCallum for critical reading of the manuscript. This work was supported by the French Agence Nationale de la Recherche (ANR-08-BLAN-0200-CSD7, ANR-12-BSV2-0013-02), the National Basic Research Program of China (973 Program, grant number 2012CB910500), and the French Centre National de la Recherche Scientifique (CNRS, LIA PER).
Availability of data and materials
All relevant data are published within the paper and its supporting additional files. Refer to Additional file 8: Table S2 for raw data values.
Authors' contributions
WHS and DC conceived and designed the experiments. DC, AM, and LX performed the experiments. DC analyzed the data. DC and WHS wrote the paper with help from all the other authors. All authors read and approved the final manuscript.
Competing interests
The authors declare that they have no competing interests.
Open AccessThis article is distributed under the terms of the Creative Commons Attribution 4.0 International License (http://creativecommons.org/licenses/by/4.0/), which permits unrestricted use, distribution, and reproduction in any medium, provided you give appropriate credit to the original author(s) and the source, provide a link to the Creative Commons license, and indicate if changes were made. The Creative Commons Public Domain Dedication waiver (http://creativecommons.org/publicdomain/zero/1.0/) applies to the data made available in this article, unless otherwise stated.
Authors' Affiliations
(1)
Institut de Biologie Moléculaire des Plantes (IBMP), UPR2357 du CNRS, Université de Strasbourg, Strasbourg, France
(2)
College of Bioscience and Biotechnology, International Associated Laboratory of CNRS-Fudan-HUNAU on Plant Epigenome Research, Hunan Agricultural University, Changsha, China
(3)
National Key Laboratory of Plant Molecular Genetics, CAS Center for Excellence in Molecular Plant Sciences, Institute of Plant Physiology and Ecology, Shanghai Institutes for Biological Sciences, Chinese Academy of Sciences, Shanghai, China
(4)
Present address: Institut de Genetique et de Biologie Moleculaire et Cellulaire, Illkirch, France